VP Government & Global Relations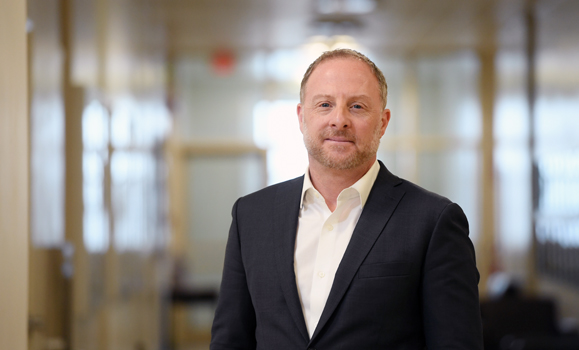 Matthew Hebb has a knack for making connections, whether it's between thoughts, ideas, or people. When considering his early impressions of Dal, his mind goes to three different times and pulls them together.

The first was when he was growing up in Halifax, and his mother was part of a modern-dance group that practiced on the stage of the Rebecca Cohn Auditorium, with a very young Matt watching from the lighting booth. "I loved being in that space," he says. "There's a special place in my heart for the Cohn."

Later, as a teenager, his first job was at Dal, doing data entry – "and other various and sundry activities" — in a Department of Oceanography lab, working for acclaimed oceanography researcher Marlon Lewis. "A lot of his subsequent success no doubt owes some debt to me," Hebb jokes.

Hebb left that job when his family moved to Toronto, where he eventually completed an MA at the University of Toronto in Social Anthropology. But he would find his way back to campus in 2013 to make that third connection: joining the administration as Assistant Vice-President Government Relations & Economic Development.

When he started working here (the second time) Tom Traves was university president. Hebb was invited to a senior leaders' retreat with all the VPs and Deans and President Traves. That's when he had his third first impression: "Oh my god, this is such an astonishing collection of incredibly smart people. How lucky am I to be working in a place engaged in so many incredible things."

That impression, he says, hasn't changed.

Forming connections

One thing that is changing is that, where once there was a certain reputation for institutional aloofness, today Dal is engaged in so many partnership projects, it is being increasingly recognized for its work towards being a true catalyst for societal and economic development. And Hebb, a connector with many of those partners, has played no small part in that changed perception.

Prior to returning to Dal, Hebb had worked as Principal Secretary to Premier Darrell Dexter. He quickly surmised that, while governments and universities often work together — or at least toward similar goals — they don't always understand one another, which can get in the way of progress. "We can accomplish so much when we allow shared priorities to take up more space in our shared agenda than disagreements."

For Dal to play that "catalytic role," as he puts it — informing evidence-based policy that works — it takes strong partnerships. Hebb sees himself primarily as a connector of smart people, and Dal as a "rich place from which to do it."

One noteworthy example of connecting bright minds to a common purpose to date is Canada's Ocean Supercluster, a network of ocean-related companies, researchers, and entrepreneurial organizations. The supercluster started in response to a federal funding opportunity in the 2016 budget. Hebb knew there would be competition from larger provinces, but felt a group from Atlantic Canada could be successful.

Richard Florizone, who was by this time Dalhousie's president, convened a small dinner with potential investors, with Hebb as the process animator. The goal was a pan-Atlantic effort — one that leveraged the strength of individual actors across four small provinces. Strength in numbers. "Everybody agreed we should try it."

With time and a lot of outreach across the region, the coalition of investors grew, and the vision of the Ocean Supercluster came into sharp relief. "Even while on vacation in 2017 I was checking my email on a satellite receiver from Great Slave Lake [Northwest Territories], to keep up with the momentum." The Atlantic group eventually became one of five successful superclusters and Hebb was seconded from Dal to be the founding CEO, to help get the organization up and running.

Making a positive impact

He returned to Dal in late 2018 and has since been focused on identifying new opportunities. He tracks developments with government, including shifting political agendas, seeking shared priorities and opportunities to work together in mutually beneficial ways. To be successful, Hebb says, Dal must be very deliberate about having a positive impact on the province. "We're one of the top 15 research universities in Canada, but most of the others are in much richer provinces. As the economic capacity of our province goes, so shall we. We need the province to succeed."

The reason he keeps a close eye on government, and political priorities in general, is that opportunities tend to emerge from unexpected places. He notes that the Ocean Supercluster "didn't come from a five-year plan." It was an unexpected opportunity that fit Dal's priorities.

From identifying potential opportunities, it's then a matter of thinking big. "Dalhousie is a phenomenal university and there is incredible potential for Halifax as a city," Hebb says. "I want to push people's ambition to do big things and to think globally about what we can do."

Hebb sees opportunities for Dalhousie to have significant impact locally and globally in fields like health care, curriculum innovation, clean technology, and food and agriculture. "Emera is headquartered here. We have unique energy opportunities in the Bay of Fundy," he says. "We now have a Faculty of Agriculture, one of only a few in the country, and local companies who are major players in Canada's food landscape. We have an incredible array of health research and clinical care resources…"

The potential is there. It's just a matter of creating the right connections.
On what governments want...
"They are always seeking innovative programs, and ways to effectively generate tax revenues that can be used to achieve desired outcomes for society."
On creating win-win partnerships...
"Our role is to work between two worlds, to identify opportunities to advance Dalhousie's mission of teaching, research and service to society. Partnership opportunities can create funding and investment, and they can also extend working relationships. And we can have a big impact on the economy."
On optimism...
"I try to default to optimism over pessimism. There are enough people who will come up with reasons why things can't be done or shouldn't be done. They don't need me to do that."
On implementing good ideas...
"I generally come down on the side of 'let's just try stuff' rather than doing endless studies. You do need a counterbalance to people like me, but I want to try stuff."
Five questions
What's your favourite hobby or pastime?
Playing guitar.

If you could only bring one artist's music with you to a desert island, who would it be?
Jazz guitarist Kenny Burrell. Tito Puente is a close second.

What's the best advice you've ever received?
Don't let perfection be the enemy of great. And don't make a decision that you don't have to.

Who is a mentor or leader who has inspired you in your life or career?
Richard Florizone was one; I felt very privileged to have been able to work with him. I have always been very inspired by my mother, who, throughout her life, has placed a high value on doing work that has a positive impact in the world.

If you could have dinner with one person — living, deceased or fictional — who would it be and why?

Simone de Beauvoir. I had a weird dream about her that I've never forgotten. I think it would be interesting to sit with her, drink wine, smoke cigarettes (I don't actually smoke) and talk into the wee hours.