About FASS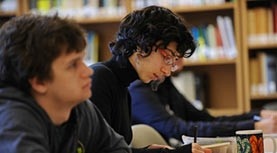 Dalhousie's Faculty of Arts and Social Sciences offers a world of choices: thousands of courses, two hundred professors, thirty-five academic programs. Learn more about the Faculty.

Research & Researchers
How can the study of humanities and social sciences inform policy, improve health and restore the environment? Find out how FASS research and researchers are changing the world.

News
The Conversation: Silence can be healing for Rwandan youth born of genocide rape
Is it always good to talk about violent pasts? Sixty Rwandan youths participated in a research project co-led by Dal's Laura Eramian (Sociology and Social Anthropology) that aimed to understand the perspectives of people born of rapes committed during the genocide.

The Conversation: Casino Diplomacy ‑ The Trump game that everyone loses
Robert Huish (International Development Studies) writes about how Donald Trump is unmoved by high risks and wild odds, apparently feeling that his sheer cunning will always win, including, now, in geopolitics — his latest casino.

The language of friendship
Haruka Aoyama, Dania Shalabi and Delicia Marie Toro came to Dalhousie from three different countries to study three different programs. But after meeting in the first week of their English for Academic Purposes class, they've formed a bond that spans any of the differences between them.

View more FASS news