About FASS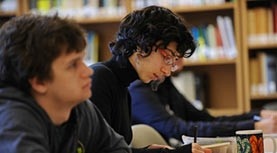 Dalhousie's Faculty of Arts and Social Sciences offers a world of choices: thousands of courses, two hundred professors, thirty-five academic programs. Learn more about the Faculty.

Research & Researchers
How can the study of humanities and social sciences inform policy, improve health and restore the environment? Find out how FASS research and researchers are changing the world.

News
Finding her rhythm
Musicology student Tamar Dina is the founder of Music Liberatory, a program that brings together women from all walks of life to learn and explore music.

Lights! Camera! Connection!
Theatre student Michelle Raine, who has a featured role in the short film "Pearls" debuting at this week's Atlantic International Film Festival, is discovering that success as an actor is all about connections — both on stage and off.

Philosophy student brings creativity, compassion to considering Canada's prison system
PhD student Tiffany Gordon links her research on equality and responsibility in the justice system with her community work — from facilitating creative writing workshops in correctional facilities to organizing events for Prisoners' Justice Day.

View more FASS news