About FASS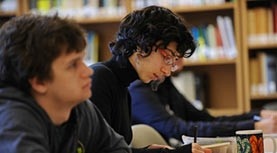 Dalhousie's Faculty of Arts and Social Sciences offers a world of choices: thousands of courses, two hundred professors, thirty-five academic programs. Learn more about the Faculty.

Research & Researchers
How can the study of humanities and social sciences inform policy, improve health and restore the environment? Find out how FASS research and researchers are changing the world.

News
Applauding arts and social sciences research at annual FASS showcase
This year's FASS publication and performance launch featured a breadth of works covering immigration, indigenous research, religion, health, animal welfare, media, performing arts, languages, and gender, sexuality and race.

Blood sweat and tears mark the Fountain School's "Grand Parade"
Bringing together the creative talents of the Dalhousie Wind Ensemble and the Costume Studies program, this weekend's unique production of The Grand Parade is poised to be a spectacular end to the Fountain School's season.

Impact in the performing arts
Fountain School prof Susan Stackhouse has been able to live out her childhood dream of performing live on stage and transferring her knowledge and wisdom to up-and-coming talent for decades. Now, she's been recognized for her impact as recipient of this year's Theatre Nova Scotia Legacy Award.

View more FASS news