About FASS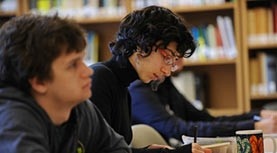 Dalhousie's Faculty of Arts and Social Sciences offers a world of choices: thousands of courses, two hundred professors, thirty-five academic programs. Learn more about the Faculty.

Research & Researchers
How can the study of humanities and social sciences inform policy, improve health and restore the environment? Find out how FASS research and researchers are changing the world.

News
Meet this year's Dalhousie teaching award winners
Dalhousie's teachers make a difference in the lives of our students each and every day. Get to know the eight impressive individuals who are being recognized with this year's University-Wide Teaching Awards.

Grad profile: A designer degree
Tiana Kira has developed her eye for detail in Dal's Costume Studies program, working her way into a job with a global custom bridal design company based in Halifax.

Grad profile: Raising a joyful noise
Jack Bennet, taking a double major in Music and Environment, Sustainability & Society, builds community through music with his role in organizations like Halifax's The Big Sing.

View more FASS news