About FASS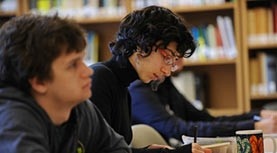 Dalhousie's Faculty of Arts and Social Sciences offers a world of choices: thousands of courses, two hundred professors, thirty-five academic programs. Learn more about the Faculty.

Research & Researchers
How can the study of humanities and social sciences inform policy, improve health and restore the environment? Find out how FASS research and researchers are changing the world.

News
Province joins cast for Dal's Performing Arts Campaign
The Province of Nova Scotia has signed on to play a leading role in the $38.5-million expansion and revitalization of the Dalhousie Arts Centre, with Premier Stephen McNeil announcing the government's $10M contribution to Dal's Performing Arts Campaign.

A dialogue spanning time and tradition
Dal alum Jeremy Dutcher (Music/Social Anthropology) is the 2018 winner of Canada's prestigious Polaris Music Prize. Read our profile of Dutcher and learn how century-old field recordings of his Wolastoqiyik ancestors' songs set in motion a musical journey that would lead to one of the most acclaimed albums of the year.

Dal authors highlighted at Halifax Word on the Street fest
As part of the university's 200th anniversary celebrations, Dal Libraries are presenting a special "Dal 200 Author Stage" as part of the Halifax Word on the Street festival Saturday, September 15, featuring a collection of authors, poets and scholars with Dal connections.

View more FASS news