About FASS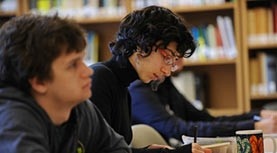 Dalhousie's Faculty of Arts and Social Sciences offers a world of choices: thousands of courses, two hundred professors, thirty-five academic programs. Learn more about the Faculty.

Research & Researchers
How can the study of humanities and social sciences inform policy, improve health and restore the environment? Find out how FASS research and researchers are changing the world.

News
New sights and sounds at Dalhousie Arts Centre
Halifax Member of Parliament Andy Fillmore visited Dalhousie last week to test out the Rebecca Cohn Auditorium's new sound and lighting systems, upgrades made possible with the help of a Heritage Canada grant.

A dialogue spanning time and tradition
When Dal alum Jeremy Dutcher (Music/Social Anthropology) came across century-old field recordings of his Wolastoqiyik ancestors' songs, it set in motion a musical journey that would lead to one of the most buzzed-about albums in Canada this year.

Rob Steele steps up as chair for Dal's Performing Arts Campaign
Rob Steele, president and CEO of Newcap Broadcasting Ltd, has been announced as chair for the Performing Arts Campaign, helping set a new standard of excellence in performing arts education at the Fountain School.

View more FASS news