About FASS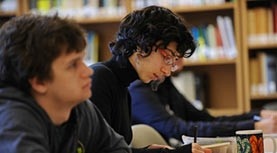 Dalhousie's Faculty of Arts and Social Sciences offers a world of choices: thousands of courses, two hundred professors, thirty-five academic programs. Learn more about the Faculty.

Research & Researchers
How can the study of humanities and social sciences inform policy, improve health and restore the environment? Find out how FASS research and researchers are changing the world.

News
Dual passions lead to dual degrees
Pursing two master's degrees at once would be a daunting task for both. But for Becky Shaw, completing degrees in Library & Information Studies and Musicology concurrently was a perfect fit.

Preparing to project her voice
For third-year Acting student Maeghan Taverner, her Dal experience has been about more than discovering her voice — it's about discovering what she can do with it.

Inspired by resilience
Claire Seremba's interest in issues around gender and women's studies stems from her experience in her home country of Uganda, but has only grown while studying International Development Studies in Halifax.

View more FASS news