People of African descent first arrived in the territory now known as Canada more than 400 years ago — and for nearly as long, their history and culture has been overlooked.
A new Black and African Diaspora Studies major introduced at Dalhousie this fall aims to help fill that gap by offering students an expansive interdisciplinary program exploring the historical, societal, and cultural dimensions of African Canadian life and the broader global Black world.
While Black Studies has been a major field of study in the United States since a raft of university programs emerged out of the civil rights movement and activism of the 1960s and '70s, progress to build a counterpart centred around the Black experience in Canada has been considerably slower.
Dal's new major — the first of its kind at a Canadian university — marks a big step forward.
"People used to say, well there's very little Black Canadian history here. But there's a rich history here, there's a Black experience here that is unique and worthy of studying," says Dr. Isaac Saney, a professor of Black Canadian Studies and coordinator for the newly launched program.
Students in the program, which builds on a minor first launched in 2016, have the option of doing a double major or honours, enabling them to create a custom learning experience and specialize in the burgeoning field under the guidance of leading scholars in the field.
"There is whole array of courses at Dalhousie that speak to the Black Canadian experience in many different ways, and we have an assembled core of specialists in the area, not only in the Faculty of Arts and Social Sciences, but in other Faculties as well," says Dr. Saney, noting the program will touch on everything from experiences of oppression and racial injustice to narratives of resilience and empowerment.
Tapping into Dal's growing expertise
 
Chevy Eugene, a rising scholar in Black and African Diaspora Studies who joined the Faculty of Arts and Social Sciences earlier this year, teaches the introductory course in the program this fall and is designing courses on reparations and Black social movements set to launch next term.
"For a lot of students, a lot of this information — if not all of it — is news," says Eugene, who is in the final stages of his doctoral work on slavery reparations at York University.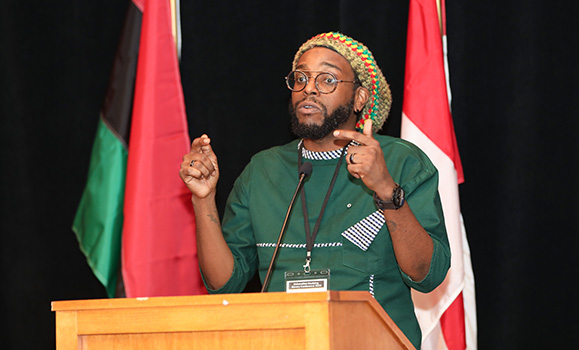 Chevy Eugene speaks during the Universities Studying Slavery conference earlier this month.
Eugene brings a unique lens to the program as both a scholar and a human rights activist. Last year, he was named one of the UN's 100 most influential people of African descent in politics and governance under 40 for his advocacy work. He was among the various groups that helped secure the UN permanent forum for people of African descent as an action item working with the UN's mechanism of the International Decade for People of African Descent, now in its eighth year. 
"All this work has influenced my teaching," he says. "There is a glocal — global and local — approach in my teachings and my pedagogical approach, and my activism influences it as well. I'm a pan-Africanist. I don't just teach these things. This is my everyday — my inhale, my exhale."
Eugene was one of five scholars recruited recently as part of a Black cluster hire at Dalhousie. That initiative — launched following Dal's signing of The Scarborough National Charter on Anti-Black Racism and Black Inclusion in Higher Education in 2020 — has also brought Black experts in law, health, management, and science to Dal to add further value to university curriculum, including through the Black and African Diaspora Studies program.
'Students want to learn about this'

The major has been years in the making.
"It involved a tremendous amount of work, and it was a collective effort," says Dr. Saney, who led the team that designed the program based on a 769-page proposal.
The major gained support in Dal's Senate this past spring, with the Maritime Provinces Higher Education Commission — a body that assesses new major programs at universities in the region — providing approval over the summer.
Demand for courses in the program has been strong out of the gate. Eugene's Introduction to African Canadian Studies course filled up fast, with a waitlist of students eager to get a spot.
"People have a healthy interest in this," says Dr. Saney. "They may not all be able to take the entire minor or major, but the course itself benefits that student body as they want to learn about this."
Recommended reading: Slavery conference keynote exposes Made in Canada stories of segregation — and the visionaries who pushed back