Research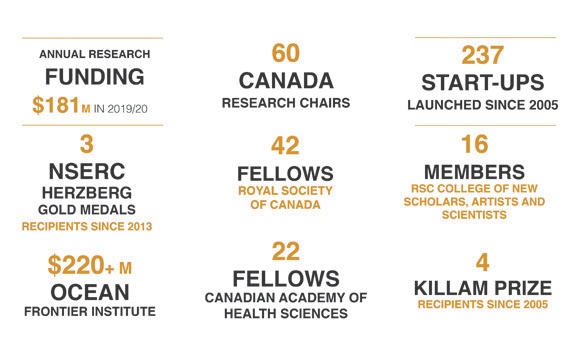 With more than $181 million in research funding last year, Dal researchers are finding new ways to add to the intellectual, social and economic capital of our region and to take their discovery and innovation globally. Learn more about some of the Dal researchers making a significant impact. Read more.
Featured News

The Canadian Institutes of Health Research have awarded $100.8 million dollars over 16 years to nine new Indigenous health research networks across Canada. Among them is the Wabanaki-Labrador Indigenous Health Research Network (WLN), hosted at Dalhousie University in partnership with Mi'kmaq, Wolastoqiyik, Inuit and Innu communities and organizations and with academic institutions stretching across all four Atlantic provinces.
Researchers from Dalhousie University and the Nova Scotia Health Authority are leading projects which received a $1.1-million investment from the Canadian Institutes of Health Research (CIHR) and Research Nova Scotia as part of a May 2020 Rapid Research Funding Opportunity.

Marine Biology PhD candidate Laura Feyrer has discovered new insights into the nursing habits of northern bottlenose whales by studying whale teeth from the 1960s, offering a window into why the species has been slow to recover from sharp population declines.