Student Life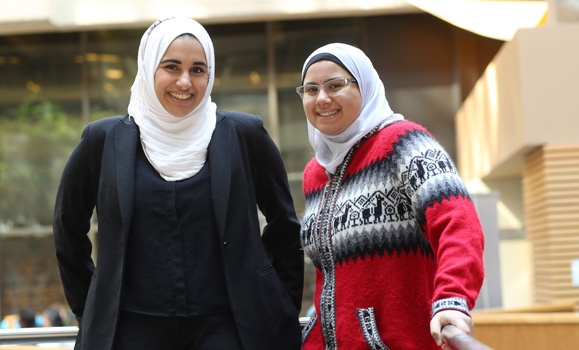 Computer Science student Mariam Ragab and Management / Sustainability student Hayat Showail share a similar commitment to building community and breaking down barriers in the process. Now, they also share one of Canada's top student honours: a 3M National Student Fellowship, awarded to just 10 undergrads annually. Read more.
Featured News

Dalhousie graduate student Andrew Holland received the Student Entrepreneur of the Year award at the Dalhousie Impact Awards recently for his work in helping facilitate the adoption of BikeAround, an innovation targeted towards seniors in Atlantic Canada that combines low-impact exercise with virtual reality.

The Dalhousie Integrated Science Program (DISP) allows first-year students to jumpstart their exploration of the sciences with unique experiences in labs and out in the field. Learn about how one group in this year's cohort got hands-on homework in heart mechanics.

Student life at Dal is more than just an academic and social experience — for many students, it's about building a better world. Learn how this year's recipients of Dalhousie's Board of Governors' Award are doing just that.