About the Faculty of Management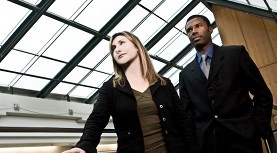 Management News from Dal News
Balancing success
From Dal's Transition Year Program to studying Management, Trevor Silver has been driven by a simple motto — one that's now the brand for his own clothing business.

The Conversation: Canada's ports policy needs to move into the 21st century
Canada's ongoing Port Modernization Review should lead to greater clarity of port purpose, less political control through board appointments and better reporting standards, writes Dal Management prof Mary Brooks.

Getting back in good standing
Commerce students Sam Brown and Josh Dias know what it's like to lose your way a bit at university. But thanks to the Refining Your Learning Skills for Academically Dismissed Students program, they're back in class with a renewed focus.

View more Dal News
Faculty & Research