About the Faculty of Management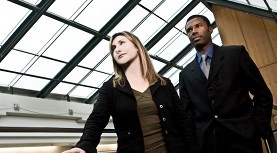 Management News from Dal News
A lifelong passion
For Dal Agriculture grad Seonaid MacDonell, the Master of Environmental Management program offers new opportunities to be an advocate and an ambassador for agriculture in Nova Scotia.

Canadians will spend more in restaurants in 2018: Canada's Food Price Report
The newly released Canada's Food Price Report — built on the expertise of authors from five Dal faculties, led by Dean of Management Sylvain Charlebois — says food price increases are expected to be modest in most categories in 2018, but spending on vegetables and food in restaurants will significantly increase.

Dual passions lead to dual degrees
Pursing two master's degrees at once would be a daunting task for most. But for Becky Shaw, completing degrees in Library & Information Studies and Musicology concurrently was a perfect fit.

View more Dal News
Faculty & Research