About the Faculty of Management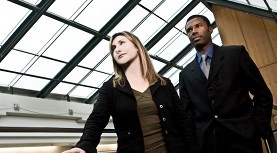 Management News from Dal News
Who do you trust?
Researchers in Dal's Faculty of Management have published Canada's first "Social License to Operate" report, exploring what Canadians think about the ethical practices and trustworthiness of businesses and government organizations.

Underwater insights
One of the world's most accomplished deep-sea divers, Jill Heinerth, dropped by Dal this month to share stories from some of her most challenging expeditions in the Arctic and around the world.

Taking a chance on herself
When Management student Victoria Palmer took on an internship with a global tailoring company, she learned a great deal about the fashion industry — and even more about herself.

View more Dal News
Faculty & Research