About the Faculty of Management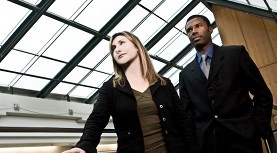 Management News from Dal News
Innovating to a degree
Hayam Mahmoud-Ahmed is helping develop a device to retrain muscles in individuals who've experienced a stroke. It's not what you might expect from a Neuroscience and Computer Science student — but it makes perfect sense as part of her journey into entrepreneurship.

Right where she needs to be
Commerce student Adeline Urban's path to Dal involved a journey across the country. Now that she's arrived, her journey has become one of discovery — of her history, her heritage and herself.

The Conversation: Why you shouldn't be a 'straw‑man' environmentalist
Fast-food restaurants and coffee shops are banishing the straw. While it may seem like a small measure, your pessimism isn't justified, write Dal researchers Riley Schnurr and Tony Walker.

View more Dal News
Faculty & Research