About the Faculty of Management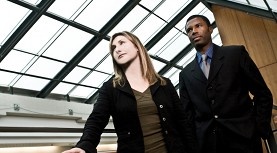 Management News from Dal News
Growing a culture of curiosity
Dal-led projects focused on mass evacuations, literacy and diverse families are among those receiving a total of $18M in funding in Partnership and Partnership Development Grants from SSHRC.

Grad Profile: Together abroad
Like many Dalhousie alumni before her, Farzana Karim made her time at Dal a family affair, earning her Master of Environmental Studies (MES) degree two years after her husband, Tahazzud Hossain.

Grad profile: 'The best education' leads grad to climate strategy specialty
Small class sizes, close relationships with faculty, and making friends for life from a wide range of academic backgrounds are a few of the highlights of the Master of Resource and Environmental Management program for Ben John, whose internship at a biosphere reserve in Ontario evolved into a job as a climate change and energy specialist.

View more Dal News
Faculty & Research