About the Faculty of Management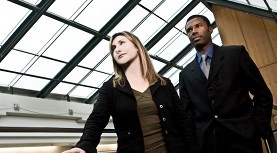 Management News from Dal News
The Conversation: Pizza delivery by robot cars has arrived with big questions
Domino's Pizza and Ford have teamed up to offer pizza delivery via driverless cars in Michigan. Is it the way of the future? Food distribution and policy professor Sylvain Charlebois weighs in.

A game changer for Dal's School of Public Administration
With growing demand for public service training and research — and rising enrolment in its programs — Dal's School of Public Administration is nearly doubling its faculty contingent this September, bringing new expertise to the classroom and beyond.

Putting in the work
History student Alyshia Scott's Dal experience has taught her about drive, determination and being accountable for one's own success — whether in the classroom or working on campus in summer accommodations.

View more Dal News
Faculty & Research