About the Faculty of Management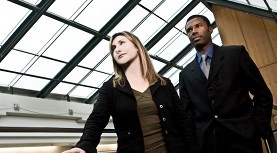 Management News from Dal News
Fragmented food habits: New Dal study explores how Canadians eat
A new study from researchers in three Dal faculties finds that women, people with lower incomes and those with a high‑school education are more likely to skip meals, snack more often.

Creating Atlantic Canada's next entrepreneurial superstars
Canada's top startup accelerator, the Toronto-based Creative Destruction Lab (CDL), is joining forces with Dalhousie's Rowe School of Business to launch a new branch of its program in Atlantic Canada, helping new ventures develop into high-growth companies.

Activism on the airwaves
A fourth-year Management student with a minor in Political Science, Ntombi Nkiwane brings political and cultural content to incarcerated people with CKDU's Black Power Hour radio show.

View more Dal News
Faculty & Research