The McCall MacBain Scholarship

About the awards
The McCall MacBain Scholarships at McGill are Canada's first leadership-driven scholarship for master's and professional degree students. They represent an investment in students who are developing expertise in their respective fields, have a track record of taking initiative, and seek to collaborate with others to understand and address important problems and challenges.
Dr. John McCall MacBain and Dr. Marcy McCall MacBain announced the creation of the McCall MacBain Scholarships at McGill in February 2019 through a landmark gift of $200 million, the single largest gift in Canadian history.

Our 2022 recipient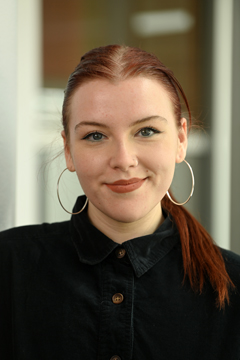 Congrats to Anna Gaudet (BA'22), who is one of this year's recipients of  the McCall MacBain Scholarships, Canada's first comprehensive leadership-based scholarship program for master's and professional studies.
Anna, a Sustainability and History student, serves as a board director and Metro Halifax advisor for the Nova Scotia Secondary Students Association, volunteers with the Concours d'art oratoire (Canada's largest annual French public speaking competition) and represents Arts and Social Science students as a Dalhousie Student Union council member.  
Anna was chosen from a pool of more than than 700 applicants across Canada.
Read more: Unlocking the power of the past: Dal history student awarded McCall MacBain Scholarship
Past McCall MacBain Scholars: Fatima Beydoun and Caroline Merner (2021)
How to apply
Eligibility
You must meet the following eligibility criteria and be interested in seeking Fall 2022 admission to an eligible program at McGill.
Applicants must meet the minimum degree and language requirements for McGill master's program admission.
Have a bachelor's degree or recognized equivalent, or be on track to complete it by August 2023. 
Application procedures
You will need to complete two applications:
The McCall MacBain Scholarship application is open for September 2023 admission. 
You also need to apply directly to McGill for at least one eligible full-time master's or professional program. Program admission requirements and timelines vary, so please research the ones that interest you. We will ask you to apply by the first deadline for Fall admission, or by mid-December at the latest if you are selected for final interviews.
Please note: current university students and recent graduates must have their application endorsed by their institution. After you complete your application, it will be submitted to the university for review.
Important dates
Applications open
 June 1, 2022
Applications due 

 Applicants residing in Canada and the United States, as well as Canadians abroad, should apply by September 21, 2022.

 All other applicants must apply by August 25, 2022.

Regional interviews 

 International applicants - October 2022

 

 Canada and US applicants - November 2022

Final interviews

 March 2023

Classes begin
 September 2023
The format of interviews will follow guidelines from public health authorities at that time. See the full application/interview schedule.
If you have additional questions, please contact linda.ruhloff@dal.ca.