President's Corner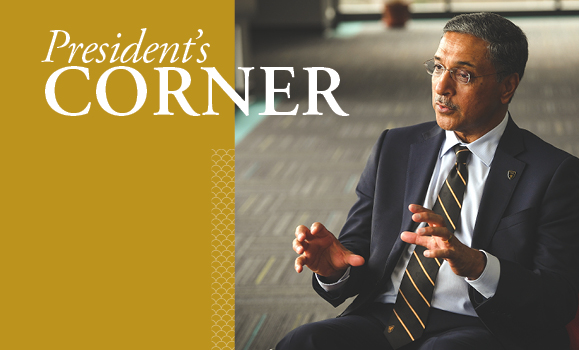 In his regular Dal News column, Dr. Saini provides a window into what he has been working on or thinking about and gives a shout-out to members of the Dalhousie community for the extraordinary work they are doing across our campuses.

Latest President's Corner column


Nov. 19, 2020
Dear Dal community,
As I signed Dal's latest international agreement on Tuesday morning, the words of Hispano-Roman philosopher and writer Lucius Annaeus Seneca kept swirling in my head: "It is not because things are difficult that we do not dare, it is because we do not dare that things are difficult."
The agreement with Rajmata Vijayaraje Scindia Krishi Vishwa Vidyalaya (RVSKVV), one of India's leading agricultural universities, is both inspiring and instructive in how our global objectives can be maintained despite the suspension of international travel. It was also timely, given this week is International Education Week, which showcases the impact international education has on students and which supports Canada's global engagement efforts.
Having led the development of numerous international partnerships, I know first-hand how many overseas visits it takes to reach such agreements. However, this one is unique in that it was struck without anyone from Dal actually setting foot on the campus of the partner institution. It is quite a feat, even by the high standards of international work that our Truro campus is well known for. The agreement creates a 3+2 degree in Agricultural Plant Science between RVSKVV and Dalhousie. The first batch of students, funded by the Indian government, plan to arrive at our Truro campus in the fall of 2021. Our past experience suggests that this will inevitably lead to research collaborations. And I would be remiss if I didn't also take the opportunity to mention that, this week, we announced the appointment of our first acting associate vice-president, global relations, Dr. Balakrishnan Prithiviraj, who is coincidentally from our Faculty of Agriculture. Go Aggies!
Aside from advancing the university's academic mission, I find, as I'm sure many of you also do, a great deal of personal satisfaction in surmounting the formidable barriers created by the pandemic. My own international engagement has remained essentially unchanged. For example, this Thursday night I will join the Canadian High Commissioner to the Philippines over Zoom to speak at an international education forum organized by Universities Canada. Then, two weeks later, Acting Vice-President Government & Global Relations Matt Hebb and I will speak at an international conference chaired by India's Minister of Education. My colleagues from around the globe and I continue to work unhindered on the Board of Trustees of the Council for Advancement and Support of Education and the governing Council of the Association of Commonwealth Universities, to name just a couple of examples. Further, as much as we all appreciate the benefits of occasionally meeting in person, imagine the long flights, being away from home, the carbon emissions, and the expense we are all avoiding!
So, in the spirit of celebrating our international work, I have reserved this week's shout-out for everyone at Dal who has been supporting our international students through their immense effort and care. We were recently approved as a Designated Learning Institute authorized to receive international students who wish to choose to come to study in Canada. We expect them to start returning for the winter term and continue through spring and beyond. This has all been made possible by the extraordinary hard work and diligent planning of our colleagues in the International Centre, Student Affairs and Ancillary Services. And let me not forget the international students themselves, who have shown their steadfast commitment to Dalhousie and made huge adaptations to their living and learning environments in order to continue their studies. Thank you!
Sincerely,
Deep
Archived columns  
Nov. 12, 2020

Dear Dal Community,

Life under the pandemic has brought two paradoxical realizations to the fore: how immense the capabilities of online technologies are to bring vast numbers of us into a single virtual room; and yet, despite this global connectivity, how strong our innate hunger is to assemble in the same real room! Then there's the simple fact that certain things just can't be done in the virtual world even as we discover others that are actually better done online.

I had two opportunities last week to experience first-hand the ingenuity of our people in managing Dalhousie's activities at these extreme ends. While these are but two of numerous such examples across the wide spectrum of our activities, they amply illustrate the remarkable dedication and resilience of our faculty, staff and students in dealing with the challenges of this pandemic.

Open House. It goes without saying that the kind of open houses we are familiar with would be unimaginable under the present circumstances. Undaunted, a team from across the university staged an impressive Virtual Open House on Saturday that attracted 1,813 people — or rather that many devices logged in. With multiple people surely present at many of the devices, the actual number of attendees would almost certainly be higher (3,400 had pre-registered – the highest number the event has ever attracted). The event featured 23 information sessions, 20 on-demand videos and 22 virtual fair booths. It resulted in nearly 2,000 applications for admission, up from 808 in 2019, including close to 300 that came in after the event. Those who couldn't attend are able to access recorded and on-demand content for the next 30 days. This is all pretty impressive, but the real story of the day was the amazing geographic reach of the event. While 85% of the registrants were from Canada and the US, the remainder hailed from 66 countries from around the globe!

Health visit. Then there are things, as I wrote above, that simply can't be done online. For example, some courses in our professional programs in the Faculties of Dentistry, Health and Medicine. I had an eye-opening learning experience when our Acting Provost Dr. Frank Harvey and I visited three such programs in the Faculty of Health on Wednesday last week. Guided by Dean Brenda Merritt and a number of faculty and staff, we witnessed live experiential learning in Occupational Therapy, Physiotherapy and Nursing. Knowing the complexities of delivering this education in a pandemic is one thing, but experiencing it firsthand is quite another – by a whole order of magnitude! I came away from the visit with an immense amount of respect for all involved and pride in the outstanding work they are doing. And I know that this is just one example of the story that is playing out across our campuses.

So, my shout-out this week is to the 185 or so Dalhousie faculty, staff and students who helped organize and support the amazing Virtual Open House and to those many who are investing an inordinate amount of effort and thought in managing our educational programs that must be delivered in-person.

Sincerely,

Deep
Nov. 5, 2020

Dear Dal community,
It's been 10 months at Dal and yet in some ways it feels like I haven't even started! Before I arrived in January, I had been so looking forward to the opportunity to get to know all of you, but the current public health restrictions have prevented me from bumping into students, faculty and staff on campus, or dropping by offices, labs and classrooms to say hello. I hope this new column — where I'll share a bit of what's been on my mind — will give you a chance to get to know me better. It's also an opportunity for me to acknowledge examples of the outstanding work happening across our community.
I came here, with a list of aspirational ideas, to embark with you on the exciting journey that Dalhousie was already on. As the proverbial "best-laid plans of mice and men" go, COVID-19 had other thoughts. Memory of early frantic efforts to move our teaching and work online have since been overwritten by a cascade of unforeseen challenges that had to be faced and managed. Lessons learned at each step had to be quickly turned into tools to deal with the next round.
We are all aware of the personal toll this has taken on everyone. I must confess that not unlike the rest of you, I too have had my moments of frustration. For example, my wife and I moved back to Canada to be closer to our family, yet they are more inaccessible today than they've ever been. My new grandson, who I am yet to hold, knows me only as the fellow in the iPhone! But, every time I start sliding into a low, I find inspiration in the words of my daughter, who, with her husband, is living the all-too-familiar experience of a professional couple with two young children: "Dad, yes, there are long-hours, red eyes, chaotic kids and the mess on the kitchen-table, but thank goodness, we are still able to work and none of us is sick."
And I personally have a whole lot more to be grateful for. Despite challenges and tension, I am surrounded by an institution full of amazing people who've given it their all to keep everything going — and then some more. Disasters averted never make the news, so even though there may have been mistakes along the way, compared to most of the world, we at Dal are in great shape — thanks to your thoughtful and continuing hard work. This will surely also get us through whatever lies ahead. The words of Mark Watney from the 2015 movie The Martian resonate:
"At some point, everything's gonna go south on you and you're going to say, this is it... Now you can either accept that, or you can get to work. That's all it is. You just begin. You do the math. You solve one problem and you solve the next one, and then the next. And if you solve enough problems, you get to come home."
So, my first shout out this week is to all of you; thank you all for your perseverance with the math!
Sincerely,
Deep