President's Corner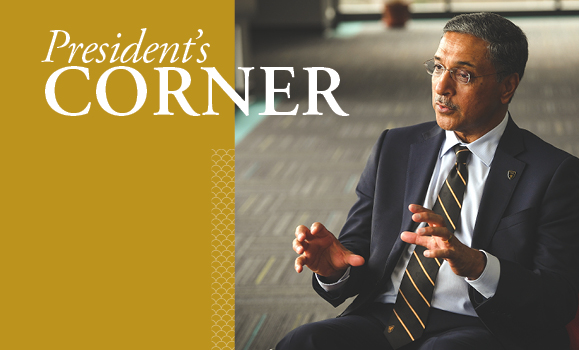 In his regular Dal News column, Dr. Saini provides a window into what he has been working on or thinking about and discusses the extraordinary work happening across our campuses.

Latest President's Corner column


July 22, 2021
Dear Dal community,

You may have heard that at some point during the lifespan of our new strategic plan, Third Century Promise, we intend to launch a comprehensive fundraising campaign at Dalhousie, as both an important part of and a key complement to the strategic plan.
Launching a comprehensive campaign is distinct from the university's matter-of-course fundraising. Campaigns are complex and carefully planned projects, executed in a highly coordinated manner over an extended period. They achieve outcomes that go far beyond simply generating financial resources for the university.
While fundraising is the central and most easily measurable objective, a well-planned campaign requires an institution to clarify, define and hone-in on key priorities within its core missions of teaching, learning, research, scholarship and service. This exercise of priority-setting and building the case for supporting these key priorities is, in itself, a major opportunity for us to critically reflect on where our greatest strengths lie and how we can build on them even further. It also demands that we identify, with precision, the areas that hold the greatest promise and opportunities for our collective achievement. This exercise serves as a call to action and expedites conversations that ultimately produce a roadmap to engage stakeholders and attract resources – through philanthropy and other partnerships – and help the university achieve its ambitions sooner.
Universities demonstrably raise more money during a campaign than they do prior to one, and these new levels of commitment are often sustained or exceeded during the post-campaign period. A campaign builds mutually reinforcing relationships among excellence, impact and support.   
A campaign also provides an institution with a chance to showcase its strengths and build on its reputation, especially in the areas of research and scholarship. It creates an opportunity to galvanize alumni, supporters and volunteers by providing tangible channels through which they can help advance the institution's mission.
As we emerge from the pandemic and return to campus and in-person teaching and learning, such a campaign will serve as one avenue to re-energize the Dalhousie community and unite us around common goals. Beyond the focus on specific priority projects, a campaign has the capacity to lift the entire institution, with benefits flowing to everyone – students, faculty, staff – regardless of the specific priorities. Funds raised to support one area of activity at the university often free up existing resources to support others.
As our preparations towards the launch of a campaign progress, I look forward to sharing more details and then rolling up our collective sleeves to accelerate Dalhousie's momentum. 

Sincerely,

Deep
2021 columns
June 30, 2021

Dear Dal community,

You may have seen the recent Harvard Business Review article that circulated last month about the importance of kindness at work. Our executive team brought the article to one of our own recent weekly meetings in a discussion about how we could express gratitude for everything the Dal community has done over the past 16 months. It may seem trite, but given the lack of social connections and significant challenges and traumas our communities have experienced this year, it remains important to consider how we might look out for and support one another at Dalhousie, even in small ways.
To that end, I want to note the success of the recent Shout-Out peer recognition program. Shout-Outs allow faculty and staff to informally recognize colleagues across our campuses who have helped them or their teams in some way this year. Over 200 submissions have been received to date, recognizing efficiency; professionalism; energy and enthusiasm; exemplary dedication to students; leadership and strategy; technical expertise; flexibility and willingness to help; generosity; mentorship; volunteerism; compassion; commitment to health and safety; confidence and decisiveness; creativity and innovation; collaboration; advancing equity, diversity, inclusion and access; allyship; customer service; sensitivity and so much more.
Reading through these submissions has been a heartening exercise that has instilled even greater pride for the exceptional efforts of our faculty and staff this year. If you have not yet had the opportunity, I encourage you to read the "shout-outs" submitted so far, and consider making a submission of your own.
Last week marked the beginning of summer, and I am increasingly optimistic that the coming months will offer opportunities for us to engage and collaborate in person again. As I have shared many times, our success throughout this period of significant uncertainty has only been possible because of our people at Dalhousie. Please accept my deep gratitude, for not only continuing to perform your duties with immense dedication and resolve, but for continuing to be there for one another, demonstrating crucially-needed kindness, empathy and support for your peers and for our students during a very difficult year.
A reminder that the university will be closed on July 2 again this year to offer our community a little bit more reprieve over the long weekend, and to say thank you for your ongoing contributions to the university. I hope you can use this additional time – and take the time you need over the summer months – to rest, reflect on and process the challenges we have faced as a community, country and society this year and join me in envisioning how we as a university community can contribute to building a better future.

Sincerely,

Deep
June 17, 2021

Dear Dal community,

On Tuesday, we launched Dalhousie University's new strategic plan for 2021-2026. It is called Third Century Promise – a title with a dual meaning, referring to both the potential Dalhousie's future holds as well as the commitments we make to one another, our students, our academic mission, and the communities we serve.
While it was wonderful to finally have the opportunity to launch this plan on Tuesday, I am also aware that it can be difficult to look to the future when one is constantly faced with immediate and urgent challenges, as we have been for the last extremely challenging year.
I am thankful to those who attended the virtual launch and submitted thoughtful questions about the plan: it is a testament to how much you care about Dalhousie and the work we do together. As I shared on Tuesday, implementing a strategic plan at a complex institution like Dalhousie requires a careful balancing act of multiple priorities within the university, and it is imperative that finite resources are allocated as effectively as possible to advance the core mission of the institution. At the same time, I have no doubt that we can navigate this balancing act together.
I cannot reinforce strongly enough that this is our plan. The plan was built through a consultative planning process that spanned two years. Just like the plan was developed by all of us, we are now also all responsible for its implementation. As I said at the end of Tuesday's event, a good strategic plan is not a prescription. Rather, it is a statement of our collective aspirations. I encourage you to read the plan in full and continue thinking about the new and creative ways in which we can further our shared mission together.
If you did not have the chance to attend the launch on Tuesday, I encourage you to view the recording of the event, available on the Strategic Planning website. The full plan is also available at dal.ca/strategicplan. Our focus now shifts toward the implementation of our new strategic plan and its action items. Please look for more opportunities to get involved in the weeks ahead.
It appears that the clouds of the pandemic have now started to dissipate, and we can look towards the future with more certainty and optimism. Let's roll up our collective sleeves and together, live up to and fulfill our Third Century Promise.
Sincerely,

Deep
May 27, 2021

Dear Dal community,

Last week, the provincial government announced that elementary and high school students would continue learning virtually for the remainder of the school year in response to the third wave of the pandemic in Nova Scotia.
While this may have come as a relief to some, it also adds further complication to the situations of faculty, staff and students who have their children home all day as they continue to teach, learn, work and study. Many in our community have had to pull their children out of daycare, rush to make alternate child-care arrangements, or balance watching small children with the competing demands of their workdays. Meetings with my own team have sometimes featured guest appearances from the young children of colleagues, and it has served as a powerful reminder that while we all continue to adjust to an evolving work environment, those providing care to others are maintaining notably complex juggling acts.
We know that nobody can do it all and that there will be times where work must come second. Please reach out to Accessible Employment in Human Resources if you need support.
May is also Caregiver Awareness Month in Nova Scotia, which acknowledges those providing care to a friend or family member, such as an aging parent, or a child or spouse with chronic health issues. May 19 has been designated as Caregiver Appreciation Day at Dalhousie. Last week, I had the opportunity to speak with Dalhousie's Caregiver Support Group, which Human Resources has facilitated since 2012. I felt honoured to have the opportunity to thank these group members for their perseverance and ongoing dedication, even during such trying times.
The pandemic has blurred the lines between our work and home lives. It has often provided a window into our colleagues' responsibilities outside the university. While I recognize we still have work to do at Dalhousie and as a society to make workplaces more family friendly and compassionate, I have also been heartened by the way our own culture at the university has adapted throughout the pandemic. I have seen more empathy, greater consciousness around boundaries, and increased recognition that regardless of whether we are students, staff or faculty members, we are human beings first, with our own unique personal challenges.
In this context, Thursday's announcement about the appointment of Dr. Frank Harvey – widely recognized as a caring and compassionate member of our Dalhousie family – as our next Provost and VP Academic is quite propitious. As we look ahead to Dr. Harvey's leadership in helping to re-open our campuses and resume in-person learning, and as we once again anticipate the joy of seeing one another face-to-face rather than just screen-to-screen, I am confident that we will continue with the nuanced approaches in relating to one another that we learned during the pandemic. The past 14 months have required a perspective shift – one that we would be remiss to forget.

Sincerely,

Deep
May 20, 2021

Dear Dal community,

Last week, we released Dalhousie's annual Community Report, which highlights the university's impact in our communities across the province and the region.

As I shared in the opening message of the report, as we pursue our global ambitions, it is our civic duty to simultaneously strengthen our province and our region. While the report shares stories of our considerable community impact across the spectrum, highlighting numerous examples for us to be proud of, the timeliest perhaps are those that illustrate the current efforts of Dalhousie's faculty, students and staff to control the pandemic.

I encourage you to explore the entire report, which is laid out in a very reader-friendly style, but especially note our partnerships with the provincial and federal governments and Nova Scotia Health to help with testing and vaccination efforts; the expert advice our researchers have provided on a national scale; how our staff, researchers, and alumni collaborated to address the critical need for PPE; our leading efforts to detect COVID-19 through wastewater testing; or how our students have utilized technology to stay connected with one another and their surrounding communities in a virtual environment.

As we grapple with the third wave of the pandemic together here in Nova Scotia, I am especially conscious of the dual role many of our students and researchers who work in medicine, health and related fields have as citizens of Dalhousie who are also making vital contributions to the province's fight against the virus. While we all have made difficult and necessary compromises to combat COVID-19, there are many members of the Dalhousie community for whom responding to the pandemic has been a nearly all-consuming endeavour for more than a year now.

Both National Physicians Day and National Nursing week took place in May, and we are currently flying the Healthcare Heroes flag to recognize the front-line healthcare providers and volunteers in our community. I am extremely humbled by the courage and commitment of the students, faculty, researchers and staff who are putting the wellbeing of others ahead of their own during this time that is so critical for Nova Scotia's healthcare system. Thank you for living this principle of civic duty and service. The Dalhousie community stands behind you.
Sincerely,

Deep
May 6, 2021

Dear Dal community,

I recently had the opportunity to participate in two invigorating discussions on leadership that allowed me to interact with some of our future leaders as well as alumni who have already made significant achievements on a national scale.
First, last week I had the chance to take part in a virtual alumni event with two of Dalhousie's esteemed graduates: The Honourable A. Anne McLellan, our former Chancellor and a distinguished Canadian politician, hosted the event, and Dr. Bonnie Henry, British Columbia's Provincial Health Officer, took the time out of her relentless schedule to share insights with other alumni. The conversation focussed on leading through challenging circumstances, and I cannot think of many better positioned to speak to this than Dr. Henry, someone who has been so central to leading her province and our country through the COVID-19 pandemic for the past 14 months.
The event was recorded, and I encourage you to watch the full discussion here, or attend a future event if you are interested. What resonated with me most was Dr. Henry's unwavering commitment to leading with authenticity, transparency, and compassion, even when constantly required to make and be the face of very difficult, and sometimes even unpopular, decisions. I believe the pandemic has forced everyone in leadership positions to deal with complex and urgent issues that have no easy solutions, including all of those tasked with leadership within our university community, from our senior leaders to our faculty and staff.
Then, this week, I had a chance to join a group of our graduate students for a virtual seminar on career development and leadership. While I shared lessons learned through my own experiences, the most rewarding part of the class was the interactive discussion that followed and hearing the leadership aspirations and advice shared by these students.
Thank you to the organizers of both events, from the Office of Advancement and the Faculty of Graduate Studies respectively, for helping facilitate these conversations. I am impressed by the innovative approaches both teams have taken to continue to provide meaningful engagement opportunities for their own communities during these difficult times.
As I've mentioned before, I have especially appreciated being able to get back into the virtual classroom and talk to students about a topic so near and dear to my heart, and I am looking forward to continuing to do more of this in the months ahead.
We must never lose sight of the fact that our students are truly tomorrow's leaders. Especially as we wrap up the academic year, and look ahead to our online Convocation celebrations in June, it gives me great pride to think about the future "Bonnie Henrys" or "Anne McLellans" reaching this milestone, and the formative role their time at Dalhousie might have played in their own development as up-and-coming leaders.
Sincerely,

Deep
April 29, 2021

Dear Dal community,
It is disappointing to be writing this as we face another lockdown across the province. Despite our collective hard work for more than a year, it is now again necessary to sacrifice in order to combat the spread of COVID-19. We are back to a place we had hoped never again to be. This said, it is also precisely the time when we once again must muster the optimism that has served us so well in the past.
I recognize the immense pressure the recent spike in cases and resulting public health restrictions are putting on our students, faculty, staff, and the surrounding community. I am especially conscious of the increased burden on parents who are balancing their work obligations with childcare responsibilities.
In my February 25 column, I stressed the need to continue to be kind and patient with one another as we all cope with the stress and complications that the pandemic has added to our personal lives and to remember the impact that a prolonged virtual work environment is having on our people. This message certainly bears repeating now.
It is within this context that the events of this past weekend are so deeply disturbing to me. As our Provost and Vice-President Academic Frank Harvey shared with our community in a memo on Tuesday, Dalhousie students were among those fined in relation to an off-campus gathering that did not adhere to public health protocols. As Dr. Harvey shared, there is a process to address serious violations such as these, and that process is underway. While I cannot share more than this about individual cases out of respect for privacy, please know that the university is taking this situation extremely seriously, and we steadfastly condemn this behaviour.
I greatly admire our student body, the vast majority of whom are conscientiously adhering to public health guidelines, and in many cases even going above and beyond – for example, volunteering – to help the province fight COVID-19.
To the students, faculty, staff and community members who have reached out to share their concern about this past weekend's events, please know that I hear you, I share your significant frustration, and wholeheartedly agree that the behaviour, judgement and reactions demonstrated were inexcusable.
Our students go on to be leaders around the world. It is critical that they learn early that individual actions have consequences. And right now especially, we have a communal obligation to keep one another safe.
As we once again buckle down to protect everyone, we continue to be here to support our people, without whom nothing we do would be possible. But we also recognize the toll that these ongoing challenges are taking on our collective morale. On Wednesday, I shared an invitation to faculty and staff for our next Community Check-In coming up on Tuesday, May 4. If you are able, please join us. We will share what we can about our continuing planning for the fall term, returning to campus, and more, in this evolving situation.
Sincerely,

Deep
April 16, 2021

Dear Dal community,

As we approach the last few steps toward finalizing Dalhousie's next strategic plan (more on this soon), I have been giving a great deal of thought to Dalhousie's responsibility to engage, connect with, and support our communities. As a civic university, we have an obligation to promote the economic development and social vitality of our region through our research, scholarship, and partnerships.
While our civic role is broad, given the current circumstances, public health and reducing health disparities have been top of mind for the past year. As the only U15 university in Atlantic Canada, we are uniquely equipped and positioned to collaborate to truly make an impact in the health outcomes of Nova Scotians. While there are many examples of how we do so, I will share a few timely initiatives below to illustrate my point.
First, my wife, Rani, and I recently had the opportunity to tour the Faculty of Dentistry's Government Assisted Populations (GAP) Clinic. The GAP clinic serves Nova Scotia's immigrant and refugee population, which has historically had less access to and faces barriers to accessing quality oral healthcare. We were deeply impressed with the caliber of work happening at the clinic to expand access to oral healthcare services for this vulnerable population, made possible by the Faculty's efforts combined with generous support from the alumna, donor and dedicated volunteer Susan Keating-Bekkers.
Close to 500 patients have received treatment through the GAP Clinic, while providing more than 260 dental hygiene students and more than 160 dentistry students invaluable experience that will continue to serve them throughout their careers. This is just one of approximately 18 different outreach initiatives run by the Faculty of Dentistry.
Another timely example of Dalhousie's community engagement to further the health of Nova Scotians involves our work to support the province's early COVID-19 vaccination efforts. In December, with the quick cooperation of our Faculty of Medicine, under the leadership of associate dean of research Dr. Roger McLeod, we were able to store the first doses of the vaccine arriving in Nova Scotia in ultra-cold freezers in our Life Sciences Research Institute and help enable the first vaccine clinic in the province, which then served Nova Scotians for four months.
Similarly, in March, we loaned hundreds of tables and chairs, typically used this time of year for in-person exams, to Nova Scotia Public Health to set up a temporary vaccine clinic in Dartmouth. This relatively small act of coordination on our part helped Public Health roll out vaccines more quickly and cost effectively.
The examples above highlight just a tiny fraction of the ways we collaborate to bolster the health of Nova Scotians. Across our Faculties and campuses, we are also working to engage and strengthen our communities in a myriad of other ways. As we move ahead in our third century, we will embrace our obligation ever more to continue to innovate and partner strategically to drive positive change in our province, our region, and beyond.
Sincerely,

Deep
April 1, 2021

Dear Dal community,

Last week, on March 24, the Government of Canada announced forthcoming guidelines intended to help protect Canada's major investments in science and research. While previously the government focused its efforts on education and awareness, this announcement signals a move to the creation of more concrete safeguards and programs to improve security across Canada's research community.
To achieve this goal, the federal government has tasked joint members of the existing Government of Canada-Universities Working Group to "develop specific risk guidelines to integrate national security considerations into the evaluation and funding of research projects and partnerships." The hope is that these guidelines will complement work already underway at Canada's granting councils and the Canadian Foundation for Innovation and position researchers, universities, and government to apply consistent and due diligence in their assessment of possible research security risks.
As institutions where research of national and international significance is conducted, we have an obligation to respond to the changing risk environment. The unfortunate reality in this digital era is that all universities are at increasing risk of espionage, foreign interference, and information and data breaches. The sudden move to a remote work environment necessitated by COVID-19 exacerbated these dangers. While it can be onerous to adapt in the face of nebulous challenges like these, we must continue to evolve and work in collaboration with our government partners to improve and advance national security.
The security of Canadian research is an issue of vital importance to both the federal government and the post-secondary sector. The post-secondary sector has a strong history of working together with government to address security concerns, and I am very grateful that our federal partners are approaching the development of a framework collaboratively and with close attention to the varied impacts this work has. For example, the aforementioned Government of Canada-Universities Working Group is comprised of a broad array of research stakeholders and includes representation from the U15 Group of Canadian Research Universities, Universities Canada, and Vice-Presidents of Research.
In order to make an informed and robust contribution to this working group — and to ensure that we at Dalhousie are ready to respond to any new programs or guidelines — we are pulling together a group of internal stakeholders and experts under the guidance of the Office of the Vice-President Research & Innovation.

Thank you to those on campus who already work diligently every day to keep our information secure and support our research security infrastructure, including but not limited to our teams in Information Technology Services, the Office of Research Services, Libraries, and our Legal Counsel Office.

Sincerely,

Deep
March 25, 2021

Dear Dal community,

As you have likely heard, last Friday, March 19, the Province announced a $16.8 million investment to expand and enhance computer science education at four Nova Scotia universities. Dalhousie will receive the majority of this funding – $13.3 million – towards an expansion of our faculty complement and student enrolment in Computer Science to meet the demand for talent in the region's growing tech sector. Not only is this a solid vote of confidence from our government partners, the magnitude of this investment, handled strategically, can potentially have a transformative impact at Dalhousie and in Nova Scotia.
We now have a very real opportunity to take Computer Science at Dalhousie a leap forward to become a national force in the field. This investment will create an unprecedented number of new positions in Computer Science and at the intersections with other faculties. Leveraging this momentum, we will be able to further expand our academic programs, strengthen our research capacity, deepen our industrial partnerships, enhance access for underserved communities and broadly deliver better student support and experience. We must also seize this opportunity to attract top talent to the university to selectively build upon our existing areas of strength and ultimately enhance our digital capacity across the institution. Inherent in these developments is a major opportunity to further diversify Dalhousie's talent capital and meet our existing commitment to increase the number of women in Computer Science.
Demand for top notch digital talent is growing rapidly in all sectors of the economy. The availability of this talent in Nova Scotia has a meaningful impact on the quality and growth of everything from health care to clean technology to food security. By scaling our Computer Science program, Dalhousie will make a significant contribution to the capacity of our region to attract immigrants, to start and grow innovative companies, to improve public services, and to attract investment into the economy. By making equity, diversity and inclusion a priority for how we scale Computer Science at Dalhousie, we will also contribute to more inclusive economic growth. There may be no other university in Canada as well positioned to enhance its academic mission while extending its positive impact. This is truly the essence of a civic university.
Along with our government, non-profit and industry partners, as well as our partner institutions — Acadia, Saint Mary's and StFX — we have a chance to make an immediate mark on Nova Scotia's and the region's economy, thus tangibly contributing to the region's recovery from the pandemic.
A big "thank you" to everyone at Dalhousie and our external partners who have been collectively involved in bringing this vision to life. And of course, many thanks to the Government of Nova Scotia for making this critical investment in our shared digital future.
Please join me in imagining the possibilities that this investment brings and in envisioning the difference we can make in our digital and start-up ecosystem if we are innovative, inclusive and collaborative.

Let's get to work.

Sincerely,

Deep
March 11, 2021

Dear Dal community,

This week, we will reach the one-year mark since we abruptly moved much of our operations online in response to COVID-19. And for a full year now, we have dealt with the difficulties this has brought, in tandem with the unique personal trials caused by living through a global pandemic.
Prime Minister Trudeau designated March 11 as the National Day of Observance in Canada to commemorate "the people who lost their lives and the significant impacts we have all felt because of COVID-19." We joined the Government of Canada and several other universities across the country in lowering our flags to half mast in recognition of the day.
This past Monday, March 8, was also International Women's Day. While all have suffered the consequences of COVID-19, evidence consistently shows that the pandemic has resulted in particularly difficult circumstances for women, especially increasing the burden on women as caregivers. This week, I specifically want to acknowledge the way women in the Dalhousie community have adapted and responded over the past year. I am also pleased to report that Dalhousie recently signed on to the federal government's 50-30 Challenge, which aims to increase the representation and inclusion of diverse groups to positions of influence and leadership.
Many uncertainties remain that will influence our ongoing response to the pandemic, and we must remain nimble and adaptive as the situation evolves. That said, Dalhousie has come through this crisis in many encouraging ways. Our phased return to campus continues to balance compliance with Nova Scotia's public health directives with prioritizing core mission activities in academics, research, and student support; we are seeing strong application numbers for the 2021-22 year, especially in our domestic markets; our students continue to persevere, despite the challenges associated with online learning; and our researchers are playing vital roles in the fight against COVID-19.
There are also many reasons to believe the university has a bright future. We are optimistic that this fall will allow a significant expansion of on-campus learning and other on-campus activities; we are in the final stages of renewing the university's strategic plan; and we are working on a new international strategy that will position us to capitalize on new opportunities, without ever losing sight of our commitment to local relevance.
We are seeing signals that Canada's economy could see a strong rebound after the pandemic, with some commentators forecasting a period of economic, social, and artistic innovation following lockdowns and restrictions. And both our current federal and provincial governments are supportive of universities. Together, this bodes well for Dalhousie.
Now is the time to focus on how we can dash out of the blocks and seize the opportunities that lie ahead. We must consider how we will apply what we have learned over the past year to come out of this moment in history even stronger.

I look forward to another opportunity to connect with faculty and staff and discuss this further at our next Community Check-In, coming up at the end of this month (keep an eye on your email for details). In the interim though, once more, please accept my most heartfelt thanks for your unwavering commitment this past year. Together, we have and will continue to weather this storm and take Dalhousie to new heights.Sincerely,
Deep
March 5, 2021

Dear Dal community,

Sometimes we don't quite appreciate what we have until it is taken away.
Earlier this week, I had the opportunity to visit our Studley campus as part of a photo shoot with Danny Abriel, one of our talented university photographers. While I would normally cross paths with our photographers nearly every week at various university events, this was the first time we've had the chance to work together since last March — of course, following the new public health protocols.
Simply having a reason to put on a suit and tie became a source of much joy in the current circumstances. The act of getting dressed up and going to campus brought back an invigorating sense of familiarity. During the shoot, a group of masked and socially-distanced students walked by on their way to their class — and what a welcome sight it was to see students passing through our hallways!
The photo shoot, and the trip to campus, was a reminder of the many things I took for granted before. For example, travel. I never thought I'd miss my trips away from home, airport security lines, and living out of suitcases — but surprisingly, I do. My regular visits to the Dalplex are now replaced with workouts in the basement at home. I've recently resumed weekend visits to the Dalplex for golf practice, and the mere act of walking into that familiar space is proving to be a real comfort.
The frigid temperatures in Halifax this week notwithstanding, my wife, Rani, and I have been walking regularly on campus. Occasionally we see students playing on the tennis courts, kicking around a ball on the Wickwire Field or tossing a frisbee on the quad. We even came across a couple of them last Sunday honing their musical skills on guitar. Little things that we hardly would have noticed before now seem so special!
Spring is now just a few weeks away, bringing the promise of warmer weather and the hope that better days are ahead. In the interim though, this week I want to acknowledge all those on our campuses — like our photographers, athletics and recreation staff, and so many more — who have transformed their own roles, responsibilities and policies to continue allowing others these small semblances of normalcy during a very strange time.

Sincerely,
Deep
Feb. 25, 2021

Dear Dal community,
I hope you all had a restful Heritage Day and winter study break. Personally, I was able to take some vacation time last week, which gave me the opportunity — and privilege — to shut down, stay away from email, catch up on sleep, exercise every day and clear away some mental clutter. Frankly, I hadn't realized how much I needed this time to recharge and reflect.

On Monday, I shared a memo with Dalhousie's senior leaders that issued a call-to-action for all of us to remember the impact that a prolonged virtual work environment is having on our people. While I shared this specifically with our leadership team, given their positions of influence, it's a message worth repeating.

For more than a year now, we have watched the pandemic change the world in ways that we never thought possible. We are also fast approaching a full year of having our own lives altered dramatically here at home. While we have been very lucky in Nova Scotia, the pandemic and its ripple effects have still loomed over us continuously. To say that this has not been easy would be a gross understatement. And while we are each bearing different burdens, I know that all in our community are facing challenges. Especially as we face the coldest weeks of winter here in the Maritimes, I recognize that many are struggling.

Some of the tangible things I encouraged our senior leaders to focus on are to be conscious of meetings, keeping them short and effective and cancelling meetings that aren't really needed; leading by example and championing wellness among their people; and checking in with their team members, offering ways to support their needs.

With vaccination underway and warmer months ahead, I am hopeful and optimistic. But we must remain vigilant — and perhaps most importantly — we must remain kind.

Please continue to look out for one another, be patient with one another, and keep the unique struggles that others may be facing front-of-mind in your interactions with your colleagues, your students or your professors.

Be kind to yourselves as well. Maybe some days aren't as productive as you had hoped for. Maybe your patience is wearing thin. Maybe you're tired. It's understandable. Please do what you can to find the time and space to take care of yourself. If there's a way the university can help you with this, let us know.

Let me be clear and direct about this: we support you. We understand that you are each navigating unique circumstances that might require different types of supports. It's ok to ask for help if you need it. Your health and your family are always more important than your to-do list.

Thank you for your continued compassion. It is truly making a difference.
Sincerely,
Deep
Feb. 11, 2021

Dear Dal community,
This week, I had the pleasure of meeting with Dalhousie's Centre for Learning and Teaching team to hear from them directly about the work they have done to respond to the move to online learning since last spring.
The depth and breadth of what this team has been able to accomplish in a relatively short period of time is truly remarkable. This includes, among other things, providing more than 600 eLearning consultations with faculty, reaching more than 4,000 faculty members from Dalhousie and other Atlantic universities through webinars and workshops, and creating programming focussed on online learning and the transition to online. I commend them heartily for their impressive work.
There are so many on campus who work behind the scenes to support our instructors and, in turn, enable rich and varied learning experiences for Dalhousie's students. Our teachers and those who support teaching at Dalhousie have made critical innovations over the past 11 months, but they also drive us forward all the time in our commitment to teaching in a way that is modern, relevant, and accessible. They have made the best of an extremely difficult situation during the pandemic, not just out of necessity but also because of their profound commitment to our students and Dalhousie's mission. I look forward to continuing to get to know the university's teaching all-stars.
I too recently had the opportunity and joy of delivering a guest lecture to a graduate level Biology class. It not only rekindled my own passion for teaching but also reminded me of the time, energy and commitment required of our instructors who teach at an exceptional level. I had a wonderful discussion with an engaged group of graduate students, who exemplified the way our students have persevered to continue their learning journeys. I sincerely look forward to spending more time in the "classroom" in the weeks and months ahead.
As we look ahead to the reading week and approach the midpoint of the term, I want to thank those who teach and who enable teaching at Dalhousie. Your work is not only critical to the university but also to our society. The next generation of leaders are passing through Dalhousie's virtual and in-person hallways, and your work is setting the foundation for their growth and success. Bravo!
Sincerely,
Deep
Feb. 4, 2021

Dear Dal community,
As you know, African Heritage Month began this Monday, Feb. 1. We at Dalhousie are proud to recognize and celebrate the month with a series of virtual events happening throughout February.
This year's theme at Dalhousie is Black Health Matters: Listen, Learn, Share and Act, and through this theme, we are all urged to both recognize barriers faced by People of African Descent and to work to remove them.
As we reflect on Black health and wellness, I want to acknowledge what an incredibly difficult time in our history this past year has been. We've witnessed a spate of unjust racial tragedies experienced by Black people in North America and on a global scale. These include health inequalities, police brutality, and environmental racism. We must step up and address the impacts these injustices have within our own community.
At Dalhousie, we have strong policies, established initiatives, and resources to support our community, as well as faculty, staff and students who have made and continue to make vital contributions. That said, we know we must do more and drive for continuous improvement to combat systemic anti-Black racism and all forms of discrimination and intolerance. Dalhousie is fully committed to this path, as am I personally.
On Monday, we launched African Heritage Month with a virtual flag raising. If you weren't able to tune in, you can watch it on Dalhousie's YouTube channel. While I wish we could have marked this occasion in person as we normally would have, it is more important than ever to reaffirm Dalhousie's commitment to supporting all People of African Descent in our community. Thank you to the African Heritage Month Planning Committee for coordinating the virtual flag raising, and other virtual events happening throughout the month.
Finally, if you haven't yet had the opportunity, I hope you will take a few minutes to watch my most recent episode of The Deep Dive, where I had the pleasure of sitting down with Jalana Lewis, Dalhousie's new director of African Nova Scotian community engagement, and Cathy Martin, our new director of Indigenous community engagement. Jalana and Cathy shared their experiences beginning these new roles during the pandemic; their visions for Dalhousie; and ideas about how our students, faculty and staff might strengthen their engagements with these communities.
This month, I hope you will join me in reflecting, celebrating, and acting. To learn more about Dalhousie and community events happening this month, please visit dal.ca/africanheritage.
Sincerely,
Deep
Jan. 21, 2021

Dear Dal community,
I hope you have all settled into the new year and found routine again after the winter break. While 2021 continues to bring renewed optimism, for now the necessity to remain in the world of virtual work and learning continues. Many of us typically use January as a time to dig into resolutions for the year ahead, but this is hardly a typical year. As I look ahead, the health and wellness of the Dal community is top of mind.
On Wednesday night, I had the opportunity to join some of Dalhousie's talented researchers for an episode of our Open Dialogue Live series: Healthy at Home. Experts from our Faculty of Health discussed the emerging impacts of COVID-19 and provided insights into how viewers could support their families during this time. You can watch the episode here.
We are still in this environment for some time to come — so we must make every effort to maintain our physical and mental health. The move to online work reminds me of when email was first introduced. With the advent of email, I remember feeling an increased expectation to respond more quickly than I would have to letters or memos in the past. Similarly, I think virtual work has created a pressure to squeeze in more back-to-back meetings and to work longer hours, which can compromise efficiency. And while I am making every effort to be conscious of this in my own life, it remains an uphill battle.
The stark increase in screen time, for me, has resulted in a different kind of exhaustion at the end of the day — one that sometimes manifests in eyestrain and trouble sleeping. To combat this, I have tried to commit to a home exercise routine, a brief midday meditation and, when possible, getting away from the screen an hour or so before going to bed.
While most of us at Dalhousie are very grateful that we have been able to continue our work and learning, it has not been without its challenges — and I know mine are small compared to many at Dalhousie, in our community and around the world. My wish for our students, faculty and staff this year is that all of you find the time and space to prioritize your well-being as much as possible in these circumstances. To that end, I want to take this opportunity to promote Dalhousie Wellness Day [myDal link] organized by Human Resources and coming up on February 4. I encourage faculty and staff to take time to attend any sessions of interest to them, should their schedules allow it.
While there are many in our university community who work tirelessly to promote health and wellness across our campuses in a variety of different ways, this week I want to specifically recognize our colleagues in Human Resources and Student Affairs, who do this as part of their day-to-day mandate. Thank you for everything you do to help us take care of ourselves, and in turn, enable the continued success of the institution.
Deep
Jan. 15, 2021

Dear Dal community,
January 15 marks one year since I arrived to serve Dalhousie. While it certainly hasn't been the first year that I was anticipating, I have deepened my understanding of the Dalhousie community, and the region more broadly, even if much of this has happened over video meetings. I've tried to pair my engagement work with plenty of reading about the university and Atlantic Canada, including the book that's currently on my desk – Thank You For the Business, a fascinating account of the Irving family and Irving Oil. One quote from Arthur Irving early in the book caught my eye: "We are good to nobody if we are not successful." These words have a special relevance for Dalhousie.
Dalhousie is the leading Atlantic Canadian university. We have gotten here through our community's support, and in turn, we've worked hard to advance the economic and social vitality of our province and the region. What struck me about the above quote is that the extent to which we can be of use to our community is directly dependent on the degree of our own success as a leading institution of learning, discovery and innovation. This entails working relentlessly to pursue excellence in all aspects.
Let me be clear: working relentlessly doesn't necessarily mean working harder or longer, or putting Dalhousie above our own personal and familial priorities. Instead, it means working smarter by making considered choices to focus on what matters most and what will make the greatest impact, committing to doing the absolute best as we pursue our priorities, and never relenting.
The writing of our new strategic plan is now well advanced. The plan will build upon the success of our previous strategic direction and encapsulate the aspirations you shared during multiple rounds of Dalhousie-wide consultations over an 18-month period. This is a critical step in making the choices I mentioned above. The more I get to know our community and its needs, the more confident I feel that we will find collective inspiration in this plan as our roadmap to advancing Dalhousie further on the world stage, as well as making it even fitter to deliver on our obligations to our community.
I knew before I arrived that this part of Canada was a unique place in the world. What I have discovered over the course of this past year is transforming that perception into a love affair. I owe this, in large part, to all those who have taken the time to help my family and me to get to know Dalhousie, Nova Scotia, and Atlantic Canada better. Thank you! It is my absolute privilege to work alongside you to further Dalhousie's excellence and impact as we begin our third century.
Sincerely,
Deep
Jan. 8, 2021

Dear Dal community,
Welcome to 2021. I hope you all had a restful and enjoyable break, have stayed healthy and are ready for a productive year ahead. I not only wish you a year full of positives but am recommitting to doing my own personal best to foster our community's success this year.
Despite the ongoing increase in COVID-19 infections here in Canada and elsewhere, the introduction of at least two potent vaccines during the last weeks of 2020 have brought much-awaited shimmer of hope that the end of the pandemic is in sight. Our public health authorities have already embarked on the vaccination drive, which is expected to accelerate and widen in scope over the coming months. This is welcome news after almost a year of gloom and setbacks. This said, it is critically important that we do not let our guard down even the slightest bit. This dangerous virus is still with us and will remain with us as the vaccination is rolled out. A fairly long journey still lies ahead – a journey that will likely include surprises and even setbacks. Those not yet vaccinated will remain as vulnerable as ever and it remains uncertain as to whether those who are vaccinated may still be able to transmit the virus. Our campuses will eventually return to pre-pandemic conditions, but it will happen through a gradual, phased process that is carefully planned and executed.
Despite the long road that still lies ahead, I am starting the new year with renewed optimism. I've been working with our provost over the last month to finalize Dalhousie's next strategic plan, building on the extensive engagement and insight gathered prior to my arrival at Dalhousie. I'm looking forward to sharing it with all of you soon and seizing the opportunities that lie ahead.
Your admirable qualities of patience, discipline, resilience, understanding and care for one another, which have served us so well through this crisis, will be needed for a little while longer. We are all counting on it. But I'm confident that, together, we will keep our momentum going.
My best wishes to you all and many thanks for your continued cooperation.
Sincerely,
Deep
June 3, 2021

Dear Dal community,

We end this week as we began, with heavy hearts, as we mourn the 215 sacred children whose remains were found at the site of the former Tk'emlúps te Secwépemc Residential School. This is an event of national shame, and I want to reiterate the university's shared empathy and solidarity with the Indigenous communities in B.C., nationally and particularly Nova Scotia and Dalhousie, who are experiencing the gravity of this loss. Our flags remain at half mast for 215 hours, until sunset on June 8, to recognize these lost children and all affected by the tragedies of the residential school system.
I want to thank those members of Dalhousie's Indigenous community who met with me earlier this week, and recognize those who continue to provide support and resources for students, faculty and staff as well as their own communities, during a time when they themselves are grieving.
As a university, we support the pursuit of truth, justice and reconciliation, and we are committed to responding to the Truth and Reconciliation Commission's Calls to Action on education. We must renew our determination to listen, facilitate spaces for compassion and coming together, and help ensure that nothing like this ever happens again.
Sincerely,

Deep