Accreditation

Our MI program is accredited by the American Library Association (ALA) Committee on Accreditation, with the status of Continued accreditation. The next comprehensive review visit is scheduled for 2019. The School submits an annual statistical report, and a biennial narrative report for approval by the Committee. Accreditation documents are available upon request, pending University approval.
Program Assessment 
In addition to the process of accreditation, the School of Information Management's MI degree is assessed through an ongoing, robust and systematic planning and self- assessment process.

Statistical Data on Enrolment & Completion Rates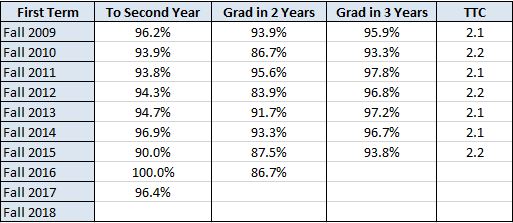 Recent Employment Data from our Graduates
The post-graduate survey (sent to October 2017 & May 2018 grads in November 2018) reports that 90% had secured employment in the IM field; 62.5% found employment within 0 – 3 months after graduation, and 37.5% in 3 – 6 months period after graduation.

Documents related to the School's MI assessment activities are linked below. More information and reports will be added as they become available.
ALA Committee on Accreditation
MI Admissions Committee
MI Awards & Scholarships Committee
MI Curriculum Committee
MI Director's Report
MI Practicum