Indigenous Student Advising

PJILA'SI "WELCOME" STUDENTS!
Wishing you all a successful 2017/18 academic year!
Coming soon! October is Mi'kmaq History Month! Check back soon for a calender of events happening on the Agricultural Campus!
Indigenous Resource Room Opening
Don't forget the new Indigenous Resource Room (Cox 154) is open and we look forward to seeing you there.
For access, please contact Art (arthur.stevens@dal.ca)
DSU Health & Dental OPT OUT Deadline September 18th!
If you have coverage through your Aboriginal Affairs or otherwise, please don't forget to opt out of the DSU Health & Dental Plan by September 18th!.

This event is an open door event with no registration required. 
Participants are welcomed and encouraged to bring a lunch and come and go as needed.

Fostering a Supportive Environment for all Indigenous Students
Dalhousie's Faculty of Agriculture in Truro, NS welcomes students of Aboriginal ancestry to discover outstanding educational opportunities that will inspire you and help shape your future. On all of our campuses at Dalhousie, you'll find other students who share your Aboriginal background. You'll also find personal and educational support services that will help make your university education the best it can be.

Our Indigenous Student Coordinator is focused on enhancing your success in and out of the classroom, and helping you meet your academic and personal goals—whether that's through sessions with math and writing tutors or perhaps nutrition and personal finance workshops.

The Coordinator helps foster your success by providing specialized advising and support, and by working with faculty and staff to create a welcoming and inclusive campus environment for our students.

Indigenous Student Services and Programs offered on the Truro campus, include:
Academic and career advising
Indigenousl culture-based activities, workshops, and performances
Elder sessions (story sharing and stress relief)
Mi'kmaq History Month activities (October)
Lunch and learns
Lecture series/guest speakers
Tutoring services
Student advocacy/liaising 
Indigenous Resource Room
Come visit our Indigenous Student Resource Room located in Room 154 of the Cox Institute. While there you can enjoy free coffee or tea, use the printer, or take advantage of academic advising, and meet other Aboriginal students.
Financial Assistance
We're committed to helping you find ways to fund your education. Below are a few scholarships available specifically for indigenous students. For a complete listing of scholarships and bursaries, please contact the Indigenous Student Advisor or visit Money Matters.

Indspire, an Indigenous-led registered charity that invests in the education of Indigenous people, also offer bursaries and scholarships.

Visit the Indigenous Student Centre page for more information on bursaries and scholarships available.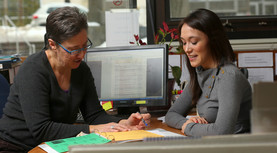 Contact Our Student Coordinator
Indigenous Student Advising
Room 115, Dairy Building
11 River Road, Truro, NS
Email: arthur.stevens@dal.ca
Telephone: (902) 896-4486
Mobile: (902) 956-9270
Fax: (902) 893-6545