Alumni Gardens
Inspirational and instructional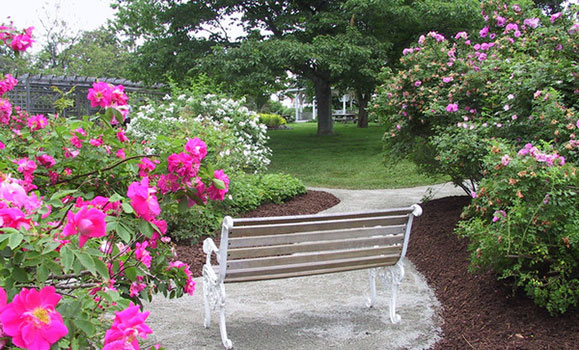 The Alumni Gardens site was originally a research nursery where Richard Morton and Les Blackburn carried out species evaluation trials. Plants were brought to Truro to test their performance and winter hardiness under Truro conditions. The mature trees and shrubs in the garden are the remains of the early collections. In time, the site was turned over to the Campus, and the Alumni Association encouraged its development as a garden. Students in the engineering technician program built the gazebo platform as a class project in the mid-1980s.

Over the years, the garden layout has changed as Landscape Horticulture students implement projects designed by the teaching staff. To assist with increasing demand for garden development as a teaching tool, new ideas were formulated as to how it could all be managed. In 1999, the Friends of the Gardens was created, and Bernard Jackson was brought in as coordinator of the group. They have worked with the grounds staff to help implement changes to the Alumni Garden that complement the teaching aspect of the garden, while simplifying its management.
The pavement circle was installed by the Landscape Horticulture students in 1999 to provide a gathering place where events could be held. Funding for the materials came from the Class of 1975.
The Friends of the Gardens and the grounds staff created the perennial garden that frames this area, using plants from existing perennial gardens. In the fall of 2001, the students in the Environmental Horticulture program prepared a new blue and yellow theme perennial garden at the east end of the Alumni Garden, and grassed over the old linear beds.
The Women's Institute gift of 12 Adelaide Hoodless roses in the spring of 2002, was the beginning of a new rose garden. It is circular in shape, containing fragrant old fashioned roses and companion perennials. The pergola will be covered with a collection of clematis and climbing roses.
It is our hope that Alumni Gardens will be a destination for evening walkers and families who wish to visit beautiful gardens for inspiration. Loss of plants to thieves has been a problem, but new measures should assure that the gardens remain for the pleasure of everyone who appreciates beauty. The Alumni Association continues to support the garden. Donations to help support Alumni Gardens can be made through the Alumni and Public Relations Office.