PEGaSUS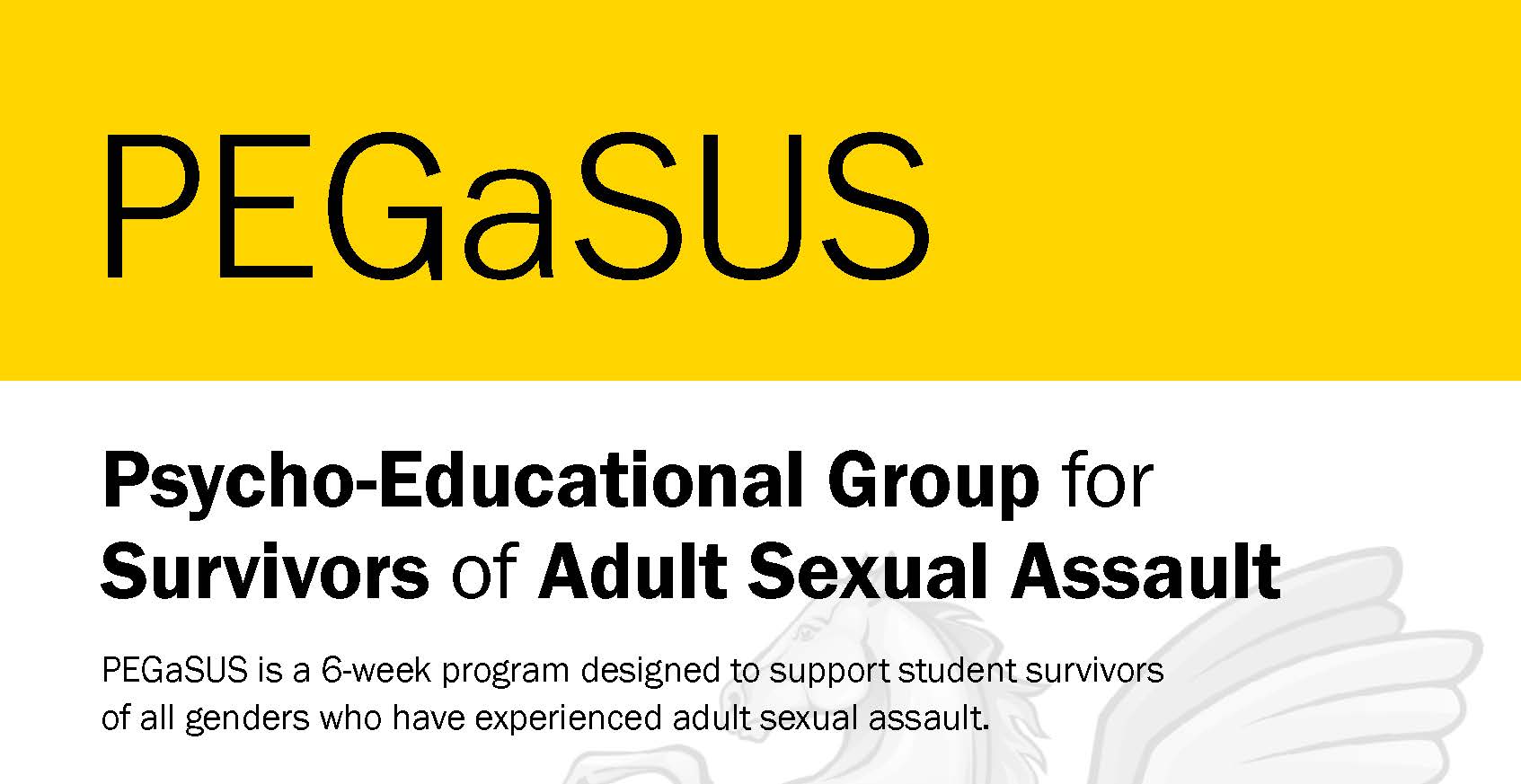 During the Fall 2022 semester, PEGaSUS will be facilitated as a 6-week program designed to support student survivors of all genders who have experienced adult sexual assault.
SCHEDULE OF SESSION TOPICS
Week One: Effects of Sexual Assault
Week Two: Fear, Anger, Sadness and Grief
Week Three: Shame, Guilt, and Self-Blame
Week Four: Managing Triggers and Flashbacks
Week Five: Healthy Coping and Self-Care
Week Six: Self-Esteem, Intimacy, Boundaries and Assertiveness
Week Seven: Resilience, Hope, and Empowerment
Week Eight: Social Connections and Support Systems


Sessions are facilitated as one hour discussion circles. Our time together in group will focus on helping each other understand the impacts we may experience as the result of assault, as well as how we may respond to those impacts. PEGaSUS believes strongly in bringing survivors of all genders together safely in community with others, we hope that participants will feel able to share areas that they have found challenging in their healing as well as identify and celebrate their strengths.
PEGaSUS is open to student of all genders from Dalhousie University and University of King's College.
YOU HAVE RESILIENCE AND PERSONAL POWER.
Toolkit: Coping With Triggers
Testimonial
"I was worried about coming to group, but as soon as I came I felt welcomed and understood, without even having to say anything."
"Being part of a group has provided me with the change to open up about my assault and learn how to heal. I feel like I am learning how to live again alongside my lovely ladies."
"Talking, connecting, hurting, and healing with others who understand and are on the same journey."
"I have had the privilege to learn from - and heal with - an extrodinary group of young women. Moving forward I will carry their strength with me."
"Group therapy has been an important system for me and I'm so glad I had the opportunity to meet people who have shared my experiences."