As Dalhousie continues its work in developing a university-wide accessibility plan to do its part in making Nova Scotia barrier-free by 2030, one of the key areas of focus has been on creating an accessibility standard related to employment at the university.

An Accessible Employment unit housed in Human Resources was launched last year as part of the university's work in this area, building on previous work done under the Disability Administration banner. The unit added some additional administrative heft to assist recently with the hiring of the university's first accessibility advisor.

Ivonne Paez joined the university in the role from the Halifax Regional Centre of Education, where she spent years working as a health and abilities specialist. Part of Paez's new role includes helping to develop and advance an accessibility standard around employment and providing accessible employment education and outreach to the Dal community.

"Employment is a very important dimension to accessibility, and we are excited to be moving forward as part of the university's planning," says Orla McDevitt, director of the Accessible Employment team and lead of the employment working group on the university's Accessibility Advisory Committee.

"We want to ensure Dal is an accessible and equitable employer that attracts and supports the careers of employees with (dis)Abilities, or others who experience barriers to accessibility, and that Dalhousie's employees reflect the diversity of Nova Scotians."

Employment is one of six areas Dal and other post-secondary institutions are required by the province to address in crafting their comprehensive accessibility plans. The other five areas are: the built environment, delivery and receipt of goods and services, information and communication, education and transportation.
Further reading: Toward a barrier‑free Dalhousie: Accessibility goals take shape as province sets standards

Justin Snow rounds out the Accessible Employment team as disability management consultant, a role he has held since 2014. He focuses on assisting faculty and staff members with accommodations, including those related to physical health, childcare, mental health and addictions. He also assists employees with sick leaves and return-to-work plans to help them transition back to work.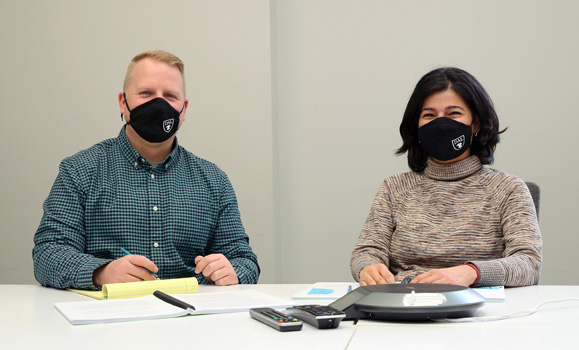 Left-right: Justin Snow and Ivonne Paez, two thirds of Dal's Accessible Employment unit.
Enabling accommodations

Dal's Accessible Employment team also oversees the university's processes, policies and practices related to accessibility, including the Employee Accommodation Policy. The policy was revised in September 2020 to better reflect the provincial accessibility standards and to establish a framework for managing requests by faculty and staff for accommodation in an appropriate and timely manner.

Policies such as employee accommodation help encourage the recruitment, selection, transition, career growth and advancement of persons with (dis)Abilities or others who experience barriers to accessibility. The team works closely with the university's recruiters, hiring managers and committees to ensure persons with (dis)Abilities feel welcome and encouraged to apply for all jobs at Dalhousie. Once a person is hired, Accessible Employment helps with any accommodation they may require, and collaborates with leaders, managers and supervisors to ensure there are opportunities to advance and grow at Dalhousie.

Since the pandemic, the Accessible Employment team has seen a substantial increase in the number of inquiries from employees around physical health issues related to working remotely, as well as mental health concerns including feelings of isolation, anxiety and stress.

"First and foremost, we listen to employees to find out what is causing their health concerns," says Snow. "We work with them to create the best work plan, whether that means getting an ergonomic assessment of their workspace, referring them to a health care provider, or informing them of resources that are available on campus or in the community."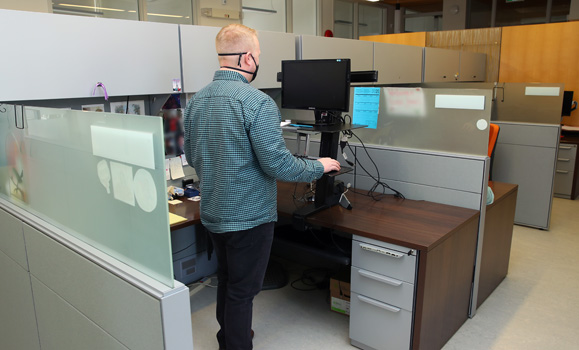 Fostering a culture of inclusion

The Accessible Employment team's other critical task is supporting the work of the Dalhousie Faculty/Staff (dis)Ability Caucus, which was created in 2020 through the Master Social Work (MSW) practicum of Lewis Boehner supervised by Judy MacDonald. The purpose of the caucus is to bring employees living with (dis)Abilities together so that they may share their experiences, support one another, advocate for accessibility at the university, and promote the inclusion of (dis)Abled persons at all levels of faculties and administration. The caucus will also help advise the Accessibility Advisory Committee implementing Dal's Accessibility Plan.

"Caucus members have a variety of lived experiences, but we share one thing in common, the battle against ableism," says MacDonald, co-chair of the caucus. "The caucus will advocate for a barrier free university, while offering support to its members and providing a safe and confidential space to share."

Michelle Mahoney, co-chair adds, "The (dis)Ability Caucus to me, is a place where people can go and speak freely, a place where people support each other in a safe and respected environment. Everybody has their own experiences, and it is a good feeling that you are not alone."

"The growing membership and deep (and sometimes hilarious) conversations speak to how significantly faculty and staff needed the space the Caucus is creating and holding," says Tereigh Ewert, co-chair. "As a collective, we are contributing our voices to conversations around accessibility planning and recommending ways in which our campus community can engage in education that mitigates misinformation and stigma. We are building a community within Dal, where once folks felt isolated in their experiences, now feel validation and empowerment."

All faculty and staff who self-identify as living with a (dis)Ability, such as chronic health conditions, chronic pain, mental health (dis)Abilities, physical, auditory, sensory impairments — both visible and invisible, are invited to join the caucus monthly meetings by contacting Tereigh Ewert.
Next steps on accessibility

Human Resources is now helping lead the university's accessibility work in another way, too. This month, Jasmine Walsh, assistant vice-president of Human Resources took over as one of two co-chairs of the university's Accessibility Advisory Committee from Susan Spence, vice-provost planning and analytics. She is joined as co-chair by Quenta Adams, director of Student Academic Success (Student Affair).

"We want to thank Susan for helping move the university's Accessibility Plan forward and paving the way for us to complete this important work," says Walsh. "Accessibility is fundamentally about people and Quenta and I are excited to continue this work on Dal's campuses for our students, faculty and staff."

As part of the university's accessibility planning, a survey will be sent to all faculty, staff and students in the coming weeks to learn more about accessibility concerns from the community. Stay tuned for more details in Today@Dal and your inbox.

Learn more about Dal's accessibility planning work and the Province of Nova Scotia's plan, Access by Design 2030: Achieving an Accessible Nova Scotia.