The year 2030 sounds decidedly distant in these COVID-focused times, but the turn of the next decade is an important milestone that many Nova Scotians are anxious to see arrive.

That's the year the province has set for its goal of becoming barrier-free for individuals with disabilities and other accessibility challenges such as deafness or neurodiversity.

Dalhousie, like other post-secondary institutions, has an important role to play in this ambitious undertaking. Designated by the province as a "public body," Dal is required to craft a comprehensive accessibility plan that specifies the removal of barriers to participation in each of the following areas: the built environment, delivery and receipt of goods and services, information and communication, education, employment, and transportation.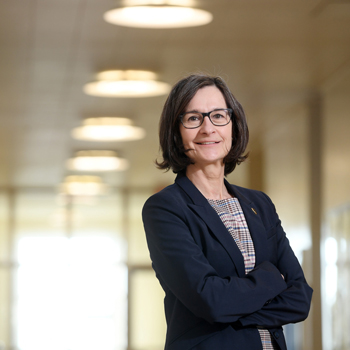 "There are so many dimensions to accessibility that we know we need to address, and that goes well beyond the physical state of our buildings," says Susan Spence (right), Dal's vice-provost of planning and analytics and lead on the university's accessibility planning.

To tackle this, Dal has established an integrated framework that will enable collaborative work across the university to develop, monitor and continually improve its accessibility plan based on provincial standards now being developed. The approach is designed to encourage innovation in how accessibility is addressed and to not just meet but exceed the core requirements set out in the Nova Scotia Accessibility Act.

Planning is already in full swing at Dal, says Spence. An accessibility advisory committee and steering group are up and running, with a core project team and six working groups set up to take on planning around the province's priority areas — work that will then be folded up into an overall plan for the university. A new website has also been set up with details about the working groups, terms of reference and other resources.

A cross-university approach

Each working group includes individuals who have lived experiences with disabilities as well as those who are responsible for providing service, education or research at the university. Further outreach will then be undertaken to deepen the involvement of the broader community.

"One of the requirements for every one of those working groups is to ensure that there is broad outreach, so that it is not singularly those that are around the table, but that we are looking across the university to get input into this plan," says Spence.

All of this comes as welcome news for Michelle Mahoney, a long-time Dal employee who has navigated working at the university with a disability for more than two decades.

"I've been at Dal for 21 years, and I've worked all over campus," says Mahoney, who was born with a condition called arthrogryposis. Characterized by a lack of muscle in joints of the body, the condition has left her with limited mobility in her arms, hands and knees. She was also born with clubbed feet that turn inward at the joints and a dislocated hip.

"Even though I have a disability, I have the same needs and wants as everyone else, it might just take me a little longer to get there," she says. "I have come a long way and believe in myself and have gained a lot of confidence."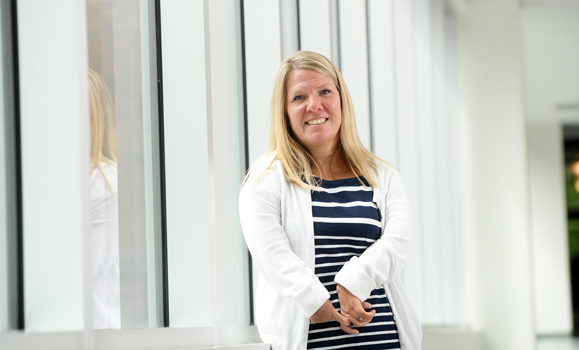 Mahoney's work as a receptionist and career development office assistant has taken her from the oldest building on campus (the Forrest Building) to one of the newest (the Collaborative Health Education Building), and to many other spaces in between. It's a journey that has had its share of challenges, but Mahoney says she uses her many experiences and perspectives as motivation to push for change.

"It's because I live it every day, right?" she says, reflecting on that commitment.

She currently serves on the board of Easter Seals Nova Scotia and Easter Seals Canada, the provincial and national branches of the charitable organization that strives to enhance the independence, quality of life and well-being of Canadians who are living with disabilities.
 
And now, Mahoney will be bringing her passionate perspective to Dal's accessibility planning as a member of the 'Education' and 'Employment' working groups and the university's accessibility advisory and steering committees.
Barriers in the built environment

Not surprisingly, one of the biggest accessibility challenges facing Dalhousie and other post-secondary institutions is the removal of barriers from the so-called built environment — those shared physical spaces inside and outside where people need to be able to move around freely.

With more than 200 years of history, Dal has its share of aging infrastructure. But the university knows the ins-and-outs of its spaces and buildings far better than ever before thanks to an accessibility audit of its built environment undertaken following passage of the province's legislation in 2017. Facilities Management staff, led by accessibility planning specialist Siobhan Evans, are now entering the final stages of that process, wrapping up a few final assessments in an audit that covers hundreds of spaces across four campuses in Halifax and Truro.

"Our mindset with the audit has been to measure against how we meet meaningful access, which means you can enter into a building, move around within it and use an accessible washroom," says Evans. "Then we consider that a starting point, as this is not just about the physical movement but the usability of the space for various types of people with disabilities."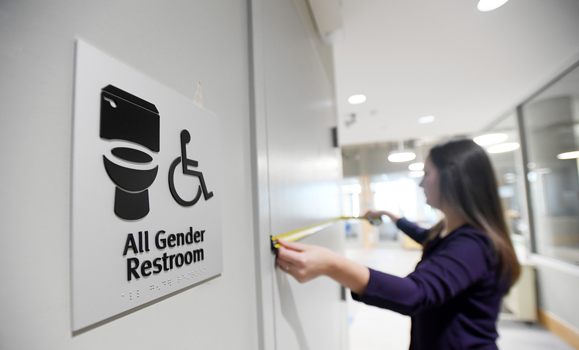 Evans says that while the audit allows the university to see quantitatively where the biggest barriers are around campus, the larger planning process and consultations should help identify any gaps in the audit and inform decisions about what projects to tackle and when by helping identify building features that would have the greatest impact.

"What I've learned based on other institutions across Canada is that it can't all be done right away," says Evans. "It will take time and it will take prioritization. That's what we are looking into now and what we will be gathering feedback from the Dal community on."
From accommodations to accessibility

While it's easier in many cases to see how major physical changes can make a space more accessible (ramps, elevators and bigger bathroom stalls being just a few examples), it's sometimes less obvious what barriers need removing when it comes to more discrete activities in classrooms, at goods and service delivery points, and in information and communication channels.


That's why the province has recommended universities set up working groups that reflect this broader set of considerations.

Quenta Adams (left), Dal's director of student academic success, has spent close to a decade working on issues of accessibility at Dal, particularly as it relates to student access. She co-led the development of a university wide student accommodation policy that is administered through the Student Accessibility Centre (SAC) at Dal.

She says she approaches issues of accessibility through a Universal Design for Learning lens, which is essentially teaching to the broadest group of students possible in a classroom regardless of ability or ethnicity.

"It's beyond ability," she says. "We have so many students from so many different backgrounds and different experiences that are going to impact how they are going to show up in classrooms and other spaces and how they are engaging with their course material."

In some cases, students experience learning disabilities, chronic illnesses or mental health issues that may impact their ability to fully participate in courses on a regular timeline. In other cases, they may need permission to use assistive technology in the classroom, such as audio recorders to capture lectures. In all cases, the university must work with faculty to come up with solutions that meet the needs of students so they can show their best selves.

Pointing to her own experience as a student, Adams says education also seems more accessible when students see themselves reflected in materials — something she has stressed in consultations with faculty.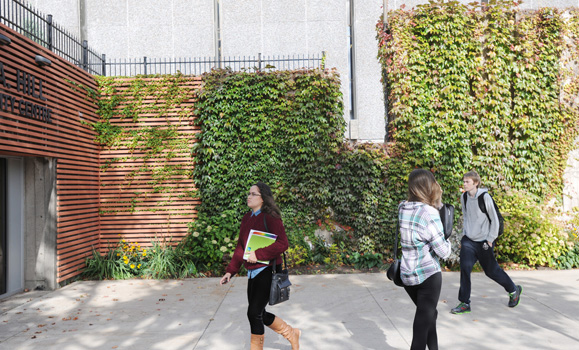 "How many hidden gems are out there because they chose to not participate because they either didn't feel a sense of belonging or felt pushed out or whatever? There is power in education and we all have a collective responsibility to make this world a better place," she says. "When we exclude people, it contradicts that collective responsibility. We should not be in the business of excluding. Education is a right for everyone."

What Dalhousie is trying to do with this legislation and this work, says Adams, is reduce the need for accommodation.

"A barrier doesn't rest with the student. The learning disability is not the barrier, it's how the course or program is designed. The barrier is not the wheelchair user, it's the inaccessible door."
Future focused

Adams, Evans and Tareq Abdullah, interim director of campus planning in Facilities Management, all contributed to the provincial accessibility framework [PDF-276 KB] for post-secondary institutions released in June. The province has set a deadline of April 2021 for universities (and other public bodies) to have their plans completed, but COVID-19 could push those timelines a little further out.

As someone who has lived with a disability her whole life, Mahoney knows accessibility planning requires patience — but she's pleased to see a more structured and comprehensive approach in place at the provincial and organizational levels, and that it includes individuals like herself.

"It's one day at a time and what you can do in that moment," she says. "We have to have patience, really. We'll get there, and I can't tell you how excited and honoured I am to be a part of this because I feel like I have a voice."
Further resources: Developing Dalhousie's Accessibility Plan
Further reading: Taking action on accessibility