An accessibility audit underway now will help Dalhousie get to know the physical characteristics of its buildings more intimately than ever before.

Data gathered about Dal's more than 150 facilities as part of the audit, which kicked off earlier this year, will be used to inform a full-scale accessibility plan for the university in the longer term.

"The goal is that any building can be accessed by anyone without any sort of accommodations that have to be made," says Siobhan Evans, accessibility planning specialist with Facilities Management at Dal.

Evans created the university's audit earlier this year using accessible design standards for the built environment as laid out by the Canadian Standards Association. With 17 different categories, it measures everything within a building from its doors and washrooms to corridors and signage. It also includes a measure of how accessible outside pathways are for individuals trying to get from their parking spot to an entrance.

Like other public and private institutions in Nova Scotia, Dal must comply with the recently passed Accessibility Act — which aims to make the province accessible by 2030. Nova Scotia is the third province in the country, after Ontario and Manitoba, to create accessibility legislation.

Evans says Facilities Management's audit — now close to 45 per cent complete — will likely show a lot of potentially costly retrofits needed on old buildings, with washrooms and main entrances expected to be identified as key areas for improvement. She says work may also be needed on some newer buildings as well given that standards have risen rapidly in recent years.
Planning and priorities

The province will be providing organizations with guidelines in the years ahead to help them create specific plans for how they will achieve that goal. Dal's plan will incorporate analysis of its audit in laying out specific goals, commitments and priorities in making changes to its physical environment.

"Once all the data is processed, we'll be developing our long-term accessibility plan that will identify those priorities and how those priorities will be served and by what timeline," says Evans.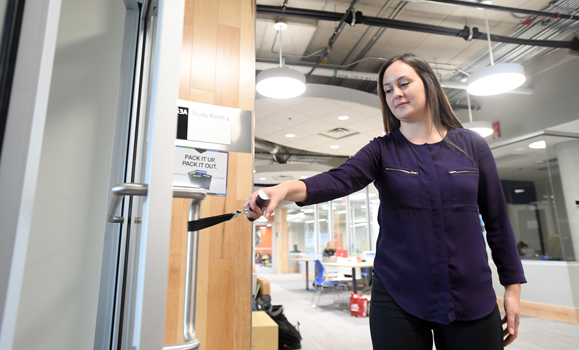 Born and raised in Acton, Ontario, Evans did an undergraduate degree at Saint Mary's University before completing a master's degree in planning at Dal this past spring. She joined Dal on a co-op term last summer, was hired part time from September until April and then on a full-time, two-year contract to develop and facilitate the audit and assist in developing Dal's plan.  

Evans says she's driven in her work by an interest in equality and in enabling people to have the options to do what they want to do regardless of any disabilities.

She was among a small group of about 20 people to take the Rick Hansen Foundation Accessibility Certification Program this past May, the first time it was offered in Nova Scotia. The two-week program — developed by well-known Paralympian and disability advocate Rick Hansen and his staff — trains participants in the foundation's custom rating system.
Thinking universally

While Evans shaped Dal's audit before she completed the Hansen training, many of the standards overlap as they are rooted in similar principles of universal design.
The audit considers accessibility for people in wheelchairs, but also those impacted by hearing issues, learning and developmental disabilities, mental and psychological challenges, memory problems, and blindness and low vision.

"A lot of times, when people think of making something accessible, they presume that it is all about the person in the chair. We want to go beyond that and make sure that we are encompassing everybody in terms of accessibility," says Evans.

Evans had a chance to meet Hansen after his Belong Forum on campus in October. She and others from Dal had the chance to tell Hansen what the university is doing around accessibility and how it might potentially integrate his foundation's rating system gradually over time.

Dal's audit is being done with the help of 15 student staff (pictured below), 13 from Dal, one from St. Francis Xavier University and one from the Nova Scotia Community College. Evans expects it to be completed in the next year, after which the longer-term planning can get underway.

"It's a lot of work, but in the grand scheme of things it will make a difference," she says.