Dalhousie Pride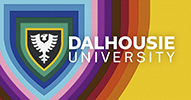 As we prepare for these events, it's important that we acknowledge and celebrate the history of Pride. With the current climate around city-wide pride parades and the effect this has on the most marginalized communities at Dalhousie, in Halifax, and in Nova Scotia, we recognize that "Pride" is a positive stance against violence and discrimination towards 2SLGBTQIA+ communities, where individuals promote their self-affirmation, visibility, dignity and equality. However, this stance must exist alongside action with and from allied communities, both within and outside of 2SLGBTQIA+ communities, to be able to create a truly anti-oppressive society. It is because of this that being proud of who we are is not, and has never been enough, but rather is just one important aspect of creating the society we want.
History of Pride Parades
With "Pride's" grassroot beginnings stemming from police harassment/violence and exclusionary policies, the "Pride" we know today began as a series of riots and demonstrations against police raids, and eventually the well-documented riot that took place at the Stonewall Inn in New York City, during the early morning of June 28, 1969. More often than not, those who led these protests were the from the most marginalized in these communities, such as Trans women of colour; this marginalization continues within and outside of our 2SLGBTQIA+ communities today. These details are incredibly important to acknowledge as we participate in dialogue around the current political climate; we must acknowledge the voices of those who have not been heard in our current dialogue because of fear and other silencing factors.
Dalhousie University sits on the ancestral and unceded territory of the Mi'kmaq People. When we participate in celebratory events, educational opportunities and resource sharing, we must remember the stories of those who came before us, and how their life is impacted by the events we put on. We would like to acknowledge the Two-Spirit and Indigenous LGBTQIA+ individuals and communities of Nova Scotia, and the Wabanaki Two Spirit Alliance, and strive to prioritize their experiences in our Pride Week programming
We are truly thankful to the dedicated 2SLGBTQIA+ individuals, supporters, and those who paved the way in building a more inclusive Dalhousie, including those currently developing a new a Queer Studies certificate for Dalhousie.  
Campus Flags Raising and Queer Community Social - July 7
Everyone is invited to join the Dalhousie community in kicking off Pride!
12pm-2pm Studley Quad, Halifax Campus
The annual Pride flag raising event will be taking place in the Studley Quad starting at 12pm. The kick-off will be followed by the Queer Community Social with refreshments, a light lunch, dessert, music & lawn games!
Food will be first come, first served.
ACNS Masqueerade: A Queer Community Dance – July 9
Aids Coalition of Nova Scotia invites you to our 2SLGBTQIA+ community dance!
Costumes are NOT required! However, costumes ARE welcome!
Tickets are $25, and $20 for those underwaged (stated prices include taxes and eventbrite service charges). Get your tickets at www.tinyurl.com/MasQueeradeDance.
Join us on Saturday, July 9 for a night of dancing, a bit drag and tons of overall delight! The event will take place in the McInnes Room, 6136 University Avenue, Kjipuktuk (Halifax).
There'll be a significant door prize package (currently valued at over $700), a prize for best costume (for those who want to come in one) and while this is a licensed event, we'll have a sober lounge too!
This dance party for Halifax's queer community features spectacular performances by our hostesses with the mostesses, Elle Noir and Cynthia Stilts, alongside our incredible DJ's, Dj Fadzwa and DJ Tranzishən!
Halifax Pride Parade – July 16
Students, alumni, faculty, and staff are invited to join the Dalhousie University group marching in the Halifax Pride Parade.
The parade is on Saturday, July 16 and begins at noon, rain or shine. Dalhousie is parade entry #77. Marshalling time is 11 a.m., and our group will be located on Bell Road beside Citadel High School.
You are encouraged to wear your Pride colours, Dal colours, or anything that you like! Pride flags, signs and t-shirts will be provided on site for those who are interested. Water and sunscreen will be available. Please note that this will be a walking and biking parade entry with no float, and therefore there will be no storage for personal items. The parade route is 2.5 kilometres.
There will be shade, seating, and water available during the parade in front of the Medjuck Architecture Building on 5410 Spring Garden Road.
Dalhousie is committed to offering space and activities that feel safe for your participation in Pride Week. While some members of the Dalhousie 2SLGBTQIA+ community and allies enjoy participating in the parade, for some it is a complicated experience. We encourage recognizing Pride in the way that feels appropriate to you.
Halifax Pride March - July 18
Halifax Pride will be holding a Pride March in support of gender affirming care on Monday, July 18 at 8 p.m. The march will conclude at Peace and Friendship Park with a candlelight vigil. You can find information about how to participate, and about all Halifax Pride events on their website, here.
Queeroke - July 21
Join the RESLife Team at 8pm for Queeroke - Pride karaoke at the LeMarchant Place Atrium.
Survivor Support Drop-In: Queering Safer Spaces – July 12, 14, 19, 21
Survivor Support is offering a safer space drop-in throughout pride season, a closed space for anyone within the 2SLGBTQQIA+ Community!!
This is a welcoming space to disclose experiences of sexualized and/or gender-based violence, access appropriate supports, rant about corporate pride, share pieces of queer history, put on a queer movie, whatever feels right for you!
There's no expectations here, show up as you are.
If there are any other campus events taking place during this time, we would love to feature it on our calendar. Please contact us at hres@dal.ca