Viola Desmond Legacy Lecture
The inaugural Viola Desmond Legacy Lecture took place in October 2018, when U.S. civil right icon Angela Davis came to campus. Desmond's sister, the late Wanda Robson, a well-known community educator and author in her own right, attended Dr. Davis's inaugural lecture. Our second installment in the Legacy Lecture series featured Indigenous rights champion Michèle Audette. Michèle has made outstanding contributions to Indigenous women's rights in Canada and in 2016, was appointed Commissioner for the National Inquiry into Missing and Murdered Indigenous Women and Girls (MMIWG).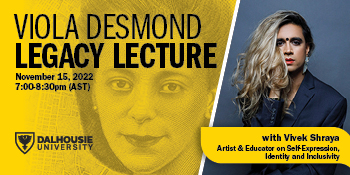 We are thrilled to have our 3rd installment of the Viola Desmond Legacy Lecture feature acclaimed artist and educator, Vivek Shraya.
Vivek Shraya is an artist whose body of work crosses the boundaries of music, literature, visual art, theatre, and film. Her album Part-Time Woman was nominated for the Polaris Music Prize, and her best-selling book I'm Afraid of Men was heralded by Vanity Fair as "cultural rocket fuel." She is also the founder of the award-winning publishing imprint VS. Books, which supports emerging BIPOC writers.
A seven-time Lambda Literary Award finalist, Vivek was a Pride Toronto Grand Marshal and has been a brand ambassador for MAC Cosmetics and Pantene. She is a director on the board of the Tegan and Sara Foundation, who's mission is founded on a commitment to feminism and racial, social and gender justice. vivekshraya.com is the digital archive for a living trans artist of colour, featuring her music, writing, visual art, theatrical and film works, from 2002 to present.
The event, which took place virtually, can be viewed here: https://youtu.be/33KPAQsqAG8

Host: Dr. Theresa Rajack-Talley
Q&A Moderator: Dr. OmiSoore Dryden
This event will also feature a Spoken Word Artist Guyleigh Johnson, and student leader Charlie Gould will introduce our speaker.