Elders in Residence and Traditional Knowledge Keepers
Guidance for Respecting Protocols and Honouring Guests
"Elders not only hold the knowledge of our ancestors, they have the language through which the knowledge must be imparted to the youth… Elders are the keepers of the sacred lessons of tribal and global harmony for all living things within the environment."
Late Mi'kmaw Elder Murdena Marshall
About the Program
The Elders and Knowledge Keepers Program at Dalhousie University is an important part of the Dalhousie community which enriches our day-to-day experiences on campus. Through the guidance and support that is offered by Elders and Knowledge Keepers in such spaces as classes, event, committee work and most importantly with supporting Dal students, Mi'kmaw Elders and Knowledge Keepers are working hard at building cultural understanding by offering Mi'kmaw perspectives throughout the fabric of the university.
While this program is primarily designed to provide support and counsel to students, the guidelines offered here are in the spirit of collaboration and are informed by many important considerations. Funding for the student component of this program is administered through the Office for Equity and Inclusion, where Cathy Martin, Director, Indigenous Community Engagement oversees the program.
Guidance for Dalhousie Students Wishing to Connect with Elders and Knowledge Keepers
If you are a student: Please email Elder Ann LaBillois to set up a time to meet with her on campus. Elder Ann's office is located in the Indigenous Student Centre. There is no charge for students, however we do encourage offering tobacco if you have the means to do so. If you need supplies, please let us know.
Guidance for Dalhousie Community Wishing to Work with Elders and Knowledge Keepers
This guidance is offered to assist faculty, staff, and student societies who wish to request the services of Elders or Knowledge Keepers for events such as classes, workshops, conferences, celebrations, or other gatherings. While there are Indigenous people from many different Nations who possess many diverse teachings, with respect to the Traditional Territory where Dalhousie is located, Mi'kmaw cultural perspectives and protocols are the primary source of guidance when seeking cultural guidance in Nova Scotia. If there are Indigenous Elders or Knowledge Keepers from other Indigenous nations participating in your event, please ensure that your event or activity is prefaced with an opening Territorial Acknowledgement that speaks to honouring the primary teachings of the land, which come from the Mi'kmaq. For Dalhousie staff and students visiting or working within other Nation's Traditional Territories, the protocols and cultural teachings from those lands would be the primary source of guidance.
It is significant that Faculties and Departments are prioritizing the inclusion of Indigenous perspectives throughout their distinct area of study. Funding these services accordingly is important. Cultural protocols and consistency help honour the very important voices and services that enrich our campuses, schools, and lives. Your efforts in ensuring the Dalhousie is a safe space for Indigenous people is a step towards Truth and Reconciliation.
Making a Request
If you are a staff or faculty member: Please email Elders@dal.ca with the following a specific information about what types of support, you are looking for.  Please note, requests must be made minimum 4 weeks in advance whenever possible. Please include the following information with your email:
Who is the primary contact for your event? Please include a phone number so that the guest can call them directly if they have questions or need directions. Important Note: This person will be who will be responsible for arranging parking, meeting the guest at the entrance, providing refreshments, preparing a tobacco offering (offered upon arrival), gift and honorarium (offered upon departure), walking the guest to their vehicle after the event?
What is the title of your event?
What is the day and time of your event?
What is your request from the Elder or Knowledge Keeper? Please note, Elders and Knowledge Keepers have different types of gifts and knowledge that they carry. Please be specific (e.g. Event Opening/Closing Prayers, Perspectives on a specific subject, etc.
Please include all this information in the email, and someone will respond to you within 5 business days. At which time, recommendations on a potential appropriate Elder or Knowledge Keeper will be provided.
Honorarium Suggested Amount
Depending on what you are asking the Elder or Knowledge Keeper (e.g. Ceremony/Teaching/Committee Work/Prayer, Opening, Closing) we recommend this suggested amount in order to be consistent. If you have any hesitation with justifying this amount, please consider your own hourly wage and the benefits you have from your employment. Also note, that Elders and Knowledge Keepers roles in community and the knowledge they have is of the highest credential, and should never be undervalued.
Depending on the request and preparations needed, suggested rates are as follows:
One hour or less $100 - $250 + travel, meal/per-diem and accommodations if needed
Half-day (1–3 hours) - $350 + travel, meal/per-diem and accommodations if needed
Full-Day (3-6 hours) - $700 + travel, meal/per-diem and accommodations if needed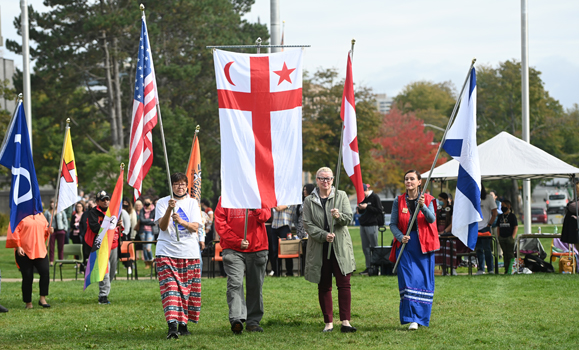 The office of the Director of Indigenous Community Engagement is here to ensure that:
You are guided appropriately;
You understand the respectful offering of gifts;
The Dalhousie community respecfully engages with the Elders;
The Elders-in-Residence Program builds an awareness of other services that may be available upon request.
Respectful treatment of our Elders and the Indigenous knowledge Keepers is of utmost importance especially as we move forward together in this time of Truth and Reconciliation. (TRC: Calls to Action - DocumentCloud )