Mi'kmaq History Month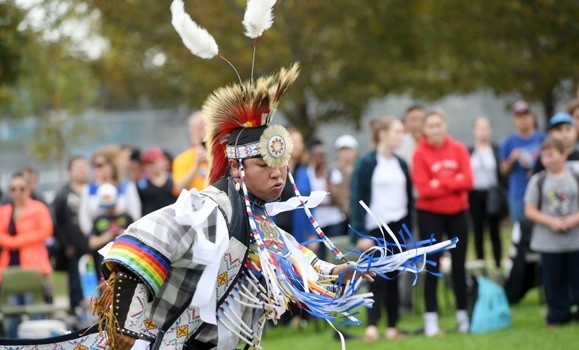 Wi'kipatmu'k Mi'kmawey/Honouring of the Mi'kmaw Way
The Creation of Mi'kmaq History Month
In 1993, Premier John Savage and Mi'kmaw Grand Chief Ben Sylliboy declared October as the official month to recognize and celebrate Mi'kmaw culture and heritage. Mi'kmaq History Month is celebrating its 24th-year and invites everyone to join in the celebration of Mi-kmaw culture and heritage.
Each October, community activities, events, sharing and showcasing the Mi'kmaw history take place across Nova Scotia. Everyone is encouraged and welcome to participate in Mi'kmaq History Month events.  
Treaty of 1752
In 1986, the then Grand Chief Donald Marshall Sr. proclaimed every October 1st as Treaty Day. It commemorates the key role of treaties in the relationship between the Nova Scotia Mi'kmaq and the Crown. The annual ceremony reaffirms the historic presence of the Mi'kmaw who have occupied the land for thousands of years. The Mi'kmaq Nation and the crown also exchange gifts to mark each October 1st. By celebrating Treaty Day, we are giving thanks to the Mi'kmaw and the Crown for signing treaties of peace and friendship. People continue to gather in Halifax, and their home communities, on October 1st to participate and enjoy various cultural events in celebration of Treaty Day. It is a reunion for many Mi'kmaq and a time for people to learn a part of Nova Scotia's 12,000 year-old history.
Source: www.mikmaqhistorymonth.ca
Monday, September 30 - The 10th Annual Mawio'mi
A day of Mi'kmaw and Indigenous cultural sharing and celebration. We will have the big drum, dancers, and vendors.
Vendors - 10:00am
Feast - 11am- while supplies last
Grand Opening - 12 noon
Location: Studley Quad (Rain Location TBD)
Tuesday, October 8 - Human Rights and Reconciliation: Indigenous Child Welfare Panel
The fifth panel in the MacEachen Institute's ten-week Policy Matters Speaker Series.

Featuring:
Angelina Amaral - Mi'kmaq Governance Manager, Mi'kmaq Rights Initiative
Cindy Blackstock - Executive Director and Professor in the School of Social Work, McGill University
Naiomi Metallic - Chancellor's Chair in Aboriginal Law and Policy, Dalhousie University
Events in the last four years have brought significant attention to the issue of Indigenous child welfare. In 2015, the Truth and Reconciliation Commission (TRC) stated that "Canada's child-welfare system has simply continued the assimilation that the residential school system started," and its Calls to Action aimed to fix this broken system. In 2016, the Canadian Human Rights Tribunal (CHRT) found that the federal government has been knowingly discriminating against First Nations children by underfunding the First Nations Child and Family Services (FNCFS) Program. Since that time, Canada has been the subject of seven non-compliance orders, including failing to fully implement Jordan's Principle.

In 2018, the Liberals committed to addressing the CHRT's orders. Finally, in June 2019, Parliament gave royal assent to Bill C-92, to recognize Indigenous People's jurisdiction over child and family services, as part of an inherent and Aboriginal right to self-governance; to establish national standards in this area, and to contribute to the implementation of the UN Declaration on the Rights of Indigenous Peoples (UNDRIP). The bill has received mixed reactions from Indigenous communities.In this panel discussion, three experts in child welfare legislation will discuss these events and what can still be done.

THIS EVENT IS FREE AND OPEN TO THE PUBLIC. REGISTRATION IS NOT REQUIRED. SEATING IS FIRST COME, FIRST SERVED.

This event will be live streamed on Facebook Live at Facebook.com/DALMIPP.

Time: 12:00 - 01:30 PM
Location: Room 1020, Kenneth C. Rowe Management Building, 6100 University Ave