Mi'kmaq History Month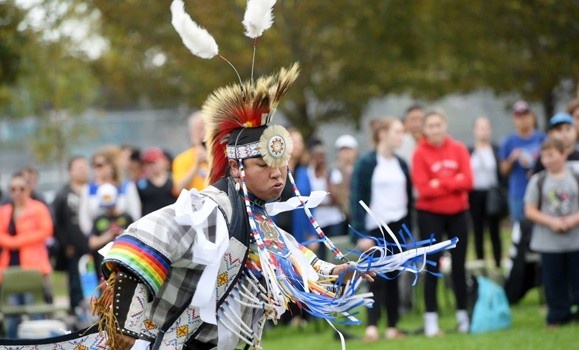 Wi'kipatmu'k Mi'kmawey/Honouring of the Mi'kmaw Way
The Creation of Mi'kmaq History Month
In 1993, Premier John Savage and Mi'kmaw Grand Chief Ben Sylliboy declared October as the official month to recognize and celebrate Mi'kmaw culture and heritage. Mi'kmaq History Month is celebrating its 24th-year and invites everyone to join in the celebration of Mi-kmaw culture and heritage.
Each October, community activities, events, sharing and showcasing the Mi'kmaw history take place across Nova Scotia. Everyone is encouraged and welcome to participate in Mi'kmaq History Month events.  
Treaty of 1752
In 1986, the then Grand Chief Donald Marshall Sr. proclaimed every October 1st as Treaty Day. It commemorates the key role of treaties in the relationship between the Nova Scotia Mi'kmaq and the Crown. The annual ceremony reaffirms the historic presence of the Mi'kmaw who have occupied the land for thousands of years. The Mi'kmaq Nation and the crown also exchange gifts to mark each October 1st. By celebrating Treaty Day, we are giving thanks to the Mi'kmaw and the Crown for signing treaties of peace and friendship. People continue to gather in Halifax, and their home communities, on October 1st to participate and enjoy various cultural events in celebration of Treaty Day. It is a reunion for many Mi'kmaq and a time for people to learn a part of Nova Scotia's 12,000 year-old history.
Source: www.mikmaqhistorymonth.ca
Thursday, October 1 - Traditional Salmon Dinner
Mi'Kmaw Native Friendship Centre – Traditional Salmon Dinner – Due to COVID, you must preregister for this event. Pick Up Only.
To register your name for a dinner you MUST contact Joanne at the front desk at 902-420-1576 or email jsyliboy@hotmail.com.
Starts at- 12:00pm
Ends at - 2:00pm
Location: Mi'Kmaw Native Friendship Centre

Thursday, October 1 - Treaty Day Flag Raising Ceremony
Wednesday, September 30 - Orange Shirt Day
Orange Shirt Day Wednesday, September 30, 2020


Orange Shirt Day is a day to honour Indigenous children who were sent to Residential School in Canada and to learn more about the history of those schools.

Residential schools were church-run schools where approximately 150,000 Métis, Inuit and First Nations children were sent between the 1860s and the 1990s. The schools harmed Indigenous children by removing them from their families, forcing them to speak English or French instead of their ancestral languages, disconnecting them from their culture and traditions and forcing them to adopt Christianity in order to assimilate into Canadian society. The government has since acknowledged that this approach was wrong, cruel and ineffective, and offered an official apology to the Indigenous people of Canada in 2008. The Shubenacadie Residential School in NS was just acknowledged as an historic site.

We wear orange in reference to Phyllis Webstad who was given an orange shirt by her grandmother for her first day of school at St. Joseph's Mission Residential School in British Columbia. When she arrived at school, the orange shirt was taken from Phyllis and never returned. Phyllis now travels around Canada, telling her story of the Residential School experience and, as she has said, "how my feelings didn't matter, how no one cared and I felt like I was worth nothing. All of us little children were crying and no one cared." We honour Orange Shirt Day annually in recognition that every child's life matters.
Events: Wednesday, September 30, 2020

Live Ceremony: IWK Newman Gardens (University Ave in front of Womens Entrance)

* Masks and Social Distancing Required (NOW LIMITED TO 20 PEOPLE)
10:30 a.m. – 11:30 a.m.
· Land acknowledgement & opening Remarks from ETL
· Prayer and smudge offering by a community Elder
· Significance of OSD
· Honoring song
· Jingle dress "side-step"/Healing dance
· Closing remarks
Virtual Panel: Online
2:00pm-3:30pm Virtual Panel via zoom
Topic: Orange Shirt Day (OSD) Indigenous Panel Event
Time: Sep 30, 2020 02:00 PM Halifax
Join Zoom Meeting:

https://us02web.zoom.us/j/84827646291?pwd=cUZHTTNOMWpqKzJuNlhGZUpJMGk0QT09
Meeting ID: 848 2764 6291
Passcode: 953112
Panelists to speak on the following topics:
· Opening by a community Elder
· Phyllis' story - Significance of Orange Shirt Day
· Timeline of Indian Residential Schools
· Statistics of Indigenous Women & Children
· Squashing systemic racism: How to be an ally and what you should be doing as a professional
· Closing remarks
Want an official Orange Shirt Day t-shirt?
If you are working on-site on Wednesday, Sept. 30, RSVP to this event to receive an official Orange Shirt Day t-shirt! Shirts are available on a first-come-first-serve basis while supply lasts.
Those working from home and joining in virtually are also encouraged to wear orange (a shirt, a pin, scarf, jacket, anything!) in honour of the day.
Wednesday, September 30 - RBC Presents – Every Child Matters