Mi'kmaq History Month

Wi'kipatmu'k Mi'kmawey/Honouring of the Mi'kmaw Way
The Creation of Mi'kmaq History Month
In 1993, Premier John Savage and Mi'kmaw Grand Chief Ben Sylliboy declared October as the official month to recognize and celebrate Mi'kmaw culture and heritage. Mi'kmaq History Month is celebrating its 24th-year and invites everyone to join in the celebration of Mi-kmaw culture and heritage.
Each October, community activities, events, sharing and showcasing the Mi'kmaw history take place across Nova Scotia. Everyone is encouraged and welcome to participate in Mi'kmaq History Month events.  
Treaty of 1752
In 1986, the then Grand Chief Donald Marshall Sr. proclaimed every October 1st as Treaty Day. It commemorates the key role of treaties in the relationship between the Nova Scotia Mi'kmaq and the Crown. The annual ceremony reaffirms the historic presence of the Mi'kmaw who have occupied the land for thousands of years. The Mi'kmaq Nation and the crown also exchange gifts to mark each October 1st. By celebrating Treaty Day, we are giving thanks to the Mi'kmaw and the Crown for signing treaties of peace and friendship. People continue to gather in Halifax, and their home communities, on October 1st to participate and enjoy various cultural events in celebration of Treaty Day. It is a reunion for many Mi'kmaq and a time for people to learn a part of Nova Scotia's 12,000 year-old history.
Source: www.mikmaqhistorymonth.ca
For events taking place in the community, visit www.mikmaqhistorymonth.ca/events/

(The dates below reflect events that happened in 2017)
Mi'kmaq History Month Display - Sunday, October 1 - Tuesday, October 31
Visit the Killam Library to learn more of Mi'kmaq culture and heritage.
Display create by Kara Paul from her personal collection.
Flag Raising Ceremony - Wednesday, October 4
Mi'kmaq Grand Council Flag raising ceremony on the Agricultural Campus.
Amphitheatre in front of the MacRae Library; 10:00 - 10:30am
The Indigenous Mi'kmaq people - Wednesday, October 4
The Indigenous Mi'kmaq people
Guest Speaker: Gerald Gloade from the Confederacy of Mainland Mi'kmaq
Riverview Room, Jenkins Hall (40 Horseshoe Crescent); 10:30am - 1:00pm
Sisters in Spirit - Wednesday, October 4
Sisters in Spirit
In Honour of all our Missing & Murdered Indigenous Women, Girls & two spirited. Attendees are encouraged to wear red.
Opening prayer & Songs; Lighting of candle ceremony; Refreshments & feast.
For more information please contact: Denise John (902) 420-1576 or denise@mymnfc.com Mi'kmaw Native Friendship Centre (2158 Gottingen Street); 5:00pm
Lunch and Learn with the Mi'kmaw Conservation Group from the Confederacy of Mainland Mi'kmaq - Thursday, October 12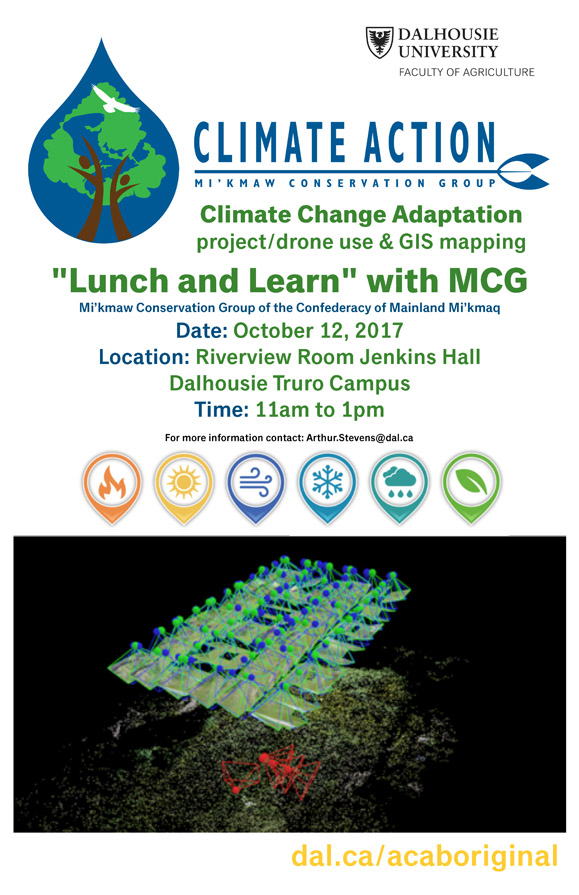 Mass Blanket Exercise - Friday, October 13
Mass Blanket Exercise
Join the Dalhousie Association of Graduate Students (DAGS) in unlearning colonial history through the Blanket Exercise, led by Elders-In-Residence at Dalhousie University, Friday, October 13th from 6-8pm at the Studley Gym (6185 South Street).
All Dalhousie students, staff and faculty are welcome, as well as non-Dalhousie community members.
About the Blanket Exercise:
The KAIROS Blanket exercise is a teaching tool that uses participatory popular
education to raise awareness of the nation-to-nation relationship between Indigenous
and non-Indigenous peoples in Canada. It teaches a history of Canada that most
people never learn. Since its creation in 1997, it has been done hundreds of times
with thousands of people of all ages and from all backgrounds, by a wide variety of
groups that include Indigenous and non-Indigenous people. It is a way to open, or
continue, the conversation about decolonization. The exercise is designed to deepen
understanding of the denial of Indigenous peoples' nationhood throughout Canadian
history. It explores the major themes and recommendations of the Royal Commission
on Aboriginal Peoples (RCAP), examines how federal policies and programs impact
the lives of Indigenous peoples in Canada, and identifies what Indigenous peoples
and their allies are doing to bring about positive change.

Dalhousie's 8th Annual Mawio'mi - Monday, October 16
Dalhousie Mawio'mi 2017
This event will showcase traditional drummers, dancers and crafters, while honoring community Elders on recognized unceded territory.
11:00am – service of traditional food begins/ craft vendors and information kiosks
12:00pm-Grand Entry
12:30-3:30pm – Powwow
Contact: Michele Graveline 494-8863 / Courtney Sutton 494-7806
Studley Quad (Rain Venue: McInnes Room, Dalhousie Student Union Bldg)

Walking Towards Reconciliation - Monday, October 16
Walking Towards Reconciliation
Stop by the 'Walking towards reconciliation' booth at Mawio'mi on Monday, Oct 16th from 11am to 3pm for a reconciliation button and information on what steps you can take to walk towards reconciliation.
Supported by the Indigenous Students Centre, Dalhousie Student Union and Human Rights & Equity Services.
Launch of Daniel Paul, Mi'kmaw Elder - Wednesday, October 18
Launch of Daniel Paul, Mi'kmaw Elder, a biography
Join in the launch of ​Daniel Paul: Mi'kmaw Elder. Jon Tattire, the author of this biography, and Dr. Dan Paul will speak. Dr. Dan Paul's book, We Were Not the Savages is this year's Dal Reads book. Opening the event will be HRM poet laureate Rebecca Thomas. Sponsored by Dal Reads, Dalhousie University and Pottersfield Press; All are welcome.
University Hall, MacDonald Building (6300 Coburg Road); 12:30pm
Public Lecture with Dr. Daniel Paul - Monday, October 23
Public Lecture with Dr. Daniel Paul, 2017 Dal Reads Author
Dr. Daniel Paul, Mi'kmaw historian and elder, will discuss his landmark book, We Were Not the Savages, this year's official Dal Reads selection.
Free copies of We Were Not the Savages will be available at the lecture. All are welcome.
​Monday, October 23rd at 7pm; room 1009, Rowe Building
History and Healing - Tuesday, October 24th
History and Healing - Reconciliation Activity
The Canadian Roots Exchange Youth Reconciliation Initiative volunteer team will be facilitating the History and Healing reconciliation activity. This activity allows participants to engage in discussion and learning about our relationships in Canada. We will touch on unjust events in Canadian history (with a special focus on acts aimed at Indigenous people), recognize that the effects of these are ongoing, and look at positive examples of relationship building and resilience. This activity requires some participant involvement and movement. It includes a sharing and debrief circle at the beginning and end. Participants are encouraged to reflect critically on their personal and social roles and responsibilities as people living on this land.
Co-hosted by the Indigenous Student Centre, International Centre and Human Rights & Equity Services.
International Centre, 1246 LeMarchant St, Suite 1200; 6:00pm