SDG 14: Life Below Water
Ocean research at Dalhousie currently spans almost all faculties and disciplines. It all started with the establishment of the Institute of Oceanography in 1959, which launched a broader trajectory linking biological, physical, geological and chemical areas of ocean science, in the 1970s a marine law group was established. Now Dal hosts key ocean research facilities and is involved in many international research projects, which allow Dalhousie researchers to contribute to the most pressing ocean challenges of our time.
High-impact research
Transforming Climate Action: Ensuring the science is safe
While scientists explore the feasibly of adding substances to the ocean to promote the absorption of CO2, oceanographer Dr. Hugh MacIntyre and his students are leading a parallel project to ensure interventions made in the ocean are safe for the creatures that call it home.
Read more in Dal News

Dalhousie discovery unravels a mystery of viruses under the sea
Dr. John Archibald and colleagues have laid a foundation for understanding the impact of viruses on the marine environment's microbial ecology.
Read more in Dal News

Sable Island's shifting landscape offers insights into global groundwater loss
Coastal seawater flooding devastates thousands of kilometers of shoreline annually, and coastal fresh groundwater resources are extremely vulnerable to contamination from these flood events. A Dal research study demonstrates that erosion is an often-overlooked driver of freshwater loss.
Read more in Dal News

Dal study shines spotlight on threats from lost fishing gear
A team of Dalhousie scientists worked with the Department of Fisheries, fishing captains, volunteers and different fisheries organizations to search for and retrieve abandoned, lost and discarded fishing gear from three fishing zones that stretch from the Bay of Fundy around to Halifax over two years.
Read more in Dal News

Climate risk index shows threats to 90 per cent of the world's marine species
While our study paints a potentially grim future under high emissions, it also highlights how our oceans and marine life could benefit from climate change mitigation and adaptation and stresses the urgency with which we must work towards this goal.


Read more in Dal News
Ancient fish species on brink of extinction finds new life in Dal facility
A half-dozen large fibreglass tanks in the basement of Dalhousie's Steele Ocean Science Building contain the only remaining captive Atlantic whitefish on earth. Their existence is the result of the work of a small group of researchers and biologists committed to saving an ancient aquatic species that is so endangered its only known habitat is three lakes within a single watershed in Nova Scotia.
Read more in Dal News

Previously featured
On World Oceans Day, Dal experts explore how to better incorporate traditional Indigenous knowledge into ocean science

This year, Dal's Faculty of Science is hosting a panel to discuss the intersection between traditional knowledge and World Oceans Day. With the critical importance of oceans as a food supplier and to countless sectors across the economy, engagement work helps create a more informed public and expose them to new perspectives, like traditional knowledge.
Read more in Dal News
The big brains in the room: Firm draws on Dal talent to win Musk Foundation's XPRIZE
Four Dalhousie researchers were a driving force behind Dartmouth-firm Planetary Technologies' win out of a global pool of more than 1,100 teams. Planetary's ambitious plan is to increase the alkalinity of the ocean which humanity has steadily acidified with the emission of massive quantities of CO2 to the atmosphere over the past 250 years.
Read more in Dal News
Whale conservation expert joins Dal in Canadian Wildlife Federation chair role

Sarah Fortune was selected as the recipient of the Canadian Wildlife Federation (CWF) Chair in Large Whale Conservation, a partnership between CWF and Dalhousie University. CWF says that the creation of this position is a part of their conservation strategy to expand partnerships with lead researchers investigating issues necessary for evidence-based conservation.
Read more in Dal News
Water world: Meet one of the Dal experts making international waves in clean‑water research and outreach
Monday, May 17, 2021—Dal ranked among the top 20 universities in the world and third in Canada in the 2021 Time Higher Education Impact Rankings for its research, outreach and stewardship in the 'Clean Water and Sanitation' category. Learn more about Rob Jamieson, one of the university's leading researchers in the area.
Read more in Dal News

Fish feed hundreds of millions of people. This researcher hopes to create a better blueprint for conservation
Thursday, April 1, 2021—A recent study by Matthew McLean, a postdoctoral fellow in the Department of Biology, explores how environmental conditions shape fish communities on coral and rocky reefs in different parts of the world — critical considerations for those whose food and livelihoods depend on these species.
Read more in Dal News

Dalhousie researcher successfully deploys autonomous lander to the deepest part of the global ocean
Friday, April 23, 2021—David Barclay led a team to deploy his home-grown Deep Acoustic Lander to the bottom of the Mariana Trench in the western Pacific last Friday, recording sound in one of the most extreme environments on Earth.
Read more in Dal News

AI innovation makes for easier fish finding on tidal‑energy projects
Wednesday, March 24, 2021—Computer scientists with Dalhousie's DeepSense team are helping make marine environmental monitoring for tidal-energy projects easier, more reliable and more effective by creating custom applications for use by researchers and developers.
Read more in Dal News

Groundbreaking global study first to map ocean areas that could help solve climate, food and biodiversity crises
Wednesday, March 17, 2021—An international team of researchers, including Dalhousie's Boris Worm, has developed a comprehensive plan that would safeguard more than 80 per cent of global habitats for endangered marine species — while also increasing fish catches and curbing carbon emissions.
Read more in Dal News

OFI‑led project uses satellites to track endangered right whales in real‑time
Friday, January 29, 2021—Olivia Pisano, a Dalhousie PhD candidate in marine researcher Boris Worm's lab, is working through the Dal-based Ocean Frontier Institute on a project that enables quick scanning of satellite images in the quest for more data to understand the endangered animals' ever-changing movements due to climate change and other factors.
Read more in Dal News
Exceptional student experience
Shark necropsy offers Dal students rare chance to learn about endangered creature up close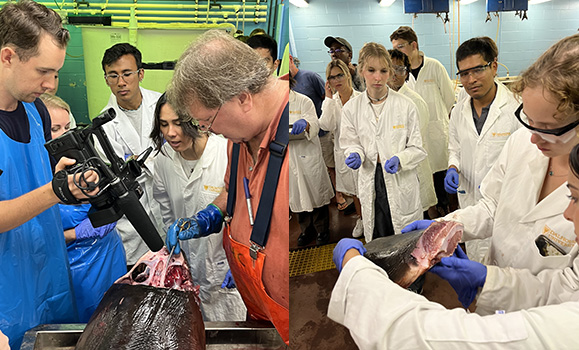 The SEASIDE program offers Dal Science students the chance to spend part of their summers in the field, helping them learn practical skills and apply some of the knowledge they gained after fall and winter semesters spent mostly in classrooms and labs. This year, students in the SEASIDE summer course Biology & Conservation of Sharks, Skates & Rays had an exceptionally rare opportunity to witness a necropsy on a young great white shark.
Read more in Dal News

Learn how the ocean connects people across the world
Steps away from the Atlantic Ocean, Dalhousie has a global reputation for excellence in ocean education and research. When you study ocean sciences at Dalhousie, you'll combine knowledge in the biological, chemical, geological and physical processes that make up ocean ecosystems.
The sea's the limit
If you're passionate about the ocean, Dalhousie is where you want to be. We're a national leader in marine biology education and research. You'll learn in the classroom, lab and out in the field. You could find yourself on the water studying the behaviour of sperm whales, running your own underwater experiments, examining the diet of grey seals or assessing the diversity of marine birds.
MMM alumni are currently working in 52 countries
The Marine Affairs Program offers the Master of Marine Management degree to students with a strong academic record who are planning a career path in marine affairs and have an interest in climate change, public and private sector management, conservation science, planning, public service, engineering, community organizing or public policy.
Oceanographers study every aspect of the world's oceans
The master's and a doctoral programs in oceanography give students the opportunity to collaborate with leading experts, to conduct fieldwork around the globe, to experience research at sea, and to participate in basic and advanced classes in all the sub-disciplines of oceanography.
Supporting aquatic ecosystems through education
Freshwater ecosystem: Courses 2020-2021
Undergraduate
Visit the undergraduate course calendar

BIOA 3006 Aquatic Ecology pp 351
BIOL 3624/ ENVS 3624 Urban Freshwater Systems pp 1747
BIOL 3080/MARI 3080 The Ecology and Evolution of Fishes pp 1906
BIOL 3614 Field Ecology pp 1746
ENGM 4680 Ecosystem Modelling of Marine and Freshwater Environments pp 1354
MGMT 4047 Biodiversity Conservation System Design pp1637
AQUA 2000 pp 345 -346
BIOL 3632.03/ENVS 3632.03/MARI 3632.03: Applied Field Methods in Fish Ecology pp 1748
ERTH 3601/ENVS 3601 Global Biogeochemical Cycles pp1801
ENVS 1100 Foundations of Environmental Science: Ecosphere, Resources & Sustainability pp1863
BIOL 3101/MARI 3101 Microbial Ecology pp 1906
Graduate
Visit the graduate course calendar
BIOL 5067 Ecology and Evolution of Fishes pp182
ENVI 5047 Biodiversity Conservation System Design pp458
ENGM 6680/OCEA 5680 Ecosystem Modelling of Marine and Freshwater Environments pp424 & 755
Extended learning
View current extended learning courses
ELAG-ENVA3021 Ecohydrology & Water Sensitive Design
ENVA3021 - Extended Learning
Civic university with global impact
Atlantic salmon seek solace in cooling zones created by Dal engineers
To alleviate the rigours of the trek back to their birthplace, wild Atlantic salmon often take breaks in chilly nooks known as 'thermal refuges.' These cooling stations, however, are dwindling because of the rising water temperatures and human-induced climate change. That prompted researchers in Civil and Resource Engineering, to see if humans could create thermal refuges for the endangered species.
Read more in Dal News

Dal scientists dive into shark research and conservation
In celebration of World Ocean Day, Dalhousie's Faculty of Science is hosting its third annual ocean-themed panel discussion. This year, the event brought together a group of Dalhousie scientists to share their knowledge, understanding and passion for shark research and conservation.
Read more in Dal News

Saving the seas: Alum and ocean advocate helps fight plastic pollution in The Bahamas
In 2013, Ambrose founded her non-profit environmental organization, the Bahamas Plastic Movement, to find solutions to alleviate plastic pollution and inspire Bahamian youth to create real change.
Read more in Dal News
Pioneering ocean science centre will draw community to campus
The Beaty Centre for Marine Biodiversity will feature two floors of exhibits developed in collaboration with Discovery Centre International to engage youth and visitors on today's most pressing marine biodiversity issues.
Read more in Dal News

Annual student-led Sustainable Ocean Conference
The Sustainable Ocean Conference is a free public event that brings together a wide audience. The goal is to promote opportunities for collaboration to address the range of issues affecting our ocean. The conference is supported by the Sobey Fund for Oceans and is organized annually by the students of the Marine Affairs Program. It is the only student-led conference of its kind in Atlantic Canada.
Previously featured
Canada Foundation for Innovation invests $38.5M in Dal‑led Ocean Tracking Network
Collaborators around the world are using OTN's global infrastructure and analytical tools to document the movements of more than 300 keystone and commercially and culturally valuable aquatic species in the context of changing ocean and freshwater environments. 
Read more in Dal News

Canada's marine conservation toolbox needs an overhaul to counter climate change
The impacts of climate change are becoming increasingly pervasive, bringing Canada's lack of preparedness in its marine conservation measures into focus. Now is the time to acknowledge and address the rapid shifts in Canada's oceans. To meet this challenge, Canada's marine conservation toolbox — starting with the Oceans Act — needs an overhaul.
Read more in Dal News
Schulich School of Law Hosts Workshop on Area‑Based Management Approaches for Shipping Risk Mitigation in Canada
The workshop entitled "Shipping Risk Mitigation Research and Practice in Canada: Considering Area-Based Management Approaches" to consider current and emerging practices of area-based management so as to mitigate the risks and impacts of shipping in Canada and to learn from theory, research, and the experiences of practitioners, especially those of Indigenous rights-holders.
Read more in Schulich School of Law news
Foundation for inclusion and distinction
Cutting-edge aquatic research in world-class facilities
The Aquatron Laboratory is considered by many to be one of the best aquatic research facilities in the world — it is the largest university aquatic research facility in Canada. The Aquatron boasts six large tanks holding a combined volume of over 2,000 m3, as well as a wide variety of smaller tanks, research spaces and equipment.
Did you know? Using rainwater to flush toilets reduces water use.
The Richard Murray Design Building provides study spaces, design labs,  and an auditorium. 96% of the water used in the building was provided by reusing rain water for toilet flushing at 125m3 in 2022. 
MEOPAR (Marine Environmental Observation, Prediction and Response Network)
An independent not-for-profit hosted at Dalhousie, MEOPAR funds research, trains students, mobilizes knowledge and forms partnerships in the area of marine risk and resilience. MEOPAR funds leading-edge research, overcomes barriers to collaborative research and helps to train the next generation of marine professionals.
Ocean Frontier Institute
A transnational hub for ocean research, the Ocean Frontier Institute (OFI) brings together experts from both sides of the North Atlantic to explore the vast potential of the world's ocean. From lab space to in-water and analytical infrastructure, OFI has the tools that allow scientists to think big and create extraordinary research results.
We must save our oceans if we are to save ourselves
Forty-three years ago, Elisabeth Mann Borgese, a global ocean champion set up IOI-Canada at Dalhousie. Since then 740 alum from over 100 countries have participated in the eight-week, intensive, face-to-face ocean governance training program that's based at the university.  
Storm water management
Dalhousie is slowing down storm water using the natural environment and innovative building practices. Plant material plays a large role in filtering pollutants, slowing the flow of water, and removing water through the process of evaporation. Read more about Stormwater management planning guidelines in the Natural Environment Policy and guidelines document (No. 20 Landscape).

Previously featured
'It takes a village to build a whale': Dal's Blue Whale Project set to soar this fall
Since 2017, Dalhousie's Blue Whale Project has left a big impression on everyone who's encountered it, from students and faculty to community members and volunteers. The project has turned the tragic loss of an 18-metre blue whale into a learning opportunity for the Dal community and beyond. Once completed, the bones will be sent back to Halifax for installation in the atrium of Dal's Steele Ocean Sciences Building.
Read more in Dal News