SDG 12: Responsible Consumption and Production
Fulfilling the collective wants, needs and desires of humanity locally, nationally and globally has massively transformed the planet, and increasingly in ways that threaten the welfare of humanity and other life on the planet. Increasing deployment of clean technologies and other strategies that lower impacts are essential. This includes wider adoption of waste minimization strategies and improved process system design.
High-impact research
The Centre for Research in Sustainable Supply Chain Analytics (CRSSCA), at Dalhousie's Rowe School of Business, is the supply chain research hub of Eastern Canada. The Centre is developing insights into the intricate relationships between supply chain operations, green logistics, and sustainable consumption.

Consider less consumerist options for kids' birthday parties
Dr. Anders Hayden, who teaches a course on the Politics of Consumption, was interviewed about the growing popularity of toonie and fiver birthdays, which downplay the emphasis on gifts.
Read more on Saltwire
A climate villain? Measuring and managing meat's impact on the planet
Look at just about any popular media article on personal changes you can make to save the planet and near the top of the list you'll likely see cutting out meat — or at least decreasing meat consumption dramatically. But is animal protein the climate villain it's made out to be? And can we continue to eat meat in a way that's sustainable?
Read more in Dal News

Use of disposable plastics in food industry rose sharply during the pandemic, but Dalhousie study suggests it's time to move back to reusables in accordance with health guidelines
Researchers at Dalhousie University examined the rise in SUPs during the pandemic by consulting with stakeholders from the food service sector about their use of disposable plastics, and developing opportunities to reduce their use in Nova Scotia.
Read the media release
Exceptional student experience
Understanding our world
At Dalhousie's School for Resource and Environmental Studies (SRES), we've been working towards a more sustainable future for more than 40 years by offering graduate education in environmental management, science and policy. As a school, we're working to address the environmental challenges associated with many human activities that threaten communities, nations and the earth.   
College of Sustainability
Dalhousie's College of Sustainability has offered community-engaged undergraduate education in sustainability for over a decade. Its ESS (Environment, Sustainability and Society) curriculum is unique in Canada.
The Concept Project: Polar March
Dalhousie's supply chain society, Dal Chain, collaborated with a Dalhousie student-founded initiative, The Concept Project, during the month of March. The Polar March project involved jumping into bodies of water fully clothed every day in March (even in freezing weather!), and then washing and donating those clothes to non-profit organizations across Halifax, particularly Souls Harbour Rescue Mission. The project had a dual focus: supporting the homeless community and raising awareness of the over-production and mass consumption of clothing. More than 60 students participated throughout the month.
Previously featured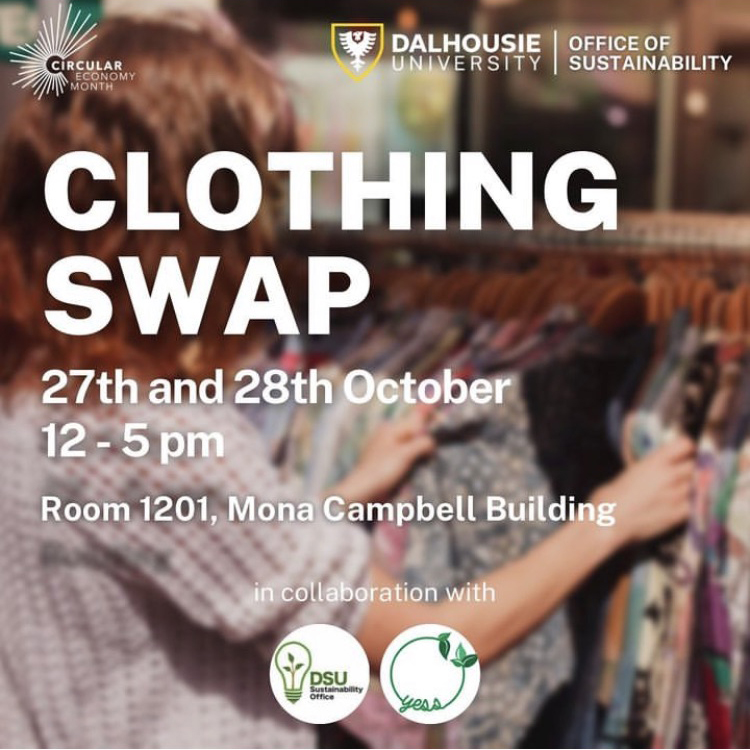 Civic university with global impact
Leah Ellis (BSc'11, MSc'13, PhD'18) is the co-founder and CEO of Boston-based Sublime Systems, whose decarbonized cement seeks to keep the world building sustainably
Sublime Systems instead uses an electrochemical process to make cement at ambient temperature from a variety of abundant calcium sources. The result is a decarbonized cement that performs like the old standby and helps the construction industry commit to being net zero by 2050.
Read more in DAL Magazine

Engage with faculty from the School of Resource and Environmental Studies to find the answers you need
SRES experts regularly collaborate with industry, government and NGOs to provide expertise in addressing resource or environmental sustainability challenges. Organizations from all over the world reach out about resource and environmental sustainability issues because SRES has the expertise and resources to solve them—and a track record to back it up.
Dump and Run
The Halifax Dump and Run is an annual event that has been running since 2002. This student-run event is organized in partnership between the Saint Mary's University Environmental Society (SMUES) and Dalhousie's Office of Sustainability. The goal of the Dump and Run is to divert waste from local landfills and to foster a culture of reuse and environmental responsibility. The one-day event is a gymnasium-sized indoor yard sale where the proceeds are donated to local social and environmental charities.
Foundation for inclusion and distinction
The Four R's provide the framework
Guided by our Sustainable Procurement and Waste Managment Plan, Dal is focused on minimizing waste, applying ethical and sustainable purchasing practices, reducing pollution and materials to landfill, and increasing knowledge of sustainable purchasing and waste management issues of students and employees.
Dalhousie tracks wastes data from all streams including recyclables, paper and cardboard, organics, landfill, construction and demolition, universal waste including electronics, biomedical and hazardous.
How Dal is doing its part to reduce the world's material footprint
Dalhousie is a leader in extending the life cycle of the materials it buys. Since the Disposal of Surplus Equipment Policy was created nearly 40 years ago, Procurement has been managing a surplus materials bidding system to offer up equipment, furniture, and supplies that were purchased with university funds and are no longer needed.
Read more in Dal News
Paper Policy regarding paper use on campus
The Paper Policy is aimed at reducing Dalhousie University's environmental and economic footprint through paper sourcing, reduction, reusing and recycling efforts. Paper purchased at the Dalhousie Print Centre is 100% post-consumer paper, the base paper for the university. The base office paper is FSC (Forestry Stewardship Council) or SFI (Sustainable Forestry Initiative) certified.
Previously featured
Dalhousie is an ENERGY STAR Participant
The ENERGY STAR symbol helps consumers identify major appliances and other energy-using equipment that save energy. ENERGY STAR identifies products as the top high efficiency performer in their category. As an ENERGY STAR Partner, Dalhousie will promote the ENERGY STAR program and products on campus.