SDG 12: Responsible Consumption and Production
Fulfilling the collective wants, needs and desires of humanity locally, nationally and globally has massively transformed the planet, and increasingly in ways that threaten the welfare of humanity and other life on the planet. Increasing deployment of clean technologies and other strategies that lower impacts are essential. This includes wider adoption of waste minimization strategies and improved process system design.
High-impact research
The Centre for Research in Sustainable Supply Chain Analytics (CRSSCA), at Dalhousie's Rowe School of Business, is the supply chain research hub of Eastern Canada. The Centre is developing insights into the intricate relationships between supply chain operations, green logistics, and sustainable consumption.

A climate villain? Measuring and managing meat's impact on the planet
Look at just about any popular media article on personal changes you can make to save the planet and near the top of the list you'll likely see cutting out meat — or at least decreasing meat consumption dramatically. But is animal protein the climate villain it's made out to be? And can we continue to eat meat in a way that's sustainable?
Read more in Dal News

Use of disposable plastics in food industry rose sharply during the pandemic, but Dalhousie study suggests it's time to move back to reusables in accordance with health guidelines
Researchers at Dalhousie University examined the rise in SUPs during the pandemic by consulting with stakeholders from the food service sector about their use of disposable plastics, and developing opportunities to reduce their use in Nova Scotia.
Read the media release
Exceptional student experience
Understanding our world
At Dalhousie's School for Resource and Environmental Studies (SRES), we've been working towards a more sustainable future for more than 40 years by offering graduate education in environmental management, science and policy. As a school, we're working to address the environmental challenges associated with many human activities that threaten communities, nations and the earth.   
College of Sustainability
Dalhousie's College of Sustainability has offered community-engaged undergraduate education in sustainability for over a decade. Its ESS (Environment, Sustainability and Society) curriculum is unique in Canada.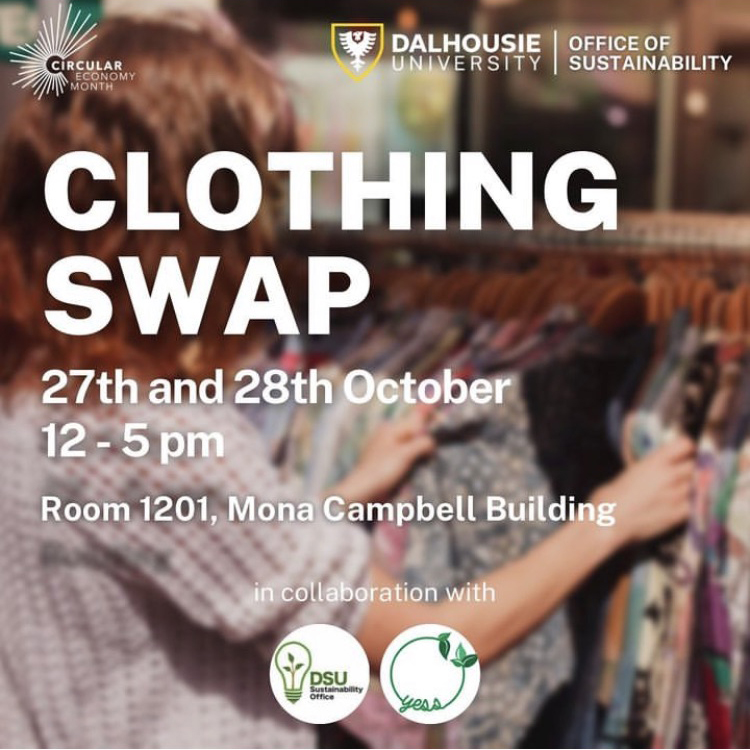 Civic university with global impact
Engage with faculty from the School of Resource and Environmental Studies to find the answers you need
SRES experts regularly collaborate with industry, government and NGOs to provide expertise in addressing resource or environmental sustainability challenges. Organizations from all over the world reach out about resource and environmental sustainability issues because SRES has the expertise and resources to solve them—and a track record to back it up.
Dump and Run
The Halifax Dump and Run is an annual event that has been running since 2002. This student-run event is organized in partnership between the Saint Mary's University Environmental Society (SMUES) and Dalhousie's Office of Sustainability. The goal of the Dump and Run is to divert waste from local landfills and to foster a culture of reuse and environmental responsibility. The one-day event is a gymnasium-sized indoor yard sale where the proceeds are donated to local social and environmental charities.
Foundation for inclusion and distinction
How Dal is doing its part to reduce the world's material footprint
Dalhousie is a leader in extending the life cycle of the materials it buys. Since the Disposal of Surplus Equipment Policy was created nearly 40 years ago, Procurement has been managing a surplus materials bidding system to offer up equipment, furniture, and supplies that were purchased with university funds and are no longer needed.
Read more in Dal News
Paper Policy regarding paper use on campus
The Paper Policy is aimed at reducing Dalhousie University's environmental and economic footprint through paper sourcing, reduction, reusing and recycling efforts. Paper purchased at the Dalhousie Print Centre is 100% post-consumer paper, the base paper for the university. The base office paper is FSC (Forestry Stewardship Council) or SFI (Sustainable Forestry Initiative) certified.
Dalhousie is an ENERGY STAR Participant
The ENERGY STAR symbol helps consumers identify major appliances and other energy-using equipment that save energy. ENERGY STAR identifies products as the top high efficiency performer in their category. As an ENERGY STAR Partner, Dalhousie will promote the ENERGY STAR program and products on campus.