Student training equipment
Expand your repertoire and solidify your base
Your success is our success
Dal's Internetworking degree program has integrated a student resource space that functions as a self-study and self-training playground. You can practice directly on career-enhancing equipment, set and wire configurations, expand your laboratory experience, and reach your industry certification goals.

Below is a list of the equipment that students in the Master of Engineering in Internetworking program have access to:
CCIE Rack
9 * Cisco Routers
4 * Cisco Switches
1 * Cisco Frame Relay Switch
Juniper Rack
Juniper EX 4200 switches
Juniper J2320 routers
Juniper J2350 routers
Juniper J4300 routers
Training Rack
12 * Cisco Routers
8 * Cisco Switches
Layer 3 Switches
Cisco 6509 series Switches ~ 2 each: 4 Port 10 Gig Module, 48 Port 10/100/1000 Module, Wireless LAN Services Module, IPSec VPN Acceleration Services Module, Content Switching Module, Firewall Services Module, SSL Services Module.

MEng Internetworking grads talk shop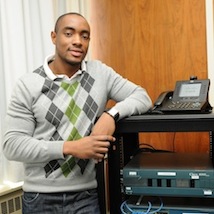 "The program provided me an enabling environment to establish myself in core areas of networking especially Voice Technology. The practical experience I gained using the CCIE-standard training racks is invaluable." - Ore Okebukola