Laboratory Resources
Top-of-the-line equipment and laboratory experiments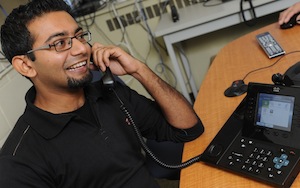 Our equipment facilities have advanced alongside internetworking technologies and host some of the most sophisticated equipment in today's market. While a student here, you will have an equipment base that is second to none.
You'll have access to laboratories to conduct up-to-date experiments using equipment such as Cisco Call manager, Unity, Presence, Telepresence, Wireless LAN Controllers, LWAP AP in our Telecommunications and Emerging courses, as well as in training seminars. Security offerings will benefit from Web Security Appliance and Identity Service Engine, ASA's, IDS, as well as, the usual Pixes. MPLS-enabled equipment in all our pods enhances our ability to offer a solid education for MPLS networking and applications.
The Internetworking equipment can be accessed remotely from anywhere in the world.
Find out more about our resources and equipment: