Shell Experiential Learning Fund (SELF)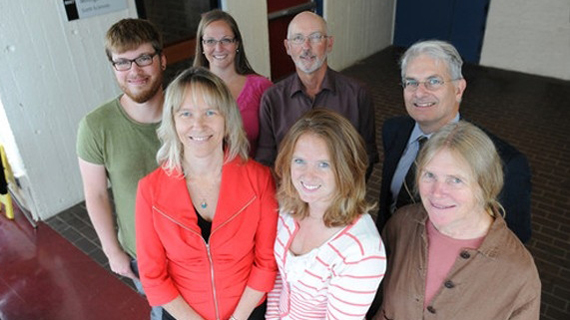 Staff and students from Earth Sciences with representatives from Shell
Back Row (L to R): Kyle Landry (GS), Dawn Tobey(UGS), Martin Gibling (ES faculty), Grant Wach (ES faculty)
Front Row (L to R): Stephanie Sterling (Shell), Fiona Gallacher (Shell), Rebecca Jamieson (ES Chair)
The Shell Experiential Learning Fund boosts recruitment of Dalhousie students
Not long ago, Shell Canada did a review of their Campus Ambassador Program (CAP) to see where they were having the most success in terms of university recruitment. It may not surprise you to learn Dalhousie University graduates ranked very well.
"We have always been pleased with the talent that Dalhousie produces," says Stephanie Sterling, the VP of Business & JV Management, Heavy Oil, with Shell. "It is one of our top tier schools when it comes to recruitment."
The energy and petroleum corporation is looking to build on this legacy with the announcement of a new Shell Experiential Learning Fund. It is investing $500,000 in this three-year initiative to ensure that science, business and engineering students receive the best possible learning, while reinforcing its reputation as the employer of choice in its industry.
Although funds will be used to enhance teaching facilities, programs and equipment, the emphasis is on delivering learning activities and events that offer students not only hands-on, real-world experiences, but also opportunities to engage with Shell.
"For example, Dalhousie alumni working with us can join in on geological field trips to share their work life experiences with students," says Sterling. "Other employees may present guest lectures, or offer feedback on chemical, mechanical and mining design competition presentations. So this is more than a monetary fund. We're bringing the industry into the classroom."
This is the third learning fund that Shell has created with Dalhousie since 2005, and the latest initiative in a relationship spanning more than 20 years. Sterling expects the bond between the two will continue well into the future, with outcomes that benefit everyone.
"We want to build on this legacy. We want to enrich the learning experiences of Dalhousie students and recruit more of them to Shell to build their careers and help us get better. Because when we are better as an organization, that's good for society."
Since 2008, Shell has hired 33 full-time Dalhousie graduates and supported 40 internships.