Dalhousie's reputation as a leader in higher education has a lot to do with the incredible efforts and ingenuity of the university's faculty and instructors. Year after year, they push the boundaries of teaching and explore its power to unlock potential in students in new ways.
This excellence manifests not just in classrooms — in person or online — but also in the many one-on-one relationships that instructors build with their students. And it stretches across all tiers of teaching at the university from first year to graduate level, professional programs and beyond.
Some of Dal's most beloved teachers are seasoned faculty members, others emerging leaders early in their careers. Some are contract and part-time faculty, others graduate students.
Learn more below about the exceptional faculty and instructors being recognized this year with Dal's university-wide awards for teaching. Stay tuned for more detailed coverage on some of these winners on Dal News later this year when the honourees will be receiving their awards.
Dalhousie Alumni Association Award of Excellence for Teaching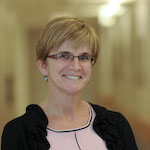 Dr. Catherine Craig (Department of Obstetrics and Gynaecology)
Dr. Craig, this year's winner of Dal's top teaching award, is being recognized for her excellence as an educator, mentor, advocate, and innovator. She has developed an evidence-based simulation program for undergraduate and postgraduate students that prepares them for high acuity, low frequency, and challenging clinical situations in obstetrics (an area that covers pregnancy, childbirth and the postpartum period). Dr. Craig's students describe the learning environment she creates as positive, safe, and supportive, which enables learning to be optimized and confidence to be nurtured. She has additionally spearheaded the design and implementation of a wellness curriculum for residents in the Department of Obstetrics and Gynaecology. Her longstanding commitment to education, mentorship, advocacy, and innovation has been invaluable to learners and her colleagues in her department, where she has taught for 27 years.
Award for Excellence in Graduate Supervision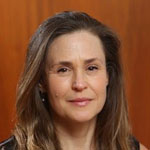 Eileen Denovan-Wright (Department of Pharmacology)
Professor Eileen Denovan-Wright's dedication to graduate student success can be seen clearly in her long record of service in teaching and mentorship. She has trained seven post-doctoral fellows and 18 graduate students, with many of her past trainees now active in research and holding faculty positions. Dr. Denovan-Wright has held the role of graduate coordinator in her department and currently serves as associate dean of students in the Faculty of Graduate Studies and on a national taskforce defining excellence in PhD graduate programs in Canada. She runs her own research program focused on understanding cannabinoid receptor function in the context of neurodegeneration and has a strong record of peer review for journals and grant review for national funding agencies.
See also: Dal's Sherry Stewart wins top Canadian award for excellence in graduate supervision
Contract and Limited-term Faculty Award for Excellence in Teaching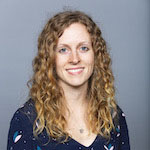 Adria Quigley (School of Physiotherapy)
Adria Quigley, an instructor in the School of Physiotherapy, embraces a self-reflective teaching philosophy, demonstrating awareness about her own biases and thoughtfully examining how this shapes her teaching. She is passionate about using principles of culturally responsive pedagogy and universal design for learning in her teaching and has demonstrated a commitment to EDI (equity, diversity and inclusion) in and out of the classroom. She created an EDI working group within her Faculty to develop resources and professional development and led the EDI committee within her department. She also demonstrated her adaptability in the move to online learning, organizing the first-ever virtual practical skills examination for physiotherapy students.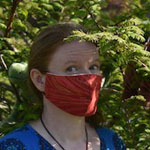 Lexie Arnott (Department of Earth and Environmental Sciences)
Alexandra (Lexie) Arnott has been a limited-term appointment instructor in the department since 2016.  She enthusiastically teaches earth sciences and leads with humour and compassion. Lexie spent the summer of 2020 collecting rocks and minerals around the province and sourcing others to supply over 200 lab kits for first-year students learning online this fall and winter.  As well as her enthusiasm for all things geologic, Lexie is passionate about equity and inclusion in earth sciences and STEM more broadly.
Early Career Faculty Award of Excellence for Teaching
Leanne Stevens (Department of Psychology and Neuroscience)
Leanne Stevens, a University Teaching Fellow in the Department of Psychology & Neuroscience, began her career coordinating Introduction to Psychology & Neuroscience and teaching the associated Experiential Learning in Science Communication course. Over her seven years at Dal, Dr. Stevens has been involved with several high-impact initiatives focusing on student success, deep learning, and engaging students-as-partners in curriculum development. As COVID-19 forced the abrupt shift to remote teaching, through her role on the Faculty of Science's Academic Continuity Team (FACT), Stevens was instrumental in organizing panels, workshops, and communities of practice aimed at supporting faculty as they moved their courses online. In the past year, Dr. Stevens also spearheaded the launch of an open-access, free, Introductory Psychology textbook, collectively saving students close to $200,000.
Educational Leadership Award for Collaborative Teaching

First-Year Chemistry Online Development Team (see a full list of team members following summary)
The First-Year Chemistry Team prides itself in offering authentic teaching experiences to undergraduate and graduate teaching assistants. Moving to a completely virtual format for the 2020/2021 academic year presented unique opportunities in online course design. With great intention, Drs. Jennifer MacDonald, Angela Crane, and Mark Wall assembled a talented team of student educators in Summer 2020 to begin development. It was the largest course development collaboration to come from the Department of Chemistry since the creation of the Concepts in Chemistry Program and was unique in its "students as partners" approach to course design. The model enabled the team to harness the power of its diverse strengths, ideas, and experiences while fostering a dynamic built of a foundation of shared responsibility and trust. The synergy of this team, together with their common goal of creating an inclusive, accessible, interactive, and universally designed course, brought to life Dalhousie Chemistry's first fully online version of Chem 1011/1021 and Chem 1012/1022.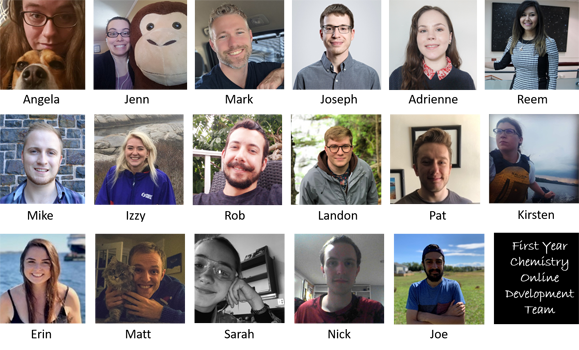 Angela Crane, (Instructor), Department of Chemistry, Faculty of Science
Jennifer L. MacDonald, (Senior Instructor), Department of Chemistry, Faculty of Science
Mark Wall, Instructor (PTA), Department of Chemistry, Faculty of Science
Joseph Tassone, (PTA), Department of Chemistry, Faculty of Science
Adrienne Allison (PTA, Graduate TA), Department of Chemistry, Faculty of Science
Reem Karaballi (PTA, Graduate TA), Department of Chemistry, Faculty of Science
Michael Charlton (Graduate TA), Department of Chemistry, Faculty of Science
Isabel Curtis (Graduate TA), Department of Chemistry, Faculty of Science
Robert Foisy (Undergraduate TA), Department of Microbiology & Immunology, Faculty of Science
Landon Getz (Graduate TA), Department of Microbiology & Immunology, Faculty of Science
Patrick Giesbrecht (Graduate TA), Department of Chemistry, Faculty of Science
Kirsten Jones (MSc, TA), Department of Chemistry, Faculty of Science
Erin Lyle (Graduate TA), Department of Chemistry, Faculty of Science
Matthew Margeson (Graduate TA), Department of Chemistry, Faculty of Science
Sarah Martell (Graduate TA), Department of Chemistry, Faculty of Science
Nicholas Roberts (Undergraduate TA), Department of Chemistry, Faculty of Science
Joseph Weatherby (Graduate TA), Department of Chemistry, Faculty of Science
President's Graduate Student Teaching Award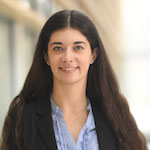 Katherine M. Marczenko (PhD in Inorganic Chemistry Student), Faculty of Science)

Katherine M. Marczenko has built a strong reputation among both students and faculty as an effective and enthusiastic teacher across all environments, dedicated to professional development. Her contributions to curriculum development for second-and third-year chemistry courses, as well as her contribution to the creation of an upper-year course on Chemical Crystallography, have drawn great praise, as have her efforts to help redesign Dalhousie Chemistry Outreach program in alignment with provincial learning themes and outcomes.
Ralph (RJ) Redden (PhD in Psychology), Faculty of Science

Ralph Redden's educational journey at Dalhousie has been extensive, including a BA (Honours), MSc, and a PhD now nearing completion (all in Psychology). He has held numerous teaching positions at Dal over the years, serving as a teaching assistant or course instructor in every year of his graduate tenure. Ralph espouses the practices and philosophies of the Open Science movement in his teaching and believes that by creating a scientific culture where our materials, data, and outputs are openly available, we can break down systemic barriers that have served to marginalize many from participating in, and contributing to, scientific inquiry.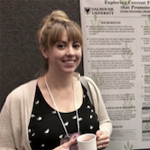 Christie Stilwell (PhD in Health Student) Faculty of Health

Christie Stilwell has been an enthusiastic teaching assistant for the Introduction to Research Methods course in the School of Health and Human Performance and for the Women and Aging course in the School of Nursing, as well as other courses within the Faculty of Health over the past five years. Through the Heathy Populations Institute, she has worked to create unique learning and skill building opportunities for fellow graduate students with seminars, workshops, and the Healthy Populations Journal. Her research interests relate to Indigenous health and wellbeing, aging and older adults, and health services.
Sessional and Part-time Instructor Award for Excellence in Teaching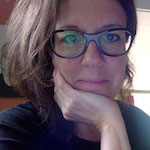 Sue Goyette (Department of English)

Sue Goyette might be best known as Halifax Regional Municipality's current Poet Laureate and a prolific author and editor of many books, but she is also a well-loved teacher in Dal's Creative Writing Program. Goyette is well-known for bringing a unique approach to teaching and for her ability to create a safe learning environment and a strong sense of community among her students. She injects her own real-world experiences of building a career as a poet into her classes, inspiring others through her passion for teaching and her dedication to students. Goyette has published a novel and seven collections of poetry, including Ocean — winner of the 2015 Lieutenant Governor of Nova Scotia Masterworks Arts Award and finalist for the 2014 Griffin Poetry Prize.
For more information on the awards, visit the Centre for Learning and Teaching website.