Contract and Limited‑Term Faculty Award for Excellence in Teaching Recipients

Congratulations to the 2022 Recipient!
Dr. Heather Cray (Instructor) Department of Earth and Environmental Sciences, Faculty of Science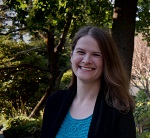 Heather Cray, PhD, has been an Instructor in Earth and Environmental Sciences and the School for Resource and Environmental Studies since 2019 where she teaches environmental science, education, sustainability, research methods, and field courses to undergraduate and graduate students. Dr. Cray received her PhD from the University of Waterloo in Restoration Ecology, her MSc in Geography from McGill University, and her Joint Honours Bachelor's in Geography and International Development Studies from McGill University. She is passionate about curiosity-led learning, accessibility and inclusion, and universal design for learning.
2021
Dr. Lexie Arnott, Instructor, Department of Earth and Environmental Sciences, Faculty of Science
Alexandra (Lexie) Arnott, PhD. has been an LTA Instructor in the Department of Earth and Environmental Sciences since 2016. She enthusiastically teaches Earth Sciences (except for sedimentary rocks-hmm) and leads with humour and compassion. Lexie spent the summer of 2020 collecting rocks and minerals around the province and sourcing others to supply over 200 lab kits for first-year Earth Science students learning online this fall and winter. As well as her enthusiasm for all things geologic, Lexie is passionate about equity and inclusion in Earth Sciences, and STEM more broadly.
Dr. Adria Quigley, Instructor, School of Physiotherapy, Faculty of Health
Since 2016, Dr. Adria Quigley has been an instructor in the School of Physiotherapy at Dalhousie University where she teaches in the neurotherapeutics, cardiorespiratory, scientific inquiry, and integrated practice courses. Dr. Quigley obtained her PhD from Dalhousie University in 2019, her master's in Physical Therapy from the University of Toronto in 2011, and her bachelor's in Kinesiology from the University of Saskatchewan in 2009. She is passionate about using principles of culturally responsive pedagogy and universal design for learning in her teaching.
2020
Dr. Rebecca Spencer, School of Health and Human Performance, Faculty of Health
Becky Spencer, PhD is an Instructor in Health Promotion in the School of Health and Human Performance. Having recently finished her doctoral studies, Dr. Spencer understands the student experience and emphasizes student-centered teaching and learning. Her teaching philosophy is focused on enthusiastic engagement, care for students, and clarity and organization. Dr. Spencer highlights alternative ways of knowing, challenges traditional teaching methods, incorporates contemplative practice into her teaching, and tries to engage students in meaningful and applicable learning activities. In addition to the scholarship of teaching and learning, Dr. Spencer's research interests include critical and transformative methods, gender and youth issues, and considering health in the context of complex environments.
2019
Roderick Chisholm, Department of Chemistry
Dr. Chisholm, an instructor in the Department of Chemistry, emphasizes the importance of group cohesiveness where students learn how to work synergistically to achieve a common goal while making sure that individual accountability is inescapable. He considers students' failure as an opportunity to learn about how to turn trying times into teaching moments — an approach that is paramount to ensure confidence and character are being fostered in future scientists and lab technicians. He challenges his students to venture into the unknown.
2018
Gaia Aish, Department of Chemistry