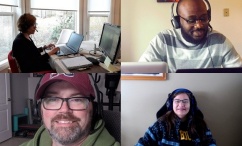 Monday-Friday: 9 a.m.-8 p.m.
Saturday-Sunday: 9 a.m.-3 p.m.
Chat Live with an Instructional Technologist for help in delivering your course using Brightspace and how to use other instructional tools such as Panopto, Urkund, Collaborate Ultra, and more. Email: intech@dal.ca.
Tuesdays: 1-2 p.m.
Join us every Tuesday for drop in sessions to discuss teaching online as a TA with one of our Educational Developers!
COVID-19 PREPAREDNESS

Due to the personal health and safety of our staff here at the Dalhousie Centre for Learning & Teaching, and in accordance with the Killam Library's closure, our physical offices are closed. During this time, we will still be working hard to support all students, faculty and staff remotely.  
Please email clt@dal.ca for all inquiries. If you need support transitioning to remote teaching, please include COVID-19 and your course number (i.e. ABCD1234) in the subject line so we can prioritize. We apologize in advance for any inconvenience this causes and will continue to provide updates. The Centre for Learning and Teaching is ready to support all Dalhousie and Kings faculty and instructors with the transition to online teaching for the Fall term.  
In particular, our team can support the process of thinking through different pedagogical and assessment strategies you might use in your remote courses moving forward. For more information, please visit Dal's Online Teaching website or contact us at clt@dal.ca.
The health and safety of our students, faculty and staff is our highest priority. COVID-19 updates are regularly posted online by Dalhousie University.