Events
UPCOMING CLT EVENTS
August 9: Blended Teaching – Panel Presentation and Discussion
Monday, August 9, 2021
11 a.m.—12:30 p.m. Atlantic
Online via Teams Meeting
REGISTER

Michael Hadskis
Faculty of Law & School of Health Administration

Joye Sears
Faculty of Agriculture

Georgia Klein
College of Sustainability
As we all make the move back to campus, some faculty are considering a blended model for their Fall courses. What approaches are the most effective options at Dalhousie, and what aspects do we need to consider to ensure a well-designed course that flows well between synchronous and asynchronous modes, or between in-person and online?
Please plan to join our faculty panel to hear about how some colleagues have thought about blended learning and teaching. There will be plenty of opportunities to share ideas, engage in discussion, and to have your questions and concerns addressed.
Host
Vivian Howard, Associate Vice-President, Academic
August 13: Building a Blended Course
Friday, August 13, 2021
10—11:30 a.m. Atlantic
Online via Teams Meetings
REGISTER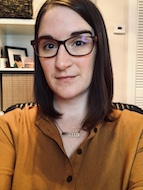 Kate Thompson
Educational Developer (eLearning)
Centre for Learning and Teaching
Instructors are getting ready to take advantage of in-person teaching again, and after several semesters of online teaching, many instructors have developed online teaching skills and assets (recorded lectures, online activities and assessments, etc). Blended learning is a highly effective and flexible teaching method, and is a great way to make use of the online skills and assets we now have at our disposal! This webinar will briefly highlight the benefits of blended learning, and will guide instructors through several activities to help them make use of the online skills and assets they have developed to re-design existing courses as blended courses.
In preparation for this workshop, as in a blended course, it will be useful to become familiar with the basic concepts that surround blended learning. You can prepare by:
Visiting the Blended Learning area of the Online Teaching website. Here you'll find lots of information and resources about blended learning.
and/or
Attending the "Understanding Blended Learning" introductory webinar on July 23rd. This will give a good overview of blended learning that will set you up to participate in this more active workshop.
August 16-20: New Academic Staff Orientation
Dalhousie University welcomes new colleagues to the academic community with our annual New Academic Staff Orientation (NASO). This year's orientation will be held from August 16-20, 2021. It will be fully online, using Dalhousie-supported platforms. A variety of presenters will hold five different synchronous ("live") events, one each afternoon. New asynchronous information will be added each day of the week: highlighting resources, featured videos, and helpful links that participants can review on their own time during the week.
Newly-hired academic staff will visit the new NASO site in Brightspace (our D2L learning management system), and they'll join synchronous events in MS Teams, Teams "Live Events," and Collaborate Ultra. By making use of three different synchronous platforms, the orientation will give participants a sense of how each platform works, as well as their different purposes and strengths.
Both the synchronous "live" events and the asynchronous videos available in NASO this year feature a large cast of senior administrators, support personnel, teaching and research specialists, and award-winning faculty members.
Invitations will be sent in late-July. If you are a new academic member of the Dalhousie community, and you haven't received an invitation or wish to ensure you recieve the invitation, please contact Michelle Soucy Rankin at clt@dal.ca.
August 30-September 3: Teaching Assistant Professional Development Day
Join us for our virtual Teaching Assistant Professional Development Days. Learn about teaching online including tips on synchronous teaching online, giving effective feedback, wellness strategies and more!
Individuals choose from a variety of concurrent sessions designed to address the essential skills required by undergraduate and graduate students alike to effectively facilitate classes and to enhance their teaching skills.
Registration opening soon!