Idle Free Program
Cut the gas, keep our campus healthy and green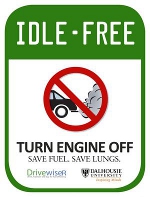 If drivers of light-duty vehicles avoided idling by just three minutes a day, over one year Canadians would collectively save 630 million litres of fuel and 1.4 million tonnes of carbon dioxide (CO2) emissions.
Learn about Dalhousie's Idle-free Guidelines. Keep your eye out for the idle-free signage that has been posted around campus. Some of the Dalhousie fleet vehicles have also been equipped with GPS idling notification software.
To help support the introduction of the idle-free guidelines, the Office of Sustainability partnered with several organizations on campus. The Office of Sustainability also offers a lunch and learn session and educational material - including an Educational Notice Card to help employees learn how to improve their driving behaviours to save money and reduce emissions.  If your office is interested in hosting a session please email rethink@dal.ca.  Anti-idling surveys are currently being conducted throughout Dalhousie's campuses to pinpoint areas needing further education.
Want to know how much idling is costing you? Check out the idling calculator.