Dal Bike Centre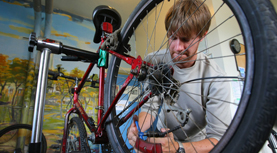 The Dal Bike Centre is a great place to learn how to care for and maintain your bike. Experts provide instruction, and there are frequent informational sessions for bike safety and riding tips.
Dalhousie University is Certified as a Bike Friendly Workplace


Bike Friendly Certification is a recognition and training program for businesses

and

institutions that support bicycle commuting, bicycle travel and bicycle tourism experiences in Nova Scotia. 
Interested in learning more about the program? Visit bikefriendlyns.ca for more information!
Office of Sustainability
The Office of Sustainability works with programs like HRM's SmartTrip for a more sustainable university. Take a look at the website for more information on other sustainability related programs.