Sustainable Events Program

When we plan sustainable events, we put our values into action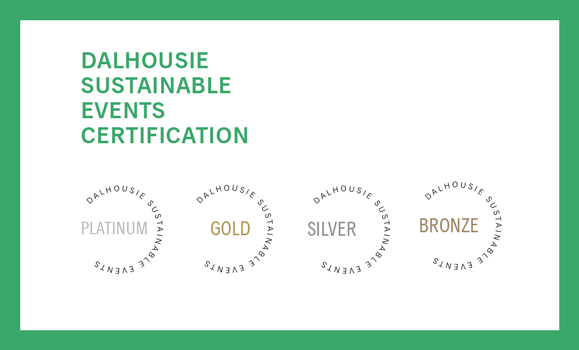 The Sustainable Event Certification is about recognizing our campus community for planning events that reduce our impact on the environment. The program focuses on waste,water and energy reduction as well as inclusivity and accessibility. When you participate in this program, you put our values into action. 
Get started by reading our Sustainable Events Guide Checklist [PDF - 136KB] and checking the FAQs for more information.
What kind of events can apply for the certification?
Any meetings, conferences, or other group engagements held on any Dalhousie campus can apply for the certification. Small or large, it doesn't matter!
What are the certification levels?
To determine the certification level of your event, you will evaluate each action item listed in the Sustainable Events Checklist to determine if it applies to your event. If an action item is impossible to achieve in the context of your event, put a "No" under the "Applicable?" column and deduct its points from the total number of available points in the Checklist. - For example, if you are hosting an outdoor event, mark the action item "We will host our event in a LEED certified building" as "Not Applicable." If you have successfully completed an action item, please mark it as "Applicable" to your event. You cannot receive half or partial points for a category (for example, if you serve some fair trade coffee or tea options, but have other non-fair trade options).
The percentage of applicable items that you have completed represents your total score.
Bronze Level = Minimum 40% of applicable points
Silver Level = Minimum 55% of applicable points
Gold Level = Minimum 75% of applicable points
Platinum Level = Minimum 90% of applicable points
What is the certification process?
There are four steps to certification:
1) Plan your event using our Sustainable Events Checklist [PDF - 136 KB] as a guideline.
2) Complete the checklist and email it to rethink@dal.ca
3) Our office will set up a time to complete the event audit with you.
4) Once you receive your certification level, we will provide you with promotional material so you can promote the sustainability features of your event.
5) After your event, you will complete a follow up checklist and call with the program adminstrator.
How long does the process take?
The length of the process will vary, depending on when you apply. The earlier in your event planning you start the certification the more points you'll be able to score and the higher your certification level.

Campus Sustainability Leaders
After your event is certified it will appear here!