Universal Waste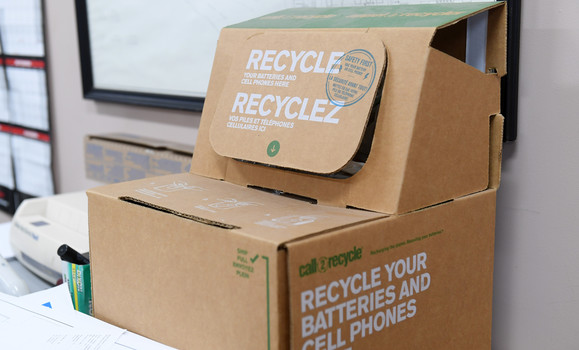 Universal Waste is a waste stream that contains materials that are not designated hazardous and do contain enough hazardous materials that they require special disposal. Dalhousie aims to divert all university universal waste from the landfill. Waste audits, weight data, and staff observations are used to track performance.
Universal Waste Disposal On-Campus
Fluorescent bulbs/lamps and mercury containing equipment
At Dalhousie, fluorescent light bulbs and lamps are handled and recycled by Facilities Management and/or external contractors. Presently all bulbs on campus are collected and are sent to Dan-X for recycling through an Efficiency NS program. As well, the University has bulb crushers in all zones.
For mercury-containing equipment such as, thermostats, thermometers, barometers contact the Environmental, Health and Safety office where material will be properly managed through the Hazardous Waste program.
Contact Environmental Services at 902.494.8396 (HFX) or 902.893.4630 (AC) for more information on light bulb disposal.

Paint
As part of Nova Scotia's Solid Waste Resource Management Regulations, paint is banned from disposal in provincial landfills.

When consumers purchase paint, they pay a recycling fee to support the costs of collecting and processing unused paint. Left over paint should be returned to a ENVIRO-DEPOT facility.
On-campus, paint should be returned to the Enviro-Depot. Contact Dalhousie's Office of Environmental Services at 902.494.8396 (HFX) or 902.893.4630 (AC) for more information.

Batteries
All batteries on campus should be recycled through campus programs. For most batteries, academic departments, units, and reception desks on all campuses can request a collection box and poster [PDF - 456KB] from the mailroom for your departmental area (Halifax 902-494-3476; Truro 902-893-4614). These boxes should be displayed in visible location as determined by the department.
It is important to note that:
Batteries (not including automotive/wet cell) can be recycled by depositing them in the box;
For safety reasons some batteries must be taped at the terminal, and/or bagged;
Charts will be present at all box locations, that give battery specific information;
Bags are provided with the box, tape is not;
Dalhousie issued employee mobile phones will not be accepted as they must go to ITS to be wiped for re-issue or recycling;
Student/personal mobile phones can be place in a bag and then boxed at all Dalhousie Library location battery boxes.
Once the box is full (no more than 30 kg), administrators can arrange for collection through Facilities Management by submitting a FAMIS service request. The content of the boxes will be recycled by Call2Recycle.
All batteries, not included in the battery box program used in labs or facilities operations must be recycled through the hazardous waste program or local enviro-depot operations.
Printer Cartridges
On campus, Dalhousie printer cartridges are to be returned to the supplier. Please contact your office supplier for more details. If you need any further recycling support contact that mailroom (Halifax 902-494-3476; Truro 902-893-4614).
White Goods (appliances)
Put in a facilities work order to have white goods removed for disposal. For items such as refrigerators, refrigerants will be removed first. Material goes to the landfill where large items are designated for metal recycling.
Questions about on-campus Universal Waste should be directed to Facilities Management Environmental Services at 902.494.8396