Susan Sherwin

Fall 2017 Honorary Degree Recipient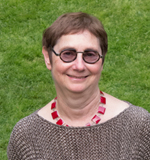 Doctor of Laws (honoris causa)
Dr. Susan Sherwin, Dalhousie Professor Emerita, is one of Canada's preeminent women philosophers. Her groundbreaking 1992 book, No Longer Patient: Feminist Ethics and Health Care, has been described as a "landmark event," credited with helping define the entire field of feminist bioethics.
Following her doctoral studies at Stanford — where she wrote the first philosophy dissertation in the U.S. on the ethics of feminism — she arrived at Dalhousie as the Department of Philosophy's first ever female faculty member. Through the celebrated career that followed, her work took weighty issues such as abortion, reproductive technology, and paternalism in the patient-physician relationship and recast them from a feminist perspective. Her research highlighted the impact of discrimination and was defined by a feminist commitment to redressing all forms of oppression.
Dr. Sherwin has been a leader on campus and in the community. The first woman to serve as Chair of the Department of Philosophy, she was instrumental in developing Dal's Women's Studies program (now Gender and Women's Studies), twice serving as its Coordinator. She was the first woman President of the Dalhousie Faculty Association and was a founding member of the Dalhousie Women Faculty Organization. She served on the Board of Directors of Halifax Transition House, was part of the first equity committee of the Canadian Philosophical Association, and was a founding member of the Canadian Society for Women in Philosophy.
In 2006, Dr. Sherwin received the prestigious Killam Prize in the Humanities from the Canada Council for the Arts. She is a fellow in the Royal Society of Canada and the Canadian Academy of Health Sciences and received a Lifetime Achievement Award from the Canadian Bioethics Society. In 2004 she was named a Distinguished Women Philosopher by the American Society for Women in Philosophy, and in 2015 Dr. Sherwin was appointed to the Order of Canada.