Ronald D. Stewart

Spring 2017 Honorary Degree Recipient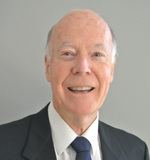 Doctor of Laws (honoris causa)
Dr. Ronald D. Stewart is a gifted clinician, administrator, and educator known for building solutions to difficult public health challenges. Originally from North Sydney, Nova Scotia, he earned a BA from Acadia University and an MD from Dalhousie. He has devoted much of his career to developing training and standards for paramedics, and designing and implementing systems for emergency medical care.
Dr. Stewart has worked in emergency medicine in Los Angeles, Pittsburgh, Toronto and Halifax, making lasting contributions to the field in each. In Pittsburgh, for example, he was not only Medical Director of the city's Department of Public Safety, but established the Center for Emergency Medicine, now the largest institution of its kind in North America. He also shaped Nova Scotia's health-care system as Minister of Health (1993-1996), including creating the Emergency Health Services (EHS) system we depend on today.
After first coming to Dalhousie as a faculty member in 1990 (Professor of Anaesthesia and Emergency Medicine), Dr. Stewart later served as Director of Medical Humanities from 2004 to 2009. In that role, he integrated the arts and history into medical study to promote creativity and empathy in the medical profession, in particular through the Music-in-Medicine initiative. Now Professor Emeritus of Medical Education, he is an Officer of the Order of Canada, has received Queen Elizabeth II Golden and Diamond Jubilee Medals and the Order of Nova Scotia, and has been presented with honorary degrees from Acadia and Cape Breton Universities.