Elizabeth Gallion Cromwell

Spring 2017 Honorary Degree Recipient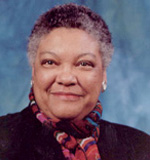 Doctor of Laws (honoris causa)
For more than 30 years, Elizabeth Cromwell has been on a mission to bear witness to Black Loyalist history and culture and make it accessible to Nova Scotians and Canadians. Thanks in large part to Ms. Cromwell's tenacity, vision and determination, the rich story of Black Loyalist endurance and resilience is finally being told.
Born in Shelburne, Ms. Cromwell studied at the Halifax Vocational School, graduated in 1969 as a social welfare worker, and spent her career working with the Children's Aid Society of Shelburne County. She is a founding member of the Black Loyalist Heritage Society (BLHS) and served as President until 2002 and again from 2008 until 2016. Through her efforts, the Black Loyalist Heritage Centre opened its doors in Birchtown in 2015, commemorating the lives and experiences of Black Loyalists in what was once the largest settlement of free Blacks outside Africa.
Ms. Cromwell was determined that Black Loyalist history be recognized as a key building block of our provincial and national identity. For her tireless efforts, she has been awarded an honorary degree by Mount Saint Vincent University, the Queen Elizabeth II Diamond Jubilee Medal and the Multicultural Volunteer of the Year Award from Volunteer Nova Scotia. Under her leadership, the BLHS also won a Race Relations and Human Rights Award from the Nova Scotia Human Rights Commission.