Budge Wilson, C.M.

May 2010 Honorary Degree Recipient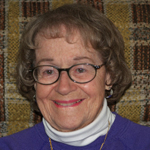 Doctor of Laws (honoris causa)
Imagine a full career change late in life. You've done many things up to that time: commercial art, teaching, photography, fitness instruction. So why not take on something new, hard and potentially fraught with disappointment? Something like . . . writing.
That's exactly what Budge Wilson did at the age of 50.
Looking back, there's no question writing is what Mrs. Wilson was meant to do. Since 1984, she's published 33 books and captured enough awards to populate more than a few mantles, including the Halifax Mayor's Award for Cultural Achievement in Literature. In 2004, she became a Member of the Order of Canada.
Her novels and short stories for children, youth and adults have been published in 14 languages and in Braille.
But, for six years until her first book, The Best/Worst Christmas Present Ever, was published, writing was a struggle. As Mrs. Wilson says, "By the time I got to year five, I was getting pretty discouraged."
What sustained her, she says, is the belief that she was good at what she did. And that other people thought so too. Eventually, she was able to acknowledge her mentors—namely her Grade 11 teacher Freda Pipe and Dalhousie University English professor Lindsay Bennett—in the dedication to her 2002 book, Fractures.
Mrs. Wilson, by the way, earned her BA majoring in philosophy and psychology from Dalhousie in 1949. Apparently in the late 40s, there were seven men for every woman at university, and by her reports, she had a marvelous time.
The other thing that helped her was validation in her belief. For Mrs. Wilson, that validation was winning a CBC fiction competition for her story, The Leaving, about an unappreciated mother from rural Nova Scotia who takes her 12-year-old daughter on a short timeout from the demanding and brusque men-folk in the family to visit Halifax.
"The first person I told when I won was not my mother or my husband or my children," she explains. "I phoned my teacher and told her. She meant so much to me because of the encouragement she gave me. I remember once she read one of my stories aloud to the class and then she just paused and said, 'I wish I was able to write stories as well as you.'"
Thirty years later, another big challenge presented itself. With the centenary of the publication of Anne of Green Gables on the horizon, Mrs. Wilson got a phone call from Helen Reeves, an editor at Penguin.
"Out of the blue she says, 'We'd like you to do the prequel to Anne of Green Gables. Will you do it?'" recounted Mrs. Wilson in an interview for Dalhousie magazine.
Now let's put that request in perspective: Anne of Green Gables is one of the most beloved books in children's literature. It has inspired eight novels, three TV movies, the popular CBC television series Road to Avonlea and Canada's longest-running musical. Its spunky heroine, Anne Shirley, has earned the patronage of the Japanese monarchy and is responsible for a sizable portion of Prince Edward Island's tourist industry.
"Will you do it?" the caller asked Mrs. Wilson. If you pause now and just sit for a moment, you will be repeating Mrs. Wilson's exact reaction on her end of the phone: dead silence.
"I was dumbfounded," she recalled. "I think I said something really milquetoast like, 'I'd like to think about it.'"
She agonized for two months over the decision, wondering more than anything whether Anne's creator, L.M. Montgomery (who also studied at Dalhousie) would approve. In the end, she decided to do it precisely because it was a challenge. What kind of book could she write to explain how Anne Shirley, a backwoods girl with a hard-knock life, could become the vibrant, articulate and optimistic child who meets Matthew Cuthbert at the train station and fully enraptures him by the time they arrive at Green Gables a few hours later?
Once decided, Mrs. Wilson put pen to paper. She writes in long hand and completed the 71 chapters of Before Green Gables in 71 days. She finished the manuscript on her 80th birthday. A number-one bestseller, the prequel sold in numerous countries including Canada, the U.S., the U.K. and Japan, and marked Penguin Canada's largest-ever foreign rights sale. Even diehard fans of Anne Shirley, some of whom admit they were prepared to hate the book, were won over by it.
For her unique voice and passionate love of writing; for demonstrating what can be accomplished through commitment, perseverance and rising to a challenge; for appreciating the role of mentors and being one herself; and for her innumerable contributions to the literary world, I ask you, Mr. Chancellor, on behalf of Senate, to bestow upon Budge Wilson the degree of Doctor of Laws, honoris causa.