The Ceremonial Mace (1950 ‑ 2019)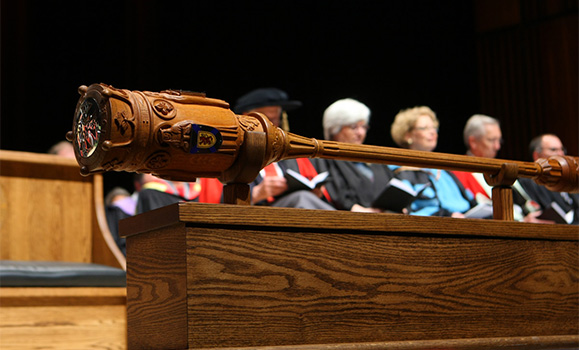 The Dalhousie University Mace was first carried in an academic procession in May 1950 and retired in 2019 when the university introduced the New Dawn Staff of Place and Belonging as its new ceremonial object. The Mace was carried into ceremonies by the University Beadle (University Registrar), who leads the procession, and placed on its stand onstage to begin Convocation.  
The Mace was designed by R. L. de C. H. Saunders, a Professor of Anatomy, and carved by A. H. MacMillan of Halifax. It is made of oak, enriched with silver and enamel, and measures 1.4 metres in length.
The lower end of the Mace is adorned with silver fish in recognition of one of our most important natural resources. Above this is a circular scene of a sea nymph calling across the waves towards the setting sun in representation of the impulse that led navigators to our shores. The roots put down by early settlers and the tall trees that first met their gaze are reflected in a pattern extending the entire length of the shaft.
The head of the Mace bears a maple leaf. Set above the leaf is a carved circle of mayflowers, which symbolizes both the province and the flowering of a new civilization in the province which led to the establishment of the University. Four robed medieval scholars facing the main compass points represent the university faculties of 1950: Arts and Science, Dentistry, Law and Medicine. Each figure bears a silver enameled shield with either the arms of the University or the Province of Nova Scotia. Alternating with these figures are the rose, thistle, fleur-de-lys and shamrock, depicting the home countries of the first European immigrants to the province.
The top of the Mace head bears a five-rayed Scottish earl's coronet in recognition of the University's founder, the ninth Earl of Dalhousie. This part of the Mace incorporates oak that came from the Earl's estate and was presented to Dalhousie University. Gracing the cap of the coronet, set above all, is a silver Celtic cross surrounded by the University motto "Ora et Labora" (pray and work). This cross was chosen as befitting a non-denominational institution with Scottish heritage.