Ayesha
Mushtaq
Associate Director, English Language Studies Department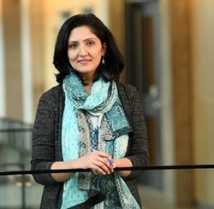 Email:
Ayesha.mushtaq@dal.ca

Education  
Ed.D. Educational Leadership in International Contexts. Western University, Canada
M.A Philosophy, National University of Modern Languages, Pakistan
M.A. English Literature and Applied Linguistics. National University of Modern Languages, Pakistan
Certificate in English Language Teaching to Adults (CELTA). International Language Institute (ILI). Canada.
Area (s) of Specialization            
Educational Leadership in Organizational Improvement Planning
Curriculum Internationalization
University's Third Mission: Social Responsibility
Intercultural & Global Competence in Higher Education
Plurilingual Education
Achievements
Director of Studies. Silver Crescent Academy. Halifax, Canada
Co-Developer of Professional Development Certificate in English Medium Instruction (PDC-EMI)
Co-Lead in Dalhousie's Strategic Planning Committee for Dal Purpose and Social Responsibility
Visiting Professor at Universidad de Santiago de Chile for Professional Faculty Training
Invited Guest Speaker at Educatic Conference in Leon, Mexico
Selected  Publications
Mushtaq, A. (2020). University-wide Internationalization of Curriculum: An Organizational Improvement Plan. The Organizational Improvement Plan at Western University, 167.
Mushtaq, A. (2020). Helping International Students Succeed in an Online Environment. CLT Focus. Dalhousie Centre for Teaching and Learning.
Mushtaq, A & Pacurar, M. (April, 2020). University Purpose & Social Responsibility [White Paper] Dalhousie University, Canada.
Research  interests
Dr. Mushtaq is a higher education practitioner with a strong interest in Higher Education, Global Engagement, Curriculum and Pedagogy. Her doctoral research is in educational leadership and internationalization of higher education curriculum as it pertains to global engagement, international projects, classroom diversity, inclusion, equity and differentiated learning. Her professional research experience also includes detailed study of how universities must take up social responsibility as its third mission and strengthen the local and regional communities it surrounds.
Teaching
OLCD-DEAP0011-English for Academic Purposes (EAP) Level 1
OLCD-DEAP0012-English for Academic Purposes (EAP) Level 2
OLCD-DEAP0039-Introduction to CLIL in an EMI Context
OLCD-DEAP0051-Implementation and Leadership of the Internationalization of the Curriculum Initiatives
OLCD-DEAP0052-Leading Professional Learning in International Higher Education
Related  Information