Colin Jackson
PhD Candidate

Email: colinjackson@dal.ca
Why Dal?
At Dal we have a wonderful, supportive faculty, and the intelligence and enthusiasm of the law students–especially in tax law–has been inspiring.
What inspires me

Nothing inspires me more than teaching, but I'm also very excited about my current research. It looks at the tax system through the lens of "access to justice" and so I'm working on identifying the barriers that prevent people from engaging effectively with the tax system, discovering how those barriers modulate or frustrate tax policy, and finding ways to improve how taxpayers interact with the tax administration.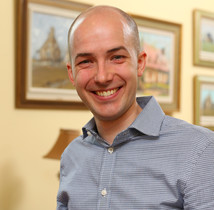 Education
BASc (Ottawa)
BCL/LLB (McGill)
LLM (Dalhousie)

Publications
Colin Jackson, "Settlement and Compromise in Canadian Income Tax Law Since Carter" in Kim Brooks, ed, The Quest for Tax Reform Continues: The Royal Commission on Taxation Fifty Years Later (Toronto: Carswell, 2013) 295.
Awards, honours, conferences
Schulich Graduate Teaching Fellowship (2014)
Schulich Doctoral Scholarship (2013-15)
Nova Scotia Law Foundation Scholarship (2012-13)