Emily Ballantyne
PhD Candidate
Contact information
Email: emily.ballantyne@dal.ca
Why Dal?
My experience with the English department could not have happened anywhere else;  Dalhousie has a very unique environment.  I have access to incredible research material, great teaching experience, and plenty of opportunities to professionalize.  I have been graced with strong mentors who challenge me and push me to achieve my academic goals.  I have also been able to take on important leadership roles as an organizer and administrator.  And, living on the ocean is pretty nice, as long as it isn't hurricane season.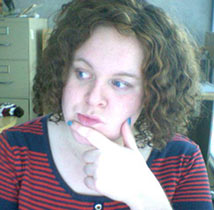 What inspires you?

My greatest sources of inspiration are the students I work with—undergraduate and graduate.  I think mentorship between students, and collaboration among students and faculty, fosters a strong sense of intellectual community and produces better scholarship.  When I'm not being floored by my colleague's revelations and new discoveries, I also, of course, am incredibly inspired by the writers I study, and the literary and intellectual communities that they have fostered and continue to foster.
Favourite novels
Handmaid's Tale; Green Grass, Running Water; Running in the Family; The Second Scroll; Wild Geese
Areas of research
Canadian literature, travel writing, modernism in Canada
Teaching experience

ENGL 3270:  Re-Membering Canada in Contemporary Canadian Fiction (Instructor)
ENGL 1100:  Writing for University Students (Instructor)
Publications
"Respect des fonds and the Digital Page.  Archival Narratives for Canada.  eds. Kathy Garay and Christl Verduyn.  Fernwood Press, 2011.  Co-authored with Zailig Pollock.
"Rearticulate, Renovate, Rebuild:  Sachiko Murakami's Architectual Poetics of Community."  Public Poetics:  Critical Issues in Canadian Poetry and Poetics.  eds.  Bart Vautour, Erin Wunker, Travis Mason and Christl Verduyn.  Wilfrid Laurier University Press.  Forthcoming 2014.

P.K. Page Special Issue.  Canadian Poetry: Studies, Documents and Reviews.  eds.  Emily Ballantyne, Emily Essert and Michele Rackham Hall.  Forthcoming.
Awards & honours
Killam Scholar (2013-2015)

SSHRC CGS (2010-2013)

President's Award (2010-2012)
Conferences
"After Montreal:  Anglo-Canadian Modernists in Transition."  English Department Speaker Series.  Dalhousie University, 2013.

 "Rearticulate, Revonate, Rebuild:  Sachiko Murakami's Architectural Poetics of Community." Public Poetics.  Mount Allison University, September 2012.

 "Reading Backward:  The Sexual and Textual Productions of John Glassco's Memoirs of Montparnasse."  Exile's Return: An EMiC Colloquium.  Sorbonne Nouvelle, Paris, June 2012.

 "'Murdering' Subjectivity: Problematizing Identity through Bharati Mukherjee's Jasmine." Association of Canadian College and University Teachers of English.  University of Waterloo, May 2012.

 "The Metropole in Montreal:  Le Nigog and Avant-Garde Periodical Publishing in Québec." Co-authored with J. Matthew Huculak.  Association for Canadian-Quebec Literatures. University of New Brunswick, May 2011.

 "From Typewriter to Treescape:  Changing Spaces in P.K. Page's Poetry."  Modernist Studies Association.  University of Victoria, November 2010.

 "From Typewriter to Digital Archive:  The Collected Works of P.K. Page and the Digital Futures of Canadian Literature."  Digital Humanities Summer Institute.  Graduate Colloquium University of Victoria, June 2010.

 "'Green crowding green & being more than green': Identities, Landscape and Nature in the Brazilian Poetry of P.K. Page."  Northeast Modern Language Association, McGill University, March 2010.

 "'What to do about Writing?': Editing the Writing Processes of P.K. Page."  Humanities Research Day.  Trent University, December 2009.