Stephen J. Boyd, MBA
Alumni profile: Stephen J. Boyd, MBA
2018 Winner: Rowe School of Business Award for Highest Academic Achievement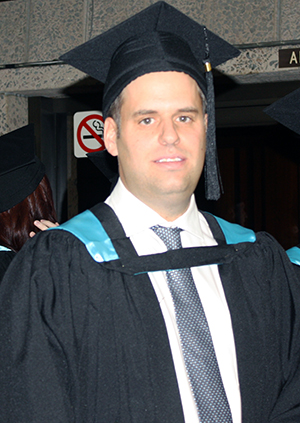 Why did you choose the MBA (FS) program at Dalhousie?
Throughout my career, I have had the opportunity to meet with professionals who have graduated from the MBA (FS) program, and the feedback I received has always been positive. The flexibility in the delivery of the curriculum provides students with the opportunity to earn their degree, concurrent with managing busy careers and personal lives. The features of this program best suited my particular lifestyle and interests. My graduate studies at Dalhousie University have been most enlightening and I greatly appreciate all of the support from the faculty and staff.
What are some of your fondest memories of the program?
I enjoyed the entire MBA curriculum and overall experience at Dalhousie University. I felt the Professors were excellent, some of whom have inspired me to pursue further university education. The end of term, in-person course intensives are well-organized, practical and interesting. In particular, the Strategic Leadership and Change course intensive was unique, memorable and a great way to complete a graduate program. Finally, receiving the School of Business Administration Director's Award for highest academic achievement of the graduating class is very rewarding. 
How would you encourage others to seek more education?
Regardless of one's field of work or career interest, furthering education is a vehicle for success. Dedication to learning is a distinguishing feature that serves people well in ultra-competitive environments. Specifically, the MBA program will help in seeking new opportunities, building networks, or venturing into self-employment.  Ultimately, I would encourage others to refine their skills and embrace learning opportunities which can be achieved through higher education.  
The network of colleagues and relationships built during the program?
The structure of Dalhousie's MBA program has certainly provided me opportunities to build a network of contacts and friendships. Group work, end of term intensives and special events (e.g., receptions in various cities) have enabled me to forge relationships that have been mutually beneficial on both a personal and professional level.  I would certainly encourage any student in a professional program to draw upon other's experiences and advice. 
What major milestones, events, etc.  have occurred since starting the program?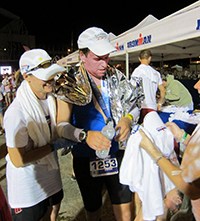 During my MBA studies at Dalhousie, life has kept my family and me busy. Personally, events included the birth of our second child, successfully completing another Ironman triathlon, participating in ultramarathons, and most recently moving back home to Halifax. Professionally, I took a leap into self-employment as a consultant, which has been a very rewarding experience. The flexibility of Dalhousie's MBA program has provided me the ability to complete the program, while managing a busy life full of important milestones. 
What's Next – what are you passionate about?
Having completed my MBA degree, I now look forward to enjoying more time with my family and getting reacquainted with the Nova Scotia lifestyle, which will include my love for surfing and spending time near the sea.  In the not-so-distant future, I intend on competing in other Ironman triathlons and/or ultramarathons. Also, it is my intention to further my education through other post-graduate studies. To conclude, I am passionate about my family, learning, and meeting my goals.