George Munro Day
Celebrating Dalhousie's first great benefactor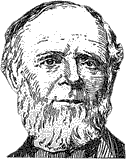 Every year on the first Friday in February, Dalhousie celebrates Munro Day. Though Dalhousie students, faculty and staff are keen to celebrate this special Dalhousie holiday, not all are aware of its namesake's contributions to the university. George Munro's generous gifts, worth about $8 million in today's money, helped Dalhousie through some rough times.

Lydia Cushman Schurman wrote "Three Canadian-Born Publishers of Popular Literature and Their Effect on Nineteenth-Century Publishing in the United States." The article contains the story of Munro, her great-grandfather. The following is an excerpt:

The man behind Munro Day

George Munro, "undoubtedly the best known producer of cheap books in the late 1870s and during the 1880s"... was born in West River, Pictou County, Nova Scotia, on the 12th of November 1825, the fourth of twelve children... Little is known about George Munro's early years except that he initially had very basic schooling. At 12, he became apprenticed to The Observer, a Pictou newspaper, but two years later he resumed his education and, from 1839 to 1842, attended the New Glasgow School, where he studied Greek, Latin, and mathematics in preparation for more rigorous academic training at Pictou Academy. At 17, he left the New Glasgow School and taught school for a year in order to earn money to attend the academy. Around 1850, he went to teach natural philosophy and mathematics at the Free Church Academy in Halifax, where he did sufficiently well in the six years that he stayed there to become its principal ...

In October [1856], he left Nova Scotia permanently for New York City with a few hundred dollars. Little is known about Munro's five earliest years in New York, where he arrived as a well-educated, 31-year-old married man ...

In 1861, Munro went to work for Irwin P. Beadle and Company, a firm that published popular songbooks, handbooks, and the first dime novels.... In 1863, the original Beadle firm broke up, Munro entered into a brief partnership with Irwin Beadle and, a year later, the company became George Munro's.

Munro's publications ... made him rich. In 1879, under the influence of his brother-in-law, John Forrest, then minister of St. John's Church, Halifax, and a member of the Board of Governors of Dalhousie University, Munro began to give money to the struggling institution. In 1879, its income from invested sources yielded only $3,000 a year, and income from its rented property brought in only $600 annually; its $3,000 grant from the government was soon due to expire. The total combined income of $6,600 was insufficient to run the university.

According to Dalhousie University historian, P.B. Waite, "Desperate is not too strong a word for Dalhousie's financial condition. Talk of closing Dalhousie down was heard on every side." In 1879, however, Munro began to turn the tide. He told Forrest, "If you will find the man for the chair of Physics, I will find the money." The largeness of Munro's gift — $2,000 a year — astonished the university's Board of Governors because even the premier of Nova Scotia earned only $2,400 a year. To fund such a gift, with interest at 5 per cent, necessitated capital amounting to $40,000. In expressing its appreciation, the Board of Governors exclaimed: "Mr. Munro's liberality is on a scale that is without parallel in the educational history not of Nova Scotia alone but of the Dominion of Canada and his action in giving the patronage of the Chair to the Governors instead of availing himself of the privilege secured to him by Statute by nominating a Professor, enhances their sense of indebtedness."

The chair in Physics, awarded to J.G. MacGregor, was Munro's first endowed chair. His gifts over the years amounted to a total of five endowed professorships, an expenditure of $250,000, as well as about $83,000 in bursaries and exhibitions (approximately $333,000). In 1999 terms, this sum amounts to a total of approximately $8 million dollars.

Munro's largesse, "gifts without parallel in British North America," rescued the university from extinction. It is little wonder that by 1885, a special holiday had been set aside to commemorate George Munro, and he is still honored on "George Munro Day" each year at the university on the first Friday in February.

This excerpt is reproduced with permission.