Thomas "Jock" Murray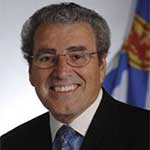 Few people have had more impact on Dalhousie's medical education than Thomas "Jock" Murray (1938-present). An accomplished physician, researcher and internationally renowned Multiple Sclerosis expert, Dr. Murray revitalized how medicine is taught at the Maritimes' medical school.
Receiving his early education at Pictou Academy, Dr. Murray studied pre-med at St. Francis Xavier University before graduating from Dalhousie Medical School in 1963. After two years of general practice, followed by post-graduate studies in Halifax, London and Toronto, he joined Dalhousie Medical School's staff at age 31, jointly accepting an appointment as a neurology fellow at the Victoria General Hospital (VGH).
In the decades that followed, Dr. Murray became a national and international leader in Multiple Sclerosis (MS) research. With more than 300 publications to his credit, he's significantly increased our understanding and treatment of the autoimmune disease that affects more than 100,000 Canadians. He founded and directed Dalhousie's MS Research Unit and became a founder and president of the International Consortium of MS Centers. His interest in MS also led to the development of the country's first MS patient database.
In 1985, after heading the Department of Neurology, Dr. Murray was named Dalhousie's eighth dean of medicine. He transformed the school and medical education more broadly, leading the charge to replace traditional lectures with problem-based cases and introducing social accountability and affirmative action as key concepts in the curriculum.
His most lasting accomplishment as dean, though, may be the creation of Dalhousie's world-renowned Medical Humanities program. It allows students to participate in disciplines like music, dance, creative writing, history and visual arts while completing their medical degrees. "We need science," Dr. Murray once said, "but science also needs the humanities to understand human values and the human questions and the human decisions that must guide our use of science."
Dr. Murray served as the first Canadian chair of the American College of Physicians, and is a member of the Order of Canada, Order of Nova Scotia, and inductee into the Canadian Medical Hall of Fame. He has five honorary degrees and many awards recognizing his research achievements. But it's his vision for treating and training the whole person — body, mind and spirit — that makes Dr. Murray one of Dalhousie Medical School's most inspiring personalities.
Related links
Audio
Canadian Medical Hall of Fame