Sylvia D. Hamilton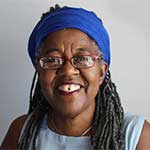 Trying to sum up Sylvia D. Hamilton with one title is near impossible; after all, she's an award-winning filmmaker, writer, journalist, public speaker, poet and activist. But regardless of medium, she always aims to generate discussion and encourage people to ask themselves questions they've never asked before.
Born in Beechville, Nova Scotia, Hamilton attended schools where Black history education was lacking. Like many in her generation, she grew up watching television; "rarely did I ever see anyone who looked like me," she says.
Now a professor in the School of Journalism at the University of King's College, she tries to give students a different perspective than she was taught, to "not to live in the tiny corner of the world," as she puts it. And as a documentary filmmaker — perhaps the work for which she is best known — she urges audiences to do the same.
Her films bring the accomplishments and struggles of African Canadians to a much wider audience. They include Black Mother Black Daughter (1989), the first National Film Board (NFB) film out of its Atlantic Studio crewed entirely by women, emphasizing the importance of oral history and tradition. She also directed the Gemini Award-winning film, Speak It! From the Heart of Black Nova Scotia (1993), which tackled racism in a largely white high school, and the acclaimed documentary, The Little Black School House, which shares the stories of the students and teachers of Canada's racially segregated schools.
Hamilton's connection with Dalhousie began as a community member, serving on the advisory board for Dalhousie's Transition Year Program and supporting the law school's Indigenous Blacks & Mi'kmaq Initiative. "[Dalhousie is] an institution that has really tried to open its doors to so many people from this province, the country, around the world," says Hamilton, who made her way though its doors as a student herself, earning a Master's of Education in 2000.
In addition to her work as a professor and filmmaker, Hamilton lectures at schools, writes poetry, serves as president for her company Maroon Films, and co-created a program for women of colour and First Nations female filmmakers with the NFB, called New Initiatives in Film (NIF). Her poetry has earned her great acclaim, as well: her 2014 collection And I Alone Escaped to Tell You, was shortlisted for the League of Canadian Poets' Gerald Lampert Memorial Award and the JM Abraham Poetry Award. Among the awards she's received: the Nova Scotia Portia White Prize, the CBC Television Pioneer Award, a QEII Diamond Jubilee Medal, and honorary degrees from three universities (including from Dalhousie in 2001).
As she continues her work, Hamilton aspires to continue being "that person that could help to open doors," telling stories that deserve the spotlight.