Susan Sherwin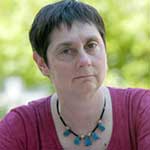 Susan Sherwin (1947-present) had a rather typical 1950s middle-class upbringing, with a stay-at-home mom and easy access to green spaces in her Toronto neighbourhood.
"What you saw on those old TV shows was a lot like my life," says the now-retired Dal professor of philosophy.
But social change was about to sweep through North American life — and Dr. Sherwin's academic career would be right at the heart of those changes.
Although she started out studying the philosophy of mathematics as a PhD student at Stanford University in 1969, she soon shifted her focus to feminist philosophy, an area then in its infancy. Men dominated philosophy departments at the time, with feminist theory just starting to push its way into the academy. Dr. Sherwin played a key role in that push, producing what she was later told was the first dissertation in the United States on the ethics of feminism.
When Dr. Sherwin joined Dalhousie in 1974 to teach feminism and medical ethics, she did so as the Department of Philosophy's first female faculty member. Despite being in the minority, Dr. Sherwin says her department had a "real energy" about it thanks to the influx of a supportive new generation of scholars. She thrived in the years that followed, developing a reputation as one of the world's foremost feminist ethicists.
Typical of Dr. Sherwin's career, her most renowned publication, the 1992 book No Longer Patient: Feminist Ethics and Health Care, asked difficult questions. Should premenstrual syndrome (PMS) be classified as a disease? How do race, gender and class impact an individual's experience with the health care system? Upon its release, Dr. Sherwin said she wanted the book to be "an invitation to a conversation to start exploring what bioethics might be like."
That it was. The book — the first to deal specifically with feminism and health-care ethics — recast weighty, well-worn issues such as abortion, reproductive technologies and paternalism in the patient-physician relationship from a feminist perspective and, in the process, sparked the new field of feminist bioethics.
It's an example of how social justice has infused Dr. Sherwin's work, extending to her leadership on campus and beyond. She was the first female president of the Dalhousie Faculty Association and had a hand in creating the Dalhousie Women Faculty Association, a group that campaigned for fairer hiring and salary policies at the university. She has also shaped research and policy at the national and international level through her work on advisory boards.
Dr. Sherwin has received many awards through her celebrated career, including induction to the Order of Canada and the Killam Prize in the Humanities — the highest honour in her field. But for her, scholarship is not about prizes — it was about sparking social change.
As she puts it: "Insofar as I have been able to help people recognize, take up an interest in, and look for ways to reduce the impact of oppression in their own lives and in their work, that is really important to me."
Related links
Audio
Dalhousie University
Canadian Academy of Health Sciences
Dalhousie Gazette