Robert Fournier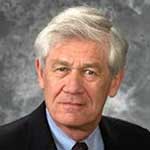 Though his storied 45-year career at Dal has followed a rather standard trajectory from teacher and researcher to administrator, Robert Fournier (1939 – present) says that wasn't by design.

"I've just been following my instincts, and my instincts were telling me that marine affairs are really important," he says.
Now professor emeritus of ocean studies, Dr. Fournier's instincts were at the heart of Dal's transformation into Canada's leading ocean university. A big reason for that transformation, he says, is Dal's ability to not just attract some of the leading ocean scientists in the world but its investments in faculty and researchers focused on the social, legal and policy issues affecting our waters.
Another big reason: his own work, particularly during his tenures as associate vice-president (research & international relations) and executive director of ocean studies from 1985 to 2000. Few have done as much as Dr. Fournier (who first arrived at Dal in 1971) to raise the university's profile in ocean studies.
In the 1990s alone, he chaired the Halifax Harbour Task Force that investigated how to clean up the polluted harbour; served as a member of the Northern Cod Review panel that was tasked with recommending how to create a sustainable fishery; and chaired the Joint Public Review Panel for the Sable Offshore Energy Project. He was also a member of the Science Council of Canada and the National Advisory Board on Science and Technology, and chaired the Nova Scotia Council of Applied Science and Technology, which advised the provincial government on science and technology policy.
And this isn't even mentioning the outreach work Dr. Fournier is perhaps best known for: his regular appearances on CBC radio and television. Since 1974, he estimates he has delivered 2,500 science commentaries on everything from Neanderthals and icebergs to "firenados."   
That type of outreach is crucial to the life of a university, he says.
"Faculty have got to be part of dealing with the public; they have to understand what they're doing is educating the public. And educating the public means that [the public is] much more interested in the university than they would be otherwise."
Dr. Fournier's own work outside Dal continues, even after "retirement." In 2016, for instance, he was named to the board of directors of FORCE, Canada's leading research centre for in-stream tidal energy, located in Nova Scotia's Bay of Fundy.  
"It's all about credibility for the university," says Dr. Fournier about his outreach work. "It gives credibility to the university so that the university is seen as involved and participating, and is fully aware of what it does and how it does it."
Related links
Audio
Dalhousie University