Rebecca Thomas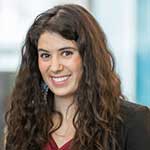 Rebecca Thomas begins her spoken-word performances with a simple plea to those listening: "For the next three minutes, you're going to see the world through my eyes, and I ask that you empathize with us."
For Thomas, a Mi'kmaq woman whose father is a residential school survivor, poetry has served as a powerful tool for educating about the racism and inequality that still haunts many Indigenous peoples in Canada.
Thomas was first moved to pick up the pen (and the microphone) to craft verse in 2013. At that time, she'd completed two Dal degrees (BA'09 and MA'13, both in Social Anthropology) and had taken on a new job as coordinator for Aboriginal student services at the Nova Scotia Community College (NSCC).
Although she had spent time working as a student recruiter in First Nations communities for Dal and NSCC, Thomas says she was shocked to see the many challenges students faced — poverty, discrimination, homesickness — and their struggles after they arrived at school. She turned to poetry as an outlet for expressing some of her frustrations.
It didn't take long for other local poets and fans to take notice of a distinctive voice in the making. Former Halifax Poet Laureate El Jones was an early supporter, giving Thomas one of her first breaks during an open mic night at a local Halifax bar.
From there, she went on to win a steady stream of poetry competitions and contests, and became captain of the Halifax Slam poetry team. In 2016, she was named Jones's successor as Halifax Regional Municipality's poet laureate, a post Mayor Mike Savage said would empower her to "enhance our understanding of our region's unique cultural tapestry."
It's a tapestry Thomas herself has sometimes struggled to understand. Born in a small town outside Fredericton, N.B., and raised in nearby Moncton, Thomas never lived on reserve. And her father's struggles with addiction led her parents to separate early on, which meant she was raised primarily by her mother, a non-Indigenous white woman.
Thomas reconnected with her Mi'kmaq roots in an undergraduate class at Dal, and her master's thesis examined how ethnicity is measured in Indigenous communities. Through that, she explored her own sense of how she fit into that world of Indigenous relationships.
"I get classified as 'less than,'" she says. "Because I don't speak the language, because I don't live in the community, because I'm not a drummer or a dancer, I am somehow viewed as less 'native' than those who live on reserve or speak their language."
Thomas says that while she is not a drummer or dancer, she is a storyteller through her poetry — something of great importance in Indigenous communities.
When she is not performing on stage, Thomas continues to help empower other young Indigenous people in Aboriginal student services at NSCC.
"I want to make sure . . . our students feel like they have a sense of community, that they belong, that they don't have to endure university to go back to their communities," she says. "They can flourish in university and not compromise their culture and their values."
Related links
Audio
Halifax Regional Municipality