R.B. Bennett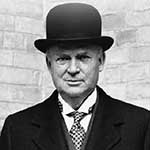 R.B. (Richard Bedford) Bennett (1870-1947) is the only Dal graduate, to date, to have the fortune of serving as prime minister of Canada. Unfortunately, he had the misfortune to do so in the midst of one of the greatest economic disasters in history.
Bennett, referred to affectionately by family as Dick, was born in Hopewell, New Brunswick. He was raised in a strictly Conservative family, one that despite minimal means placed great value on education. Bennett became a teacher at 16 and a principal by 18, all while working part-time at a law firm.
By 1890, at age 20, he had saved enough money for tuition to attend Dalhousie's School of Law. Not one for frivolous activity, Bennett spent much of his time working at the Weldon Library and as newsroom manager at the Dalhousie Gazette. Foreshadowing his future, he was also elected prime minister of the Dalhousie Mock Parliament.
After graduation, Bennett arrived in Calgary in 1897, during a particularly unforgiving winter. The teetotaler, life-long bachelor and devoted churchgoer grew a successful law practice alongside politician James Alexander Lougheed and soon began advancing his political career. He worked his way up the political ladder, became leader of the Conservative Party and was elected as Canada's 11th prime minister in 1930.
Bennett led Canada through five years of the Great Depression, a time when the country's GDP fell by more than 40 per cent and unemployment skyrocketed towards 30 per cent. Economic historian Harold Innis wrote to Bennett in 1938, saying: "No one has ever been asked to carry the burdens of unprecedented depression such as you assumed and no one could have shouldered them with such ability."
Though often criticized, Bennett had an empathy for Canada's anguished citizens that never wavered. After nights spent reading an endless stream of desperate letters, he regularly sent money from his own pocket to struggling families. It is estimated that between 1927 and 1937 he donated more than $2 million of his own funds. Dalhousie was one of Bennett's many financial recipients; buildings like the President's Residence and Shirreff Hall were built, in part, from Bennett's contributions. And while history perhaps remembers the circumstances of his years in office more than his accomplishments, Bennett helped institute several definitive Canadian organizations, including the Canadian Radio Broadcasting Corporation (now CBC) and the Bank of Canada.
After losing re-election in 1935, Bennett retired to Britain and was named a viscount in 1938. Bennett died in 1947, a week before his 77th birthday; he remains the only prime minister not buried in Canada.
 "I'll always remember the pit from which I was [dug] & the long uphill road I had to travel," said Bennett, reflecting not only on his time as prime minister but his life more broadly. "I'll never forget one step."
Related links
Hearsay, Dalhousie Law Alumni Magazine
Library and Archives Canada
National Film Board