Portia White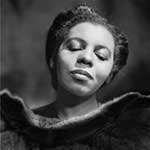 The human voice has an amazing power — to communicate, to thrill, to inspire. And Portia White (1911-1968) had one heck of a voice. As the first Black Canadian singer to reach world-renowned status, the Dalhousie alumna became one of the most inspirational women in Canada's history.
At the age of six, White was already working towards that goal: she could often be found singing in her mother's choir at the Halifax Baptist Church where her father was minister. At eight, she was able to sing the soprano parts of Italian operas. And she was not only talented, but determined, walking more than 15 km each week to attend music lessons.
White — whose first name was inspired by Shakespeare's heroine in The Merchant of Venice — studied at Dalhousie in 1929 to become a teacher. The wages she earned from teaching primary school in Africville and Lucasville paid for her music lessons at the Halifax Conservatory of Music.
Even after winning several local music festivals and regularly singing devotionals on her father's radio show, the operatic contralto was frequently denied performance space because of her race. "First you dream," she would later reflect, "and then you lace up your boots." Not to be denied, she made her national debut in 1941, at age 30, on-stage at Toronto's Eaton Hall. Edward Wodson of the Evening Telegram was in the audience that night and raved: "It is a natural voice, a gift from heaven."
It wasn't long before White halted her teaching career to make becoming a professional singer her priority. She continued to earn global acclaim, including a landmark performance at New York's famed Town Hall in 1944 —the first Canadian to perform at the iconic venue.
Constant touring took a toll on White's health, and by 1952 she began an early retirement and returned to teaching in Toronto. There, she taught familiar names like Robert Goulet, Lorne Greene and Dinah Christie and eventually moved on to become the singing coach for the first cast of P.E.I.'s Anne of Green Gables musical. One of her last performances was before Queen Elizabeth Ⅱ, only four years before White's death in 1968.
"She was a person of great achievement who accomplished her greatness in a difficult art form against all odds in an extreme minority," says her great-nephew (and fellow Dal Original) George Elliott Clarke. "I think her name should not disappear; it should be sung and remembered."
And that, it has. In 1995, White was named a person of historical significance by the Government of Canada. Four years later, a commemorative stamp was issued in her honour. The Nova Scotia Arts Council named its top award after her. (Fittingly, Clarke was the first recipient.) And while White did not produce any studio recordings during her lifetime, several concert recordings of her performances are held by Library and Archives Canada, ensuring White's incredible voice will echo through the ages.