Phyllis Stern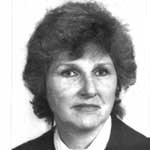 Dr. Phyllis Noerager Stern (1925 – 2014) may be best known for campaigning on behalf of women's health internationally, but she wasn't one to let a local injustice go unchallenged, either. Case in point: a situation that emerged in 1986 when a dispute over space left students in Dal's School of Nursing with what they believed were unsatisfactory classrooms.
"My faculty are ready to go and sit in the president's office. It's a crisis situation," Dr. Stern, then director of the school, told the Dalhousie Gazette. Gender, she believed, played a role in the dispute. "One can't help but notice that 100 per cent of the faculty and 98 per cent of the students [in Nursing] are female."
As that spat showed, and as her colleague Sandra Thomas put it, Dr. Stern could be "irreverent, droll and even a bit risqué at times." All were qualities that served her well throughout a life dedicated to breaking barriers in health care and health advocacy.
Born in San Carlos, California, she trained and worked as a nurse in her home state until she was almost 40 years old. Then, after earning a master's and a doctorate in nursing from the University of California (San Francisco), her academic career took off, particularly when she arrived at Dalhousie in 1982.
Though Dr. Stern was only at Dal for five years, her impact was monumental. In 1983, for example, she became the editor-in-chief of the journal Health Care for Women International. A year later, she founded the International Council on Women's Health Issues, a global association dedicated to promoting health, health care and well-being of women throughout the world. (She would serve as counsel general of the organization until 2002.) Dr. Stern also hosted an international conference on women's health while at Dalhousie, and inked a formal agreement with Muhimbili Medical Centre in Dar es Salaam, Tanzania, that provided access for their nursing faculty to obtain university degrees.
At Dal and later at Indiana University where she served as chair of Family Health Nursing, she became famous for her qualitative research expertise, having generated several theories on family crisis situations and the impact of culture on health and care. No wonder Dal honoured her with an honorary degree in 2004, and the American Academy of Nursing named her a "Living Legend" in 2008.
Though Dr. Stern passed away in 2014, her legacy lives on in the strong research profile of Dal's School of Nursing, and with an award in her honour presented to a graduating student who has made outstanding contributions to the student body. Oh, and as for those classrooms: Dr. Stern managed to get the university to make arrangements with local hospitals for teaching space until a more permanent solution was put in place. As was the case throughout her entire career, she made things happen.